Ted Sarandos moved to allay concerns over the fate of the traditional theatrical business on Friday in Cannes although he may have achieved the opposite as he said Netflix would side-step theatrical distribution in France.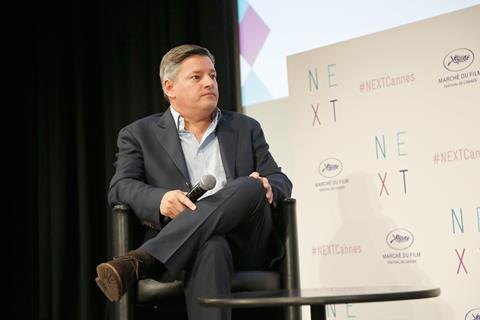 The chief content officer used some assistance from none other than Harvey Weinstein as the mogul stood up towards the end of Sarandos' NEXT on-stage session to hail Netflix as "visionaries" after a producer expressed anxiety over the streaming giant's impact on European film and TV production.
In a wide-ranging interview with Le Film Français chief editor Laurent Cotillon in Salle Bunuel inside the Palais, Sarandos repeated the company's goal of being in every country by the end of 2016, hinted at local-language film production and looked longingly towards China.
His appearance drew frequent applause and furrowed brows in equal measure.
"Nothing we're doing is meant to be anti-cinema," he said, adding: "I have great confidence that if things were day-and-date it will compete […] people need choice. It might be that theatres have to give up some of that, but in total more movies will be seen."
The question is what form will those "movies" take in what Sarandos called "the golden age of television", when generational shifts in viewing habits have begun to manifest themselves.
"TV is being made by the best film talent, so there's been an interesting migration of consumers," he said. "You can look at that as a blurring of the lines between movies and TV or that movies are being displaced in culture a bit by TV.
Sarandos, who said features currently accounted for one-third of what Netflix's 63m worldwide viewers watched by hours, steered clear of any direct confrontation with Hollywood but the implications of Netflix's global plan were clear.
He said Netflix would not distribute theatrically in France. The comment was potent, even though it came as no surprise to anybody as the streaming giant side-steps the strict chronology laws that enforce a three-year window between theatrical and TV.
"It makes cinemas more and more irrelevant," he said. "People will choose not to release in cinemas because they don't want a 36-month wait because it reduces the value of TV."
"The problem with our current movies on Netflix is they have to wait so long after the cinemas. There are 300 movies release a year in France and there are not enough screens to support them. The wait is too long. So we're trying to bring movies along with that."
Commenting on HBO's $500m revenues over the course of one night from its recent pay-per-view broadcast of the Mayweather-Pacquiao fight he speculated impishly, "I'm sure every studio in Hollywood is thinking, 'Is that a better model than this one?'"
The executive positioned Netflix as an alternative to the studio's pay-TV partners, who cost the studios around $1bn for a slate that included "old movies", while new titles could not be seen until one year after theatrical release.
Sarandos spoke about the company's data-driven approach to identifying what works and what does not work, stressing that there was no reverse-engineering when it came to original content creation.
Original programming, he said, delivered a greater return on investment in terms of hours viewed than licensed content. That side of the business will grow and it has international prospects. Marco Polo shot in Malaysia and Marseilles will shoot in France.
The film production business will grow and the company's taste is broad. "I wouldn't define it as an indie initiative but I hope we will do a lot of indie films." He said. "We have a global indie team that's licensing in various windows."

Sarandos cited the distinctly un-indie four-film Adam Sandler deal as an exciting venture with a star who he claimed boasted broad geographic appeal.
"He's more global than many people anticipated. It's kind of unintuitive because most people think American comedy doesn't travel very well. He's his own brand. He is his own intellectual property."
Budgets on the Sandler films and Crouching Tiger, Hidden Dragon 2, a collaboration with The Weinstein Company and Imax, will range from below $10m to more than $50m.
The traditional film financing model is imperilled, he said. "For medium-sized films at $10m-$12m or below, these movies have a difficult time seeing profit. These movies have to do so much revenue that for the most part they're a losing proposition. God love you if you have an Oscar movie because the [campaign] costs come out of the film.
"So instead of taking this lottery approach to films, all the films we do are going to be profitable for the producers. We buy the film at a premium to the budget and we give them a global audience so people will see their film, [the producers] make money on the film and it will be important to the culture."
Elaborating on Netflix's readiness to pay premiums up-front he said: "We try to compensate through other models. Because we're not recouping any advertising or marketing that money would usually not flow through anyway. We say we will not give you that money now and we will not recoup those dollars. It's discounted but it's guaranteed."
The chief content officer spoke passionately about documentaries and said that stand-alone financing on such films were extremely difficult. Netflix, he said, was an ideal platform to showcase important work.
"As a fan I've been incredibly frustrated by how underserved docs can be."
The session also touched on Netflix's deep ties with The Weinstein Company, citing the overall pay-TV deal and collaborations on Marco Polo and Crouching Tiger, Hidden Dragon 2.
It was something of a love-in, with Sarandos calling Weinstein "a genius" and then appearing surprised when the latter rose from his front row seat to reply to the European producer's earlier concerns.