Dir: Kimberly Peirce. US. 2013. 99mins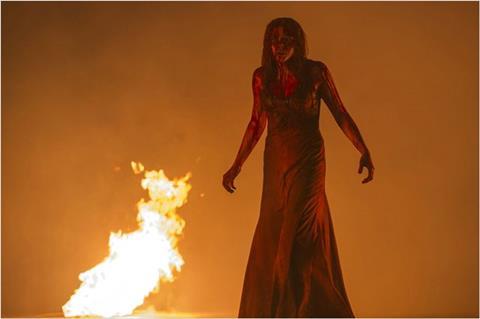 Stepping into the blood-soaked prom dress made famous by Sissy Spacek in the 1976 film adaptation of Stephen King's novel of the same name, Chloë Grace Moretz toplines director Kimberly Peirce's Carrie, about a shy outcast who ends up unleashing telekinetic terror on her classmates. Passable only as a piece of recast entertainment for those who've never heard of the original, much less seen it, Carrie doesn't plumb the depths of adolescent isolation its premise obliges. There doesn't seem to be a pronounced rationale, beyond commercial reward, for this relatively undistinguished remake.
At the core of Carrie's emotional disconnection is Moretz's performance.
Opening wide in the US against 1980s-throwback action flick Escape Plan and, in only 1,700 theaters, WikiLeaks drama The Fifth Estate, Carrie should top $20 million for the weekend and rank first among debuts. But it will likely have a tough time unseating Gravity for the overall top spot, and fickle horror fans may get fidgety waiting until the final reel for the bulk of its mayhem, further tamping down word-of-mouth.
Sheltered by her controlling, deeply religious mother Margaret (Julianne Moore), small town teenager Carrie White (Moretz) doesn't seem to have any friends. Never told about menstruation, Carrie freaks out during the onset of her period in the gym showers at school, convinced she's dying. A group of her peers mock her and throw tampons at her.
Sue (Gabriella Wilde) feels bad about this, so she convinces her boyfriend Tommy (Ansel Elgort) to ask Carrie, who's just discovering the full power of her telekinetic gifts, to prom. Chris (Portia Doubleday), however, is unrepentant, even posting online a video of the incident she shot on her phone. After a sympathetic gym teacher, Ms. Desjardin (Judy Greer), succeeds in getting her banned from prom, Chris and her boyfriend Billy (Alex Russell) make plans to humiliate Carrie one more time — with disastrous consequences for everyone.
In a frustrating and somewhat confusing step backward, Peirce, in only her second feature since 1999's striking Boys Don't Cry, too often opts for conventional, traded close-ups, undercutting the potential tension of longer takes and wider compositions. She doesn't seem particularly moved by or connected to the material, and while the editing isn't what one would call flashy or over-caffeinated, it does frequently seem stilted.
Given the verisimilitude a number of recent high school movies have achieved, Carrie feels overly posed, and artificial. Carrie's life of privation provides some dramatic tension, but the original film was also a powerful metaphor for the searing pain of bullying and adolescent ostracisation on the whole. This adaptation doesn't quite summon those feelings.
At the core of Carrie's emotional disconnection is Moretz's performance. Spacek's Oscar-nominated turn in the 1976 film casts a long enough shadow that any young actress would have some trouble escaping it. Spacek tapped into the title character's pitiable qualities with such a consuming focus that it was at times painful to watch.
Moretz, still just 16 years old (almost a decade younger than Spacek was at the time of filming), is a quite talented young actress, but lacks, at least here, the ability to convey an emotional hopelessness resulting from years of ground down self-esteem. Her Carrie is all over-articulated social shyness and body shame. The lack of any interior monologue results in a less honest blossoming of Carrie's ever-fragile confidence and ergo a less cathartic finale — no matter the level of technical achievement brought to bear in Peirce's bloody comeuppance for the bullies, which is the film's indisputable high point.
As for the other performances, Moore, peddling choked back emotion, often feels like she's cycling through a bag of familiar gimmicks. Greer, though, has some nice moments of spunky adult pushback against teenage cruelty on display, and Elgort does a good job of believably filling out the rare teen guy governed by a genuine moral compass.
Marco Beltrami's score, however, seems lost in a knotty swirl of wind and warping-wood sound effects.
Production companies: Metro-Goldwyn-Mayer Pictures, Screen Gems, Misher Films
Domestic distribution: Sony Pictures
Producer: Kevin Misher
Executive producer: J. Miles Dale
Screenplay: Lawrence D. Cohen and Roberto Aguirre-Sacasa, based on the novel by Stephen King
Cinematography: Steve Yedlin
Editors: Lee Percy, Nancy Richardson
Production designer: Carol Spier
Music: Marco Beltrami
Website: www.Carrie-Movie.com
Main cast: Chloë Grace Moretz, Judy Greer, Portia Doubleday, Ansel Elgort, Julianne Moore, Gabriella Wilde, Alex Russell, Barry Shabaka Henley