A straighforward documentary portrait which covers the rise to fame of boxing icon Muhammad Ali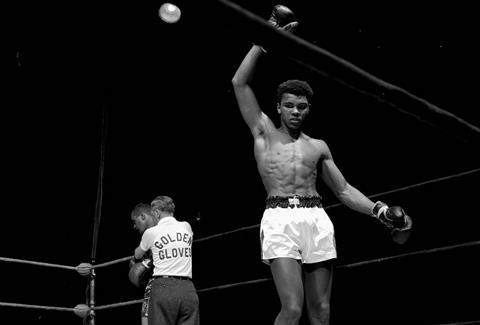 Dir: Muta' Ali. UK/US. 2022. 90mins
Examining the path that Cassius Clay traveled to transform himself into Muhammad Ali — both athletically and spiritually — Muta' Ali's documentary offers a simple, straightforward rundown of the young boxer's rise to glory. Cassius X: Becoming Ali makes good use of archival footage, showing us the prizefighter over the course of five crucial years as he eventually wins the heavyweight championship – all the while grappling with America's racism in the midst of the civil rights movement. The results may be more workmanlike than inspired, but the 20th century's most captivating boxer remains a riveting figure.
There is no denying the electric charge one gets watching the soon-to-be Muhammad Ali bragging, boasting, punching and pouncing
The Scottish-produced Cassius X, which has its world premiere at Glasgow Film Festival, was commissioned by the Smithsonian Channel where it will air in the US on February 20 (Cosmic Cat has UK rights). It is no surprise, therefore, that this modest, earnest production does seem a natural fit for the small screen. Spanning 1959 to 1964, the film overlaps with some events covered in Ali and One Night In Miami, but no doubt the target audience will be happy to see more of Ali, who died in 2016.
Muta' Ali (Yusuf Hawkins: Storm Over Brooklyn) uses contemporary interviews with journalists and historians — as well as Malcolm X's eldest daughter Attallah Shabazz and Ali's girlfriend at the time, singer Dee Dee Sharp — to create context for this pivotal period in the boxer's development. Still a teenager when Cassius X begins, the young man born Cassius Clay is a sensation, winning a gold medal at the Olympics before turning pro and flashing a cocky exuberance outside the ring that is matched by his swagger inside it.
But the documentary is not just a portrait of an athlete. It simultaneously explores his spiritual awakening as he becomes intrigued by the teachings of Nation Of Islam leader Elijah Muhammad whose disciple Malcolm X grows close to the boxer. Still going by Cassius Clay at the time, he must be careful not to be too politically outspoken, but eventually he will reject his last name — which is the name of the slaveowner family that controlled his ancestors — and find a new moniker.
Those familiar with Ali's life — either because they were alive at the time or have seen the numerous features and documentaries about the man — will know much of the material covered in Cassius X. (For instance, the documentary culminates with the championship bout that served as the starting-off point for the fictionalised meeting between Ali, Malcolm X, Sam Cooke and Jim Brown in One Night In Miami.) That said, getting a glimpse of a teenage Cassius Clay, already defiantly self-assured and impossibly charismatic, is a treat, as is the footage of his early fights which suggests an unpolished talent not yet fully formed.
But Cassius X insists that we consider this athletic evolution through the prism of the social forces of the time, illustrating that, despite his being venerated for his boxing prowess, he was barred from entering certain segregated US restaurants. The documentary's interview subjects succinctly explain the Nation Of Islam's philosophy — white America would never fully embrace racial integration, so Black people should fight for communities of their own — and why Clay would have found the argument persuasive.
As a result, the film also relates the burgeoning friendship between Clay and Malcolm X, who will eventually have a falling-out with Elijah Muhammad. Much like Muhammad Ali, Malcolm X has been extensively profiled in films, but while Cassius X does not necessarily offer new insights into the political leader, Muta' Ali puts together a useful primer that highlights what was so dynamic about these two magnetic Black figures — and what so angered the powers that be, who saw them as nothing more than agitators.
Not all of the film's talking heads are equally as compelling. Shabazz provides an intimate perspective of her father Malcolm X, especially when she talks about his and Ali's eventual split, but Sharp's reminiscences about her time with the prizefighter are not quite as illuminating. And Cassius X's decision to incorporate dramatic recreations — essentially, a boxer whose face we never see in an endless training montage — is not particularly dynamic.
Ultimately, it all feels more educational than revelatory, although there is no denying the electric charge one gets from watching the soon-to-be Muhammad Ali bragging, boasting, punching and pouncing in the archival interviews and fight footage. No matter how many films are made about this iconic boxer, he seems inexhaustibly fascinating. Cassius X allows us one more opportunity to revel in his boldness, both as an athlete and as a man seeking a greater sense of himself.
Production company: Two Rivers Media
International sales: Two Rivers Media Jessica.Barbou@tworiversmedia.co.uk
Producers: Jevon Frank, Robert Neill
Screenplay: Muta' Ali, Mick McAvoy, based on the book Cassius X written by Stuart Cosgrove
Cinematography: Marcos Durian
Editing: Charlie Robinson
Music: Ollie Howell