Chinese director Chen Kaige talks to Liz Shackleton about balancing commercial and creative concerns in the world's fastest-growing film market.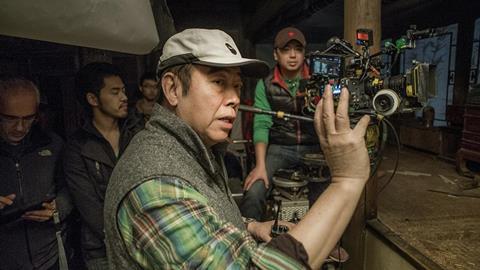 Chen Kaige, who won the Palme d'Or at Cannes in 1993 for Farewell My Concubine, tackles the martial arts genre for the first time in Monk Comes Down The Mountain, which Sony co-produced with local production houses New Classics Media Corp and Beijing 21st Century Shengkai Film.
Based on a novel by martial arts writer-director Xu Haofeng, the film stars Wang Baoqiang (Lost In Thailand) as a Taoist monk who is forced to leave his temple and live in the big city, where he meets a series of 'masters', some well-meaning, some evil, as he attempts to figure out his role in the real world.
Aaron Kwok and Chang Chen play two of the martial arts teachers he encounters, while Lin Chiling plays the cheating wife of his first benefactor.
While the underlying message is based on Taoist philosophy, Chen has delivered an action-packed and occasionally slapstick commercial movie that topped the China box office with $38.25m in its opening four days.
Why did you decide to make a martial arts movie?
I read Xu Haofeng's novel and thought the characters were very unique. The male lead He Anxia is orphaned and grew up in a temple, but all of a sudden needs to join society. What he learned on top of the mountain doesn't work well in the real world, so I guess that's the reason I liked this novel. The Leslie Cheung character in Farewell My Concubine also grew up in an isolated environment – the Peking Opera school – so it's a similar situation.
Did you want to bring something new to the wuxia tradition or stay faithful to the genre?
Chinese cinema has a wonderful tradition of wuxia films based on the works of famous authors such as Jin Yong and Gu Long, but I strongly feel its time to reform the genre because in recent years wuxia movies didn't work that well in the market. I think the audience got tired of the characters fighting for no reason. So I talked with my action director [Ku Huen Chiu] – who is a student of Yuen Woo-ping and worked with Stephen Chow – to come up with something very fresh.
I think Chinese martial arts cinemas needs to resolve two problems – firstly, the audience needs to be emotionally involved. There needs to be a reason why the characters are fighting. And we also have to successfully combine the older traditions of martial arts filmmaking with visual effects.
What level do you think the Chinese industry has achieved in terms of VFX?
I think Chinese cinema is at a turning point – quality movies were made in the era of central planning, and now all of a sudden there's a market, but you don't really see a lot of quality movies any more. Why is that?
We have really strong competitors at the gate – and I'm not saying that all American movies are good – some can catch your eyes and never catch your heart. But I think Chinese cinema is having the same problem right now. People want to make a small investment to make huge money, but you have to spend money before quality can be guaranteed. And you have to find the right balance between imagination and technology.
The Chinese industry is learning the technology, but you cannot do a good movie without imagination. Some people in the West say that Chinese people are very smart, but sometimes the problem is a lack of creativity. I hope that in this industry, the filmmakers allow themselves to be more free and think visually about what they can achieve. Otherwise we can't compete against Hollywood.
Chinese literature is imaginative, so is it just a matter of time before filmmakers learn how to compete?
Perhaps, but the issue we face is how do you make a quality movie with interesting commercial ideas, because the market is huge, and you can't just ignore that. It's very different from 20-25 years ago when there was no market at all so you could just focus on your artistic creativity and make a smaller movie that explores human nature and so on. Now we have to make the film for the audience. Hou Hsiao-hsien recently said that the art film is dead, and I'm not so sure about that, but it's difficult for young filmmakers to do pure art movies.
You spent a few years in development and pre-production on this movie. Is that another problem that too many Chinese films are rushing into production too soon?
It's pretty normal in the West to take two to three years to develop a project, but here you are given the script after one month. You know that the script is not good enough but you have to go ahead and start shooting anyway. The shooting will last another month and a month for post-production. It's not right – you can't make a good movie in three months.
I told the investors that I needed a long time to make this movie – particularly during pre-production – and I only wanted to work with one unit, so we took seven and a half months to shoot. I guess you have to know what you want as a director and then fight for it.
Do you have the international audience in mind when making your films?
It's hard to say but when China wasn't that strong economically, the Western audience was interested in Chinese cinema, they wanted to see what was going on, and now the economy has grown, they've lost their interest. I don't know if that's because of the culture gap. We still have a lot of obstacles to face here, so we should develop this market first, but I hope more of our young students who love cinema will study abroad and gain a different vision of international cinema. Probably, I have hope for the next generation.