Pact will see DMG produce films based on Valiant comic character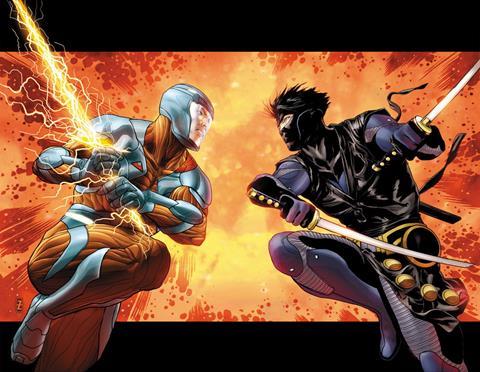 Beijing-based DMG Entertainment has struck a partnership with Valiant Entertainment under which the two companies will co-produce theatrical features based on the comic-book publisher's library of more than 2,000 characters.
The deal also spans TV production, licensing and publishing. Valiant characters include X-O Manowar, Bloodshot, Harbinger, Shadowman and Archer & Armstrong.
According to a statement, DMG has made an "eight-figure" (US$) equity investment into Valiant and dedicated a further "nine-figure" sum towards production of theatrical films and TV programmes based on Valiant's superhero characters.
Previously-announced Valiant feature films in development include Bloodshot, from Sony Pictures and Original Films; Shadowman, in partnership with the Sean Daniel Company from a script by J. Michael Straczynski; and Archer & Armstrong, also with the Sean Daniel Company from a script by BenDavid Grabinski.
"Global markets, like China, offer the greatest opportunities for monetisation from merchandising, licensing, as well as revenues from film and television properties," said DMG CEO Dan Mintz.
"Comic superheroes are the most lucrative and sought after IP for movie franchises, so taking a stake in the last independent massive comic universe is a strategic investment for DMG that will produce movies and TV that are both appealing and relevant to a global audience."
DMG and Valiant will also work together on China-focused licensing partnerships in areas such as Chinese-language publishing, animation, online gaming, toys, apparel, live events and theme parks.
In 2013, DMG co-produced and co-financed Marvel Studios' Iron Man 3. The company is currently co-producing thriller Autobahn, starring Anthony Hopkins and Ben Kingsley, and action title Point Break, directed by Ericson Core.
"Valiant's iconic stable of intellectual property and world class management team coupled with DMG's unmatched skill with entertainment brand building in China make a formidable partnership," said Valiant Chairman Peter Cuneo.
"We will look forward to introducing some of the most popular superheroes of all time to the world's fastest growing market across all media forms."