CHINA BOX OFFICE: Disney's Cinderella topped the box office over its opening weekend in China, grossing $24.8m in three days.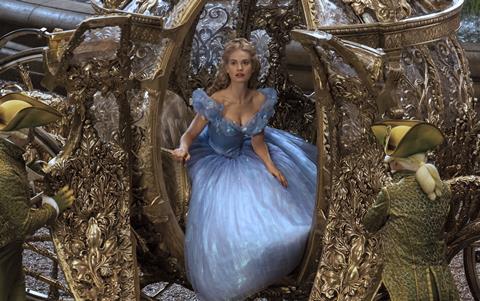 The live-action remake has grossed $28.7m in China including advance ticket sales.
It was followed by another Disney release – animation Big Hero 6 – which grossed $22.5m over the week March 9-15 for a cume of $67.9m after 16 days.
The Wachowskis' sci-fi epic Jupiter Ascending came in third with a robust $16.7m for a cume of $41.2m after 10 days, not far behind its $46m domestic take.
Wong Jing's From Vegas To Macau 2 took fourth position in the weekly chart, according to EntGroup figures, grossing a further $10.68m for a cume of $152m.
It was followed by Jean-Jacques Annaud's Wolf Totem, also released over Chinese New Year, which took a further $7.62m for a cume of $108.4m.
Paddington, produced by StudioCanal and released by Huaxia Distribution, came in sixth with $5.5m. The CGI and live-action mix is benefitting from strong word-of-mouth and has grossed $13.3m after 11 days.
It was followed by Jackie Chan's Chinese New Year release Dragon Blade, which grossed $3.3m over the week for a cume of $117.5m.
Rounding out the chart, Wang Ning's The Right Mistake grossed $1.93m for a cume of $5.74m; Wang Meng-yuan's thriller Nowhere To Runopened with $1.79m for over three days; and Rain Li's US-China co-production Beijing, New York grossed $923,000 for a cume of $2.9m.
New releases this weekend include Taken 3, starring Liam Neeson, and Huayi Brothers' Lost And Love, starring Andy Lau and Jing Boran, while Kingsman: The Secret Service opens March 27