Dir: Kenneth Branagh. US-UK. 2015. 105 mins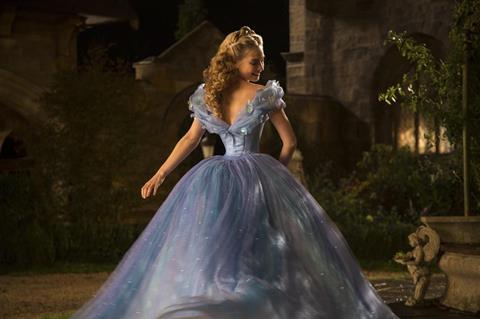 Disney and Kenneth Branagh's new, live-action version of the classic fairytale could well be the last great big-budget romantic film of the analogue era. With its sumptuous, no-expenses-spared sets and its yards-of-tulle costumes, created respectively by living legends Dante Ferretti and Sandy Powell, not to mention its vibrant colour photography using real 50 and 200 ASA film and Panasonic anamorphic lenses, Cinderella is a paean to a dying epoch, a lost, handcrafted age of Hollywood filmmaking. But it's also a delightfully clear-eyed adaptation of Charles Perrault's fable of goodness triumphing over adversity, which brings psychological depth to characters like Cate Blanchett's magnificent, believable stepmother, and even provides a little geopolitical context for the story's fantasy kingdom, without forfeiting the magic - both supernatural and romantic - that has made Cinderella such an enduringly necessary tale for generation after generation.
Though Lily James' radiant Cinders knows how to stand up for herself, Chris Weitz's screenplay is not a girlpower rewrite like Frozen, nor does it do a Snow White and the Huntsman, or a Mirror Mirror, and mess with a perfectly good story. The credits tell us that the film is "based on Disney's Cinderella properties and the fairytale written by Charles Perrault", so alongside the fairy godmother, the pumpkin carriage and the glass slipper - already there in Perrault's 1697 version of the folktale - we get (thanks to some seamless GGI work) the helper mice and, briefly, the bluebirds, though the footmen are now lizards (as in Perrault) and the coachman a goose. And there are no songs - only a lush, emotional orchestral score by longtime Branagh collaborator Patrick Doyle, which peaks in a catchy, swoony waltz at the ball between Cinders and her dashing prince.

Released on March 13 in the US and rolling out in most other territories soon after, Cinderella will provide an interesting test case of the appetite for old-fashioned fairy-tale romance outside of the Christmas slot. Squarely aimed at a female market, but also marketable as a safe date movie, the film will probably play a little older than Frozen's core six-to-eleven audience, with Disney clearly banking on its cross-generational potential.

Filling in a backstory that merited just a line of voice-over narration at the beginning of Disney's 1950 animated version, Branagh and Weisz's Cinderella opens on the idyllic childhood of 'Ella', who lives with her loving ma (Atwell) and doting but work-weary travelling merchant of a father (Chaplin) in a big, comfortable country house placed somewhere on the border between fantasyland and England's home counties. The mother soon ails and dies, telling Ella before she slips away that she should "have courage, and be kind" - words that will recur like a talisman from here on in.

Her father's ill-advised second marriage brings sultry widow Lady Tremaine (Blanchett) and her two empty, snobbish daughters (Grainger and McShera) into the household. Blanchett is chillingly magnetic as a scheming flame-haired viper, whose dangerous, serpentine qualities are brought out by her 1940s, wartime-vamp dresses and crimped hairstyles. When her father too dies while away on business, Ella is left to the mercy of her stepmother and sisters, but it's not only envy of their stepsister's beauty and accomplishments that motivates her slow but sure demotion from equal to servant girl; Lady Tremaine's bitterness at having lost not one but two male providers of Parisian couture and other essentials is shown to be another factor, as is her simmering resentment of Ella's dead mother. The fact that she is also not-so-secretly disgusted by the idiocy of her own daughters gives her persecution of the ash-smeared girl they all soon start calling 'Cinder-Ella' another twist.

A woodland encounter during a stag hunt provides a nice foil to the later device of the unknown beauty at the ball. Ella has no idea who the prince (Madden) is when she first meets him on horseback, believing - his rich hunting doublet notwithstanding - that he's a humble apprentice. We first see the royal palace from the air, along with a stretch of coastline that makes what we discover is a "small kingdom among great states" look like a cross between Middle Earth and the landscape background of a Flemish old master painting. It's an authentic Baroque extravaganza, more Versailles than Disneyland, and its politics feel credible too, with the shrewd but kind-hearted king (Jacobi, spurred on to a nicely affecting performance by his old protégé, Branagh) eager to push through a marriage for his son that will bring security to the vulnerable realm.

James, who came to fame in Downton Abbey, is well-cast as Ella: she's fresh-faced and kind but with a determination in her face - centred on those dark eyebrows - that comes out in a splendid final stand-off with her stepmother when, in another variant on the old story, she refuses to cut a power-sharing deal. Game of Thrones star Madden's smart, down-to-earth prince is equally convincing - he's not unlike a modern royal, trying to balance affairs of state with affairs of the heart, aware that he is not quite a free agent in either. And in the film's most obvious casting gambit, Helena Bonham Carter's Fairy Godmother is a scatty magic-weaver who sounds a bit like Joanna Lumley in Absolutely Fabulous.

Her wand-waving magic, however, is oddly anti-climactic. It had to happen, of course, because it's there in "Disney's Cinderella properties", and there are enough variants in the exhilarating CGI pumpkin-to-carriage and carriage-to-pumpkin sequences to keep things feeling fresh. But with so much psychological realism in this new version of the old tale, and such a resourceful Cinders, you kind of wish the script had allowed her to work out her own way of going to the ball, without Bonham Carter's bad-hair-day deus ex machina.



Production companies: Disney presents an Allison Shearmur/Beaglepug/Kinberg Genre production

International sales: Walt Disney Studios

Producers: Simon Kinberg, Allison Shearmur, David Barron

Executive producers: Tim Lewis

Screenplay: Chris Weitz

Cinematography: Haris Zambarloukos

Editor: Martin Walsh

Production designer: Dante Ferretti

Costumes: Sandy Powell

Music: Patrick Doyle

Main cast: Cate Blanchett, Lily James, Richard Madden, Stellan Skarsgard, Holliday Grainger, Sophie McShera, Derek Jacobi, Helena Bonham Carter, Nonso Anozie, Ben Chaplin, Hayley Atwell