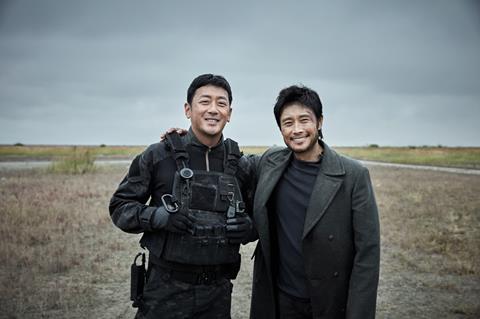 South Korea's CJ Entertainment has announced pre-sales to a slew of territories with partial release dates for upcoming volcano action drama Ashfall, starring Lee Byung-hun and Ha Jung-woo.
Co-directed by Lee Hae-jun (Castaway On The Moon) and Kim Byung-suh (Cold Eyes), the film is produced by Dexter Pictures, the company behind the Along With The Gods hit franchise. It also features Don Lee (aka Ma Dong-seok from Train To Busan), Jeon Hye-jin and Bae Suzy.
CJ says the film has sold to 90 countries including the US and Germany (Capelight), Taiwan (MovieCloud), Hong Kong (Edko), Singapore and Malaysia (Encore), Thailand, Cambodia, Laos and Myanmar (Sahamongkol), Australia and New Zealand (JBG Pictures), Indonesia (PT. Graha Layar Mitra), Vietnam (CJ HK), Japan (Twin), France (Metropolitan), the Philippines (Viva), Turkey (Hann) and in-flight (Emphasis).
Set for local release December 19, the film is set to open December 20 in the US, December 24 in Taiwan, January 1 in Hong Kong, January 2 in Singapore and Malaysia, January 8 in Indonesia, the day after in Thailand and Australia, and January 31 in Vietnam.
The film follows the drama that ensues when Korea's tallest volcano, Baekdusan, sitting on the China-North Korea border, unexpectedly erupts and the peninsula is left in shambles. Seismologist Bong-rae (Ma) suggests a way that could potentially stop a further explosion and In-chang (Ha) is tasked with seeking out and teaming up with rogue elite North Korean officer Jun-pyeong (Lee Byung-hun) to stop the imminent devastation.