Dir: Louis Leterrier. US. 2010. 108 mins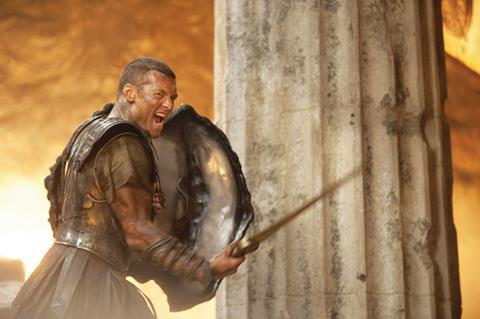 Visual might meets narrative meagreness in Clash Of The Titans, a remake of the 1981 fantasy-action film that boasts a wealth of treats for the eye but doesn't add up to a rollicking adventure. Director Louis Leterrier (The Incredible Hulk) has focused his energy toward turning this man-versus-gods battle into an epic spectacle, but his relentless pursuit of that goal ultimately serves to underscore the deficiencies elsewhere.
An aggressive marketing push and a dearth of action alternatives will only boost this Warner Bros. release's prospects.
Opening in many territories on April 2, Clash Of The Titans will benefit from several potent commercial factors. Star Sam Worthington could not be more bankable after his turn in Avatar, and in light of the recent successes of that film and Alice In Wonderland, Clash's utilisation of 3-D technology should capitalise on the format's fashionableness with mainstream audiences. An aggressive marketing push and a dearth of action alternatives will only boost this Warner Bros. release's prospects.
In ancient Greece in the city of Argos, humble fisherman Perseus (Worthington) has just lost his family in a storm created by the wicked god Hades (Ralph Fiennes). After discovering that his birth father was almighty Zeus (Liam Neeson), Perseus reluctantly agrees to lead a group of human warriors on a journey to retrieve the head of the monster Medusa and thereby save Argos from Hades' seemingly indestructible beast the Kraken.
The original Clash Of The Titans, helmed by British director Desmond Davis, is remembered chiefly for Ray Harryhausen's charmingly old-fashioned stop-motion effects work on the story's mythological creatures, which, ironically, were often more lively than the film's wooden performances and square-jawed earnestness.
Though the new Clash mostly preserves the original's main plot points, the filmmakers have wisely opted for state-of-the-art digital effects to differentiate this remake from the first film's playful spirit. As part of that beefed-up approach, the remake was converted to 3-D after principal photography, but although the increase in depth of field enhances the battle scenes, Clash cannot compare with the sheer visual wonder of an Avatar.
As with the original, the new film suffers from a lack of emotional connection with the characters. When Leterrier unleashes his elaborate action sequences – including showdowns with gigantic scorpions and a bone-chilling Medusa – he manages to deliver muscular scenes that revel in their hyperbolic excess. But in between those rousing moments are dull stretches in which Perseus wrestles internally with his demigod status and awkwardly develops a flirtatious rapport with his beautiful guide Io (Gemma Arterton). As a director of actors, Leterrier seems to favour the same brutish, unsubtle style that informs his fight scenes, resulting in lobotomized portrayals of heroes and villains.
Worthington's star has steadily risen after roles in Terminator Salvation and Avatar, but as an actor he remains severely limited, which is problematic since the screenplay offers him only a generically brooding tough-guy character to play. By comparison Mads Mikkelsen instils his underwritten role as a decorated veteran soldier with a gravitas missing from Worthington. And in keeping with the film's overall bland professionalism, Neeson and Fiennes give competent performances that remain safely within the parameters of their established onscreen personae.
Production companies: Legendary Pictures, Thunder Road Film, Zanuck Company
Worldwide distribution: Warner Bros. Pictures
Executive producers: Richard D. Zanuck, Thomas Tull, Jon Jashni, William Fay
Producers: Basil Iwanyk, Kevin De La Noy
Screenplay: Travis Beacham, Phil Hay, Matt Manfredi
Cinematography: Peter Menzies, Jr.
Production designer: Martin Laing
Editors: Martin Walsh, Vincent Tabaillon
Music: Ramin Djawadi
Main cast: Sam Worthington, Liam Neeson, Ralph Fiennes, Gemma Arterton, Mads Mikkelsen, Jason Flemyng, Danny Huston, Alexa Davalos