Dir/scr: Olivier Assayas. France-Switzerland. 2014. 123mins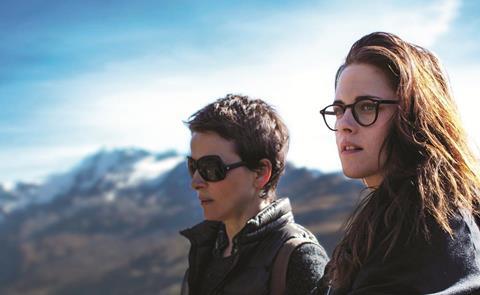 In the majestic altitude of Sils, near St Moritz in Switzerland, certain weather conditions give rise to what is termed "The Majola Snake" -a cloud that winds itself through the glacier valley like a vapour. Clouds Of Sils Maria, Olivier Assayas' essay on the passage of time and the twists of perspective as experienced by an ageing actress who returns to a text 20 years after she played its ingénue, is, by turns, equally elusive, frustrating, and undeniably appealing.
In certain respects, Sils Maria returns Assayas to the terrain of one of his most popular films, Irma Vep, which was a deconstruction of an actress and a film.
If there was ever a reminder needed of Juliette Binoche's great and enduring talent, Assayas delivers it here. He has written his old friend a grand, almost old-fashioned role - that of a vulnerable performer forced to confront herself, both past and present, by re-reading a text she once understood as a young person on her way out to conquer the world in which she now struggles to maintain her grip. An earnest Kristen Stewart, playing her personal assistant, prompts some of the film's more difficult confrontations and underscores the latent talent that has been suffocated underneath the media hype. It's an attractive pairing indeed.
Sils Maria, however, is a niche film whose protracted deliberations could alienate as many as it seduces. It will certainly play to cineastes and those up for an intellectual workout, although it features more than a few moments of clunky dialogue, despite its refined airs. Binoche plays Maria Enders, a world-famous actress who agrees to perform in the restaging of a play about a young girl who forces her older boss and lesbian lover into committing suicide. Once Maria was the ingénue, but that part is now being taken by a hot young paparazzi-magnet, Jo-Ann Ellis (Chloe Grace Moretz).
The film kicks off with the death of the play's writer [off-screen], with whom Maria has enjoyed a close relationship, and Binoche ultimately ends up retreating to his house in Sils Maria to rehearse the role with her capable PA Valentine (Stewart). Together they walk in the mountains and deconstruct the text, and their dynamic is intriguing – they are close, but also not friends. They test each other.
Sils Maria, famously, is where the philosopher Freidrich Nietzsche refined his concept of eternal recurrence, but Maria and Valentine struggle to make a breakthrough. Power and jealousy alternate with vulnerability and the loaded questions of youth, age and dependency, as the clouds roll above, always threatening to descend into the snake.
Sils Maria is loaded with history, both on the screen (we are told that the original older actress in the play died almost immediately after it ended, for example), and off-camera as well. Assayas was the writer of Rendezvous, the Techine film which made Binoche's name in Cannes back in 1985, when she was just 21. Written specifically for her, Sils Maria is, at least for the first part, very focused on the dead writer of the play and Maria's relationship with him and the play's co-star Henryk (Hanns Zischler).
In certain respects, Sils Maria returns Assayas to the terrain of one of his most popular films, Irma Vep, which was a deconstruction of an actress and a film. Here, in a film-within-a-film, Chloe Graze Moretz appears in a futuristic shiny pantsuit which isn't a million miles away from Maggie Cheung's zip-up number. This all adds a richness for film fans, but as Sils Maria concludes, everything depends on your point of view.
Assayas works with cinematographer Yorick Le Saux here, who last made Carlos The Jackal with the director but whose lensing on Only Lovers Left Alive struck such a visual chord at Cannes last year. Together they present the vistas of Sils without fetishizing their beauty; there is a particular sequence with Binoche sitting at the edge of a hill, and of a breakthrough, which is breathtaking. Music is effective and never more so than when Primal Scream bursts into the space.
Sils Maria moves to London for an epilogue, which is longer than expected and a marked shift in tone from the earlier debates – it's a section in which the theoretical becomes incarnate. It has a different mood and feeling, and Chloe Grace Moretz's part comes to the fore, and is an effective coda.
Production company: CG cinema
International sales: MK2, intlsales@mk2.com
Producer: Charles Gillibert
Executive producer: Sylvie Barthet
Cinematography: Yorick Le Saux
Editor: Marion Monnier
Production designer: Francois-Renaud Labarthe
Main cast: Juliette Binoche, Kristen Stewart, Chloe Grace Moretz, Angela Winkler, Lars Eidinger, Johnny Flynn