Dirs: Cho Ui-seok, Kim Byung-seo. South Korea. 2013. 119mins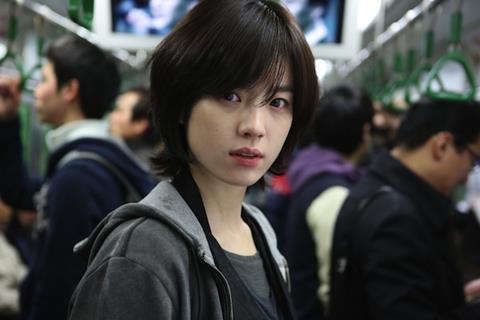 Based on the 2007 Hong Kong crime thriller Eye In The Sky, the South Korean remake closely follows the original's compelling premise of a surveillance unit tracking down a leader of an armed criminal organisation in the heart of a large city, but it's also technically superior in its use of dazzling cinematography topped with a good eye for exploiting Seoul's urban landscape along with a smartly chosen cast that arms Cold Eyes with a great deal of caliber and vibrance making it a highly accomplished thriller.
Han Hyo-joo renowned for her roles as a romantic lead has never been so attractive as the fiercely intelligent rookie.
The film has amassed 5.4 million admissions (approx $34.3 million) in its local market of South Korea becoming the fourth most successful local film so far this year that's due in part to its impressive cast that includes a host of names including Seol Kyung-gu (2012's The Tower) and Jung Woo-sung (The Good, The Bad, The Weird), but the film has also largely benefited from strong word-of-mouth that has allowed it to successfully compete with films on significantly higher budgets such as Pacific Rim and Mr. Go.
Cold Eyes is also set for a dream start on the international circuit as it makes its North American premiere at the Toronto International Film Festival in the gala presentations section, giving the film the exposure it richly deserves and potentially attracting buyers who are after a solid and sophisticated South Korean thriller that will generate revenue on ancillary markets.
Much like the 2007 original film, Cold Eyes centers on a special crime division that specialises in surveillance activities on high profile criminals as it follows the members of this team, most notably Ha Yoon-ju (Han Hyo-joo) who is the newest member of this group who possesses a number of observation skills including the ability to remember almost anything.
Also playing one of the leads is Seol Kyung-gu who plays the unit's tough but warm-hearted leader who gradually forms a close partnership with Ha as they attempt to track down a dangerous individual called James (Jung Woo-sung) who is the leader of a criminal organization that takes orders from a mysterious broker to conduct a number of heists.
One of the film's greatest strengths is how it captures the Seoul metropolis through its stunning and energetic camera work switching between high level sweeps from tall skyscrapers as James monitors what's going on below to footage on the ground ranging from conventional shots and panning to some nicely orchestrated handheld camera work without making it nauseating.
The film's producers (Lee Eugene and co-producer Song Dae-chan) along with the directors (Choi Ui-seok and Kim Byung-seo) deserve special mention for bringing together a wealth of talent on screen. The cast doesn't just include bankable names, but they are also both well suited to the roles, while also delivering something different to their respective onscreen personas.
Seol Kyung-gu, famous for portraying an unorthodox police detective in the popular Public Enemy films, plays a more gentle and fatherlike lead in the leadership role while Han Hyo-joo renowned for her roles as a romantic lead has never been so attractive as the fiercely intelligent rookie. Jung Woo-sung meanwhile plays the villain for the first time and yet still brings much of his charm as a cold hearted-killer. K-pop star Lee Jun-ho also leaves a lasting impression in his first significant role in a feature film as one of the younger team members.
Equally worthy of mention is the collaboration between director Cho Ui-seok who made local thriller The World Of Silence (2006) and cinematographer Kim Byung-seo – he's worked on a number of films including Lee Hyun-seung's Hindsight (2011) - who both work on the film as directors. Kim who is also credited as one of the film's cinematographers together with director Cho have constructed a film that's visually more arresting than the original while also ensuring it maintains a strong and consistent flow aided by some interesting characters that made the 2007 film an attracting prospect for a remake.
There are some minor quibbles in terms of a lack of background information regarding some of the film's plotting and characters, especially the film's villain, James, and his relationship with the broker, but the film's strengths fortunately outweigh these weaknesses.
In a nice touch, Simon Yam who plays the chief of the intelligence bureau in Eye In The Sky plays a small but noticeable cameo at the end paying tribute to the original film.
While it will be a more challenging feat to further continue its strong theatrical run given that one of this year's most anticipated local releases Snowpiercer is now attracting cinemagoers along with other new releases, it can, however, now begin to look overseas in what is a potentially lucrative market for the film after it screens at TIFF.
Production company: Zip Cinema
International sales: Opus Pictures, opus@opuspictures.com
Executive Producers: Lee Tae-hun, Kim Woo-taek, Stephen Ng
Producer: Lee Eugene
Co-producer: Song Dae-chan
Screenplay: Cho Ui-seok, based on the film Eye In The Sky
Cinematography: Kim Byung-seo, Yeo Kyung-bo
Editor: Shin Min-kyung
Music: Dalpalan, Jang Young-gyu
Main cast: Seol Kyung-gu, Jung Woo-sung, Han Hyo-joo, Jin Gyeong, Lee Jun-ho