Dir/scr: Simon Aboud. UK. 2012. 91mins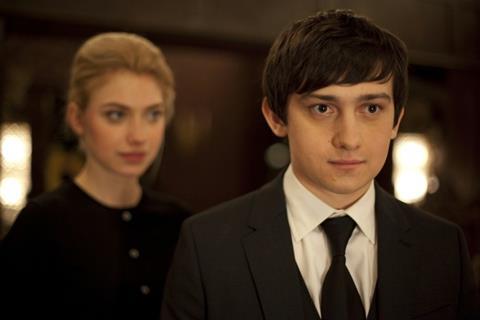 An odd and at times engaging blend of heist-drama and young-love, Comes A Bright Day offers up intriguing and challenging roles for young English actors Craig Roberts and Imogen Poots, and if the film never quite finds its right tone or balance there is still much to enjoy in a series of knowing performances from a strong cast.
Writer/director Simon Aboud gets things pretty right with the interplay between Poots, Roberts and Spall.
Both Roberts (who made such an impact in Submarine) and Poots (who starred in Jane Eyre and most recently Fright Night) are charismatic talents, and acting alongside polished performers such as Timothy Spall and Kevin McKidd they give the film – a talky but tense affair, largely set in a couple of rooms during a botched heist – a dose of class, and could help it find an appreciative audience.
In Submarine, Craig Roberts played a complex teen. In Comes A Bright Day he is Sam, a young man in his first job – working as a gofer at a plush London hotel – who clearly has ambitions. He wants to team with his oldest friend Elliot (Anthony Welsh) to open a restaurant, but when he meets young jewelry store assistant Mary (Poots) he can't bring himself to admit to her that he is a mere worker drone.
Wanting to ask her out, he visits the store where she works for erudite Charlie (Timothy Spall). His timing, though, couldn't be worse as the store is held up by gun-toting and masked Cameron (Kevin McKidd) and his young sidekick (Josef Altin). When the police arrive there is a brief gun battle before the doors are locked and Sam, Mary and Charlie find themselves hostage, with Cameron increasingly erratic and dangerous.
With the threesome tied-up and threatened gradually Sam starts to reveal the truth about his modest work to Mary, and while Charlie encourages the young couple, very real danger comes from Cameron (with Kevin McKidd going blissfully over the top at times) who is both trigger happy and starts to lust after Mary.
Craig Roberts, who looks like he has just left school and convinces as a genial but ambitious young man, has a gentle line delivery and complex nature that suits the role as Sam starts to grow in face of adversity, while Timothy Spall is genial and warm as the kind-hearted store owner who has a sad story of his own to tell.
To a large degree though the film belongs to Imogen Poots, whose glacial beauty and poise confirms her as a real star to watch out for. She is at the centre of all of the incidents (despite Roberts perhaps being the nominal hero of the film) and radiates a calm youthful class.
Aspects of the film don't ring true – the machinegun battle in the London streets is not well staged (and seems too contrived) and Cameron's increasing psychopathic behaviour is poorly explained – but writer/director Simon Aboud gets things pretty right with the interplay between Poots, Roberts and Spall. The film won't be an easy one to place in general distribution, but there are moments to enjoy.
Production companies: Ipso Facto Films, Cinema Six, Smudge Films, Matador Pictures, Regent Capital, Lost Tribe Productions
International sales: Intandem Films, www.intandemfilms.com
Producer: Christine Alderson
Executive producers: Sabrina Guinness, Boo Simonian, Hugh Spurling, Nigel Thomas, Mat Wakeham, Charlotte Walls
Cinematography: John Lynch
Editor: Gavin Buckley
Production designer: Ricky Eyres
Music: Joel Cadbury, Melissa Parmenter, Paul Stoney
Website: http://comesabrightday.com
Main cast: Craig Roberts, Imogen Poots, Timothy Spall, Kevin McKidd, Josef Altin, Geoff Bell, Anthony Welsh