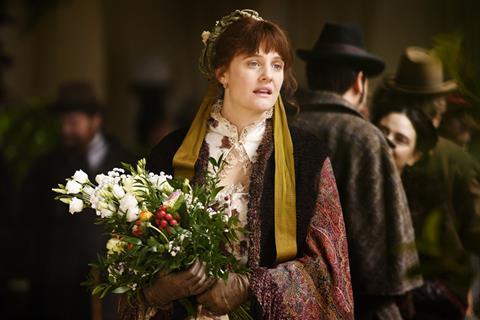 In a year that has been filled with surprises, the revelation that Venice 77 Competition will show eight films directed by women out of an 18-picture line-up will surely rank as one of the best.
More titles will follow, but this year's Venice looks like a Damascene moment for its director Alberto Barbera, who in 2020 will double the number of female auteurs over the previous four years combined in a line-up which looks very global, very arthouse, and very welcome.
It has been made abundantly clear over recent weeks that the American presence in Venice will be minimal, but this first fully physical A-list event to take place since Berlin wrapped on March 1 is an almost back-to-basics festival with a pure focus on showcasing global arthouse cinema. And in 2020, could you ask for more? With the Cannes 2020 label still under wraps to audiences until the films find a home, Venice is a sign that the drought is over, the tap is back on. And questions about Oscar launchpads – the word was only mentioned once by Barbera, in connection with Chloe Zhao's Nomadland – now fade away as the opportunity to savour such a varied line-up of global projects presents itself to a very thirsty crowd.
This is a difficult year in which traditional release patterns have been completely upended. Cinemas in some territories have tentatively reopened, mostly with older product, while some remain stubbornly, perilously closed. Warner Bros will now release Tenet globally before a domestic rollout, while streaming has seen an unexpected boost for the subtitled sector. A high-end digital release following a festival launch is no longer out of bounds.
Now we can see that in 2020 it will not fall to Venice to boost the multiplex any more than the multiplex has ever seen its job as saving global arthouse cinema. Splashy rollouts such as last year's The Joker, Ad Astra or The Laundromat are off as the Venn intersection between festivals and the US awards season contracts to almost nothing. (Netflix declining to participate in any festival this year has helped that shrinkage.)
This leads Venice back to festival basics, and, in the way of other lockdown trends involving bicycles, breadmaking and staycations, it feels right. The world's oldest film festival is chiming with the times.
Apart from the notable presence of female directors, not one of them a debutant, Venice 77 stands out on paper for the geographical range of the line-up, both in competition and Horizons, which features in particular a strong selection from the Middle East and North Africa. Five Competition titles from Italy, but also films from Azerbaijan, Germany, Russia, France, Israel, Iran – and intriguing ones to boot. A spy drama from Kiyoshi Kurosawa, for example, set during the Occupation of Manchuria; or Kornel Mundruczo's English-language debut Pieces Of A Woman, with Shia LaBoeuf and Vanessa Kirby in a story about a home birth gone awry, or New Order, Michel Franco's sci-fi dystopia. How about Romola Garai as Karl Marx's daughter in Susanna Nicchiarelli's Miss Marx? Or veteran Andrei Konchalovsky's black-and-white drama about a 1962 workers massacre in Russia called Dear Comrades?
The film business is going through deeply challenging times. Recovery is fragile and could be easily set back, as Spain's recent resurgence in virus cases heartlessly demonstrates. What's emerging is a resetting of the clock, a move to consolidate, not to grow relentlessly bigger and starrier – which doesn't always mean better.
Venice was the first film festival, and now it's the first festival to start the global film business back on the road. Who knows how things will revert in 2021, but Venice 77 is the right festival for the right time. The multiplex has its issues; but Barbera has shown that arthouse cinema is very much alive, and that's the most welcome news of all.


Screen International's chief critic and reviews editor, based in the UK