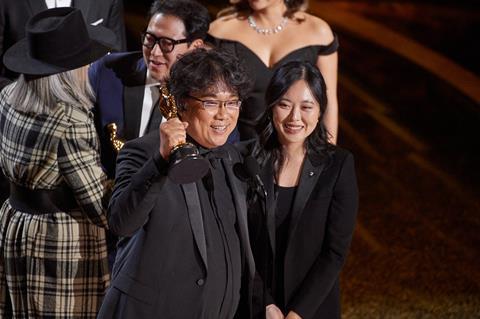 Let's set Netflix aside for a moment. Let's shelve memories of the brouhaha over the Moonlight -La La Land mix-up several years ago. Parasite's extraordinary Oscar night triumph on Sunday is the most radical event to occur at the Oscars in recent memory.
It is also the best thing that could have happened to the Academy Awards.
Finally, at a time when the whole shebang had been creaking under the weight of its own irrelevancy, beset by an outcry over the lack of female representation and the all-too-familiar #Oscarsowhite backlash, along comes a history-making, South Korean behemoth to save the day, made by a brilliant director who never takes himself seriously.
In becoming the first foreign-language film to win the best picture award, Parasite has shown filmmakers from around the world that anything is possible: stories don't have to be rooted in Americana or English-speaking culture to win the big prize.
Culturally specific films that resonate beyond borders have been the province of what the Academy now calls the international feature film category for years. Now, they can break out of the ghetto and claim the best picture Oscar.
Backstage Bong, who said he was already working on separate projects in Korean and English, said, "I think naturally we will come to a day when a foreign language film – or not, it doesn't really matter – a foreign language film winning this won't be much of an issue later on, hopefully."
Of course, filmmakers like Bong Joon Ho don't come along too often. Film fans and the industry have known about his gifts for a long time. Even before his 2006 international breakout The Host, Bong's feature debut Barking Dogs Never Bite signalled a major talent back in 2000. Mother, Snowpiercer and Okja confirmed a storyteller of rare ability and range.
Parasite's Oscars triumph is a thrilling development. It speaks not only to the imagination and drive of CJ Entertainment and the film's backers and North American distributor Neon, who got on board the film at script stage, but to the Academy itself.
The body nominated it, and, through the somewhat baffling preferential voting system used to choose the best picture winner, pushed it past the finishing line. The Academy has been a moving target in the debate over diversity, but it does not deserve all the flak it gets.
While its record on female directors is woeful, it has done a little better but still not enough in getting behind people of colour, depending on which year one looks at. There is a long way to go before the Academy's actions reflect society and not just the older white male that still comprises an influential core of the membership. The next set of numbers the Academy will put out about its latest membership intake are expected to show it is inching towards parity.
However the Academy can only nominate what it is presented with. The broader industry needs to do better to support inclusion, too.
Meanwhile, the gauntlet has been thrown down. It is up to filmmakers from around the world to continue to be bold in their storytelling, for US distributors to be bolder still and adopt these films with the zeal and artistry that Neon has shown, and to the Academy's voting members to let stories like this fly as high as audiences want them to go.


Jeremy Kay is Screen's US editor based in Los Angeles.