Dirs: Anja Daelemans, Nicholas Bonner, Kim Gwang-hun. Belgium-North Korea-UK. 2012. 83mins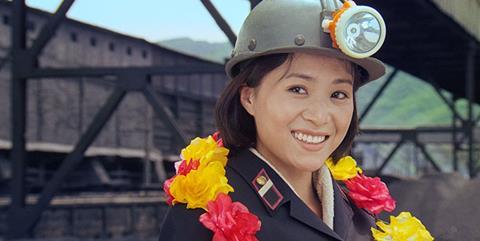 The cheery spirit of Stalinist-era propaganda films is alive and flourishing in Comrade Kim Goes Flying, a fluffy, feel-good valentine to a little working-class girl with impossible dreams. The film's unique status as the first Western-financed fiction feature made entirely in North Korea should attract the curiosity of some Festival programmers. The retro sensibility, garish production design and simplistic plotting are unlikely to attract wider international audiences unless the film finds a niche as a high camp object of derision.
Comrade Kim does afford the odd, lush picture postcard glimpse of the notoriously secretive North Korea.
Comrade Kim (Han Jong-sim) is just the Stakhanovite-style worker that Stalin might have admired. A coal miner in a small rural village, she is dedicated to her work and renowned for exceeding her quotas. She has dreamt of being an acrobat since her childhood but put such foolish hopes aside after the death of her mother.
Assigned to a Construction Site in Pyongyang for a year, she is thrilled at the opportunity to see the big city and visit a circus where she meets trapeze artist Ri Su Yon. Encourage to audition, she is publicly humiliated but leaves determined to conquer her fear of heights and prove to arrogant but seemingly irresistible Pak Jang Phil (Pak Cung-guk) that even coalminers can master the high wire trapeze.
In some respects, Comrade Kim is no more corny than anything Hollywood might have devised for Ruby Keeler or Deanna Durbin in the 1930s - Kim even pretends to have a twin sister at one point. There are even times when it seems to acknowledge its own ridiculousness when Kim challenges Jang Phil to a cement mixing context or arm wrestles with factory workers. It might have worked as a tongue-in-cheek spoof with a hint of Tears Of The Black Tiger and it is hard to take seriously at face value.
The latter stages of the film are more engaging as Kim undertakes a grueling training schedule to chase her dream. Suddenly, we are in the familiar comfort zone of underdog territory defined by Billy Elliot and countless Rocky films. The production notes reveal that the performers are circus acrobats who have never previously acted and that may explain why the scenes focusing on the trapeze routines and acts of physical derring-do easily carry the most conviction.
Generally, the performances veer towards the enthusiastic and eager-to-please with Han Jong-sim all wide-eyed smiles and plucky determination as Kim.
Comrade Kim does afford the odd, lush picture postcard glimpse of the notoriously secretive North Korea but it is not flamboyant enough to work as a candy-coloured satire (a musical number or two might have helped) and it is not charming enough to succeed on its own modest terms as a heartwarming fairytale.
Production company/International sales: Another Dimension Of An Idea
Producers: Anja Daelemans, Nicholas Bonner, Kim Gwang-hun
Screenplay: Sik Sin-myong, Kim Chol
Cinematography: Hwang Jin-sok
Editors: Alain Dessauvage, Kim Yun-sim, Gao Bing, Ren Jia
Production designer: Kim won-song
Music: Ham Chol, Frederik Van de Moortel
Main cast: Kim Chol, Han Jong-sim, Pak Chung-guk, Ri Yong-ho, Kim Son-nam