Fox's 3D animation records second consecutive week as UK's number one, crossing £10m in the process; Paramount's G.I. Joe: Retaliation debuts to $4.2m (£2.8m), including previews.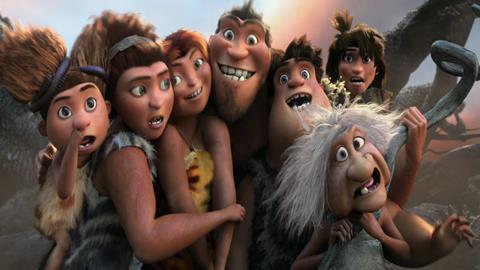 In spite of strong competition from G.I. Joe: Retaliation, The Croods retained top spot at the UK box office for the second consecutive week over the Easter weekend.
Fox's 3D animation crossed £10m as it took a further $5m (£3.3m) to climb to $15.7m (£10.6m) as of March 31. In terms of DreamWorks Animations' original features, that total puts The Croods ahead of the likes of Megamind and Bee Movie, with Rise of the Guardians ($19.3m/£12.7m) among those next in its sights.
Including its April 1 gross of $2m (£1.3m), The Croods is up to $18.1m (£11.9m).
Also for Fox Trance scored a strong confirmed $2.4m (£1.6m) debut, including $656,000 (£432,532) in previews, to chart third.
In terms of director Danny Boyle's previous features, that opening puts Trance as Boyle's fourth-best in the UK, behind only The Beach ($3.7m/£2.4m), 127 Hours ($3.3m/£2.2m) and Slumdog Millionaire ($2.8m/£1.8m), the latter of which is Boyle's best-ever UK grosser at $48.1m (£31.7m). It's worth noting that Trainspotting initially opened on 57 sites for an $839,000 (£551,920) debut.
Including Easter Monday, Trance has grossed $2.9m (£1.9m).
While it couldn't unseat The Croods, Paramount can be pleased with the $4.2m (£2.8m) UK bow for G.I. Joe: Retaliation, which included $1.3m (£882,528) in previews, from 419 sites.
That result is up on the $2.6m (£1.7m) debut of G.I. Joe: The Rise of Cobra from slightly more sites (442), although it's worth noting that Cobra's opening came from four days compared to Retaliation's five days.
G.I. Joe: Retaliation added $864,000 (£570,950) on Easter Monday, meaning it's already up to $5.1m (£3.3m) and halfway to Cobra's final tally of $9.8m (£6.5m).
Holding well in its second weekend was Warner Bros' Jack the Giant Slayer as it added $1.9m (£1.2m) to chart third.
Including its Easter Monday haul of $708,000 (£465,242), Bryan Singer's 3D action fantasy is up to $6.5m (£4.3m) and, along with the likes of The Croods and Oz, should enjoy a fruitful week with the school holidays.
Rounding off this week's top five was Entertainment's The Host, which debuted to a solid $1.5m (£991,017) from its 432 sites. That result is director Andrew Niccol's second-best UK opening, behind only In Time's $2.8m (£1.9m) from 428 sites.
While it dropped outside the top five, Disney's Oz the Great and Powerful enjoyed a sturdy fourth weekend, grossing an additional $1.5m (£975,577). Sam Raimi's 3D prequel is now up to a strong $18.6m (£12.2m) as of Monday (April 1) and is currently 2013's fifth biggest grosser.
Also for Disney, the 3D rerelease of Finding Nemo debuted to $403,000 (£264,718) with its solid $178,000 (£116,940) Monday gross suggesting it'll enjoy a decent run over the holidays.
Wreck-It Ralph has taken $34.4m (£22.6m) to date.
For Universal,Identity Thief laughed its way to a further $1.2m (£767,000) for $4.5m (£2.9m) after ten days in play. It still has some way to go before matching director Seth Gordon's previous UK outings, Four Christmases and Horrible Bosses, both of which took over £10m.
Side Effects crossed the £4m mark through eOne, thanks to a $524,000 (£346,620) weekend seeing it to $6.2m (£4.1m) to date.
Momentum's In the House opened to a solid $303,000 (£199,594) from 82 prints, with the running total climbing to $420,000 (£276,976) at the end of Monday. That result marks director François Ozon's second-best UK opening, narrowly behind the $306,000 (£201,588) debut of Potiche which went on to become Ozon's biggest UK hit at $1.3m (£835,361).
Welcome to the Punch stands at $1.7m (£1.1m) to date through Momentum.
This week sees saturation releases for Momentum's Dark Skies (opens April 3) and Disney's The Odd Life of Timothy Green. Vertigo's Spring Breakers receives a wide release, while Artificial Eye's A Late Quartet and Miracle Communications' Papadopoulos & Sons are among the films receiving a limited release.
For more of Screen's box office news, analysis and charts, visit our Box Office section by clicking the icon below.