Fox's 3D animation debuts top with a confirmed $8.3m (£5.4m), including previews; Warner Bros' Jack the Giant Slayer opens with $2.4m (£1.6m) to chart second.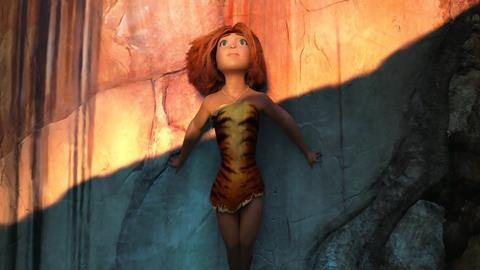 In spite of the weather, the UK box office bounced back slightly this weekend, spearheaded by The Croods' estimated $8.3m (£5.4m) debut.
That result, including previews of around $2.8m (£1.9m) from last weekend, saw Fox's 3D animation knock Oz the Great and Powerful off the top spot, preventing it from a third consecutive week as the UK's champion. It's worth noting that even without its preview boost, The Croods would have been a clear number one regardless.
The Croods is the first DreamWorks Animation outing to be distributed by Fox and ranks among the strongest debuts for an original DreamWorks Animation film. It's on par with Madagascar ($8.3m/£5.4m) and behind only Shark Tale ($11.5m/£7.4m) and Kung Fu Panda ($11.8m/£7.6m). It's also the biggest UK debut for both of its directors - Chris Sanders and Kirk De Micco.
In terms of 2013 debuts, The Croods ranks as the year's second biggest, behind only Les Misérables' $12.4m (£8.1m) bow.
The week's second highest new entry belonged to Warner Bros' Jack the Giant Slayer which stomped its way to a solid $2.4m (£1.6m) debut from its 468 sites, good enough for second spot.
That result is however behind most of director Bryan Singer's previous UK bows, such as X-Men's $7.2m (£4.7m) debut from 434 sites, but compares favourably to 2013's other fairy tale-based fantasy Hansel & Gretel: Witch Hunters, which debuted with $2.3m (£1.5m) from 404 sites at the beginning of the month.
Also for Warner Bros, The Incredible Burt Wonderstone failed to pull a rabbit out of the hat, plummeting to a second weekend gross of $97,000 (£63,459). The comedy has amassed just $865,000 (£569,000) to date.
Last week's champion, Disney's Oz the Great and Powerful, still held up well despite dropping two places to third.
Sam Raimi's 3D prequel crossed the £10m mark thanks to a third weekend of $2m (£1.3m), and has now grossed $15.3m (£10.1m) to date. It should look forward to a further boost with the upcoming Easter school holidays, as will all of this week's top three.
Meanwhile, Disney's 3D animation Wreck-It Ralph is up to an excellent $34m (£22.3m) after seven weeks in play.
The third new entry in this week's top five came in the form of Universal's Identity Thief as it stole it way to a $2m (£1.3m) debut, including previews, to chart fourth.
In comparison to director Seth Gordon's previous UK outings, Identity Thief ranks behind both Four Christmases ($3.5m/£2.3m) and Horrible Bosses ($3.1m/£2m), the latter of which went on to become Gordon's best ever UK result at $15.9m (£10.5m).
Also for Universal, Mama and Les Misérables have grossed $8.1m (£5.3m) and $60.8m (£40.1m), respectively.
Rounding off this week's top five was eOne's Side Effects, which added a further $925,000 (£609,406) to cross the £3m mark and climb to $5.2m (£3.4m).
Also for eOne, Parker is up to $2.4m (£1.6m) after three weeks in play.
Lionsgate released Stolen in 187 sites resulting in a $307,000 (£202,000) debut, which marks director Simon West's worst-ever UK opening, previously When A Stranger Calls' $752,000 (£494,131) debut.
It's worth noting however that all of West's previous UK outings have been released in more than 300 sites. Showcasing the relative softness of the market, Stolen's debut was still good enough for eighth in the chart.
After ten days in play, Lionsgate's The Paperboy has grossed $475,000 (£312,000).
Momentum's Welcome to the Punch is closing in on £1m, following a second weekend of $296,000 (£194,861) which saw it to $1.5m (£974,862).
For Paramount, Hansel & Gretel: Witch Hunters has taken $5.2m (£3.4m) to date, while Rise of the Guardians enjoyed a burst this weekend to take it up to $19.1m (£12.6m). The Guilt Trip has grossed $1.5m (£969,611) after three weeks in play.
This week sees saturation releases for Disney's 3D rerelease of Finding Nemo, Paramount's GI Joe: Retaliation (opens March 27), Entertainment's The Host and Fox's Trance (opens March 27). The Works' Good Vibrations receives a wide release, while Metrodome's King of the Travellers and Kaleidoscope's 12 in a Box are among the films receiving a limited release.
For more of Screen's box office news, analysis and charts, visit our Box Office section by clicking the icon below.