Dir/scr: Brett Morgen. US. 2012. 111mins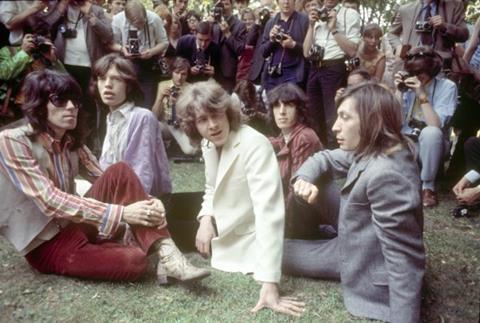 Produced by Mick Jagger, Crossfire Hurricane is billed as The Rolling Stones' personal take on the band as the craggy rockers hit their 50th anniversary. It's both engrossingly more and frustratingly less than that, effectively cutting out in the early 1980s after an almost two-hour blast of colour and candour which should make it prescribed viewing for Stones fans.
Jagger explains "people hang around Keith and they think they're Keith," but that's the only reference to the broken lives and relationships which have surrounded the Stones.
The frankness with which all surviving band (and former band) members attempt to tackle their much younger selves is unexpected and director Brett Morgen rises to the challenge to blend their words with a dazzling array of images. Although much of this is well-known and has been competently dealt with on film elsewhere (from the rarely-seen Cocksucker Blues to Gimme Shelter, 25x5, Shine A Light, and much, much more) their own take on the death of Brian Jones, the notorious 1972 tour and in particular the terror at Altamont give Crossfire Hurricane - which premiered at the London Film Festival - a particular resonance.
The reason their candour is unexpected, however, is the more recent perception of control freakery which casts the Rolling Stones as a band of ageing gargoyles more concerned with making money than music. Given the film effectively ends in 1977 with Richards' drug bust in Canada, apart from a brief coda in the early '80s (and fade-out end-credits from the Scorsese documentary Shine A Light, which was shot in 2006), the Stones have omitted at least 30 years from their CV and Crossfire Hurricane is fatally lopsided as a result. Its small-scale UK rollout in October and HBO US premiere/BBC TV outings should be enough to satisfy followers, while this stands - justifiably - to do strong business in ancillary.
The band's history is "a fairy story", explains Richards in voiceover as opening credits explain that cameras were not allowed in the room as interviews which form the film's narrative were recorded. Can they remember it all? They don't claim to. The film immediately swoops back to the '70s and the legendary Exiles tour, into crowded backstage rooms with their Truman Capote/Andy Warhol hangers on, the drugs (Jagger snorts from a knife), the booze, the groupies, and these extraordinary peacocks at the centre of the maelstrom.
Crossfire Hurricane then jolts further back to the band's very beginnings (footage is undated but early) with screaming girls peeing "rivers of urine" in the stalls, according to Bill Wyman. Here's Charlie Watts, dressed like a granddad and admitting now that he "hated it" all. Brian Jones comes sweetly back to life (studio footage is affecting), Mick Jagger, so sulky and posh, Keith Richards, so up-for-it, and manager Andrew Oldham whose idea it was to position the band as the anti-Beatles.
Surprisingly - because they're always so achingly flippant in interviews - the removal of the cameras has led to a degree of introspection, even through the drug haze and Richards' self-delusion (which Jagger is happy to correct). "It's not about growing up, it's about not growing up," says Keith.
What starts out as a trot-through some familiar rock clichés takes on a much more powerful aspect, however, when Morgen (The Kid Stays In The Picture) channels the Altamont Freeway concert from the Stones' perspective and their genuine fear on that day - December 6, 1969. It seems no coincidence that the band then descended into what Richards calls a "troglodyte" existence in the South of France making Exile on Main Street. "Any idea of being restrained or disciplined was a no-no", he adds.
Jagger explains "people hang around Keith and they think they're Keith," but that's the only reference to the broken lives and relationships which have surrounded the Stones. While former heroin addict and Stones guitarist Mick Taylor does refer to "Keith's orbit", there's no mention of Marianne, Anita, Bianca, Allen Klein or even the creative rift between Mick and Keith which seems to have proven so toxic for their music.
Morgen can clearly manage giant showbiz egos (Robert Evans, now Mick 'n' Keef) in pursuit of the picture and editing here is both monumental and flawless. There are some crackingly authentic performances on Crossfire Hurricane, mainly Midnight Rambler and Sympathy for the Devil, but other excerpts which feel as fresh as the day they were performed and captured. It all goes to make the Shine A Light footage from their New York gig in 2006 which plays the film out seem almost like a creaky parody of what has gone before. "We'd got to be an institution and we weren't even 40 yet," cackles Keith.
It has taken the Stones decades to reflect on the years they admit they can't fully remember, so who knows when we might get the decades during which they sobered up and have total recall. In the meantime, Crossfire Hurricane speaks for them, and it's, - excuse the pun - all right [for] now.
Production companies: Tremolo Production, Milkwood Films
International sales: Eagle Rock Entertainment, www.eaglerockent.com
Producers: Mick Jagger, Victoria Pearman
Executive producers: Keith Richards, Charlie Watts, Ronnie Wood
Editors: Conor O'Neill, Stuart Levy
Music supervisors: Peter Afterman, Margaret Yen