Dir: James Griffiths. UK. 2014. 98mins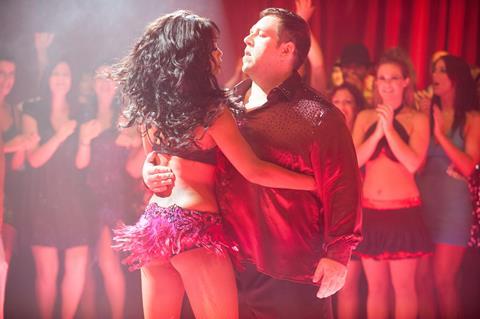 Nick Frost proves he has the silky moves and groves to topline this amiable and rather enjoyable dance comedy, and while his regular on-screen comedy partner Simon Pegg does appear for a brief cameo it is Frost and his engagingly sincere charm that genially carries the film. That and some delightfully staged salsa dancing that will leave audiences tapping their toes in appreciation.
The concept of the naturally chunky Nick Frost taking to the dance floor is a funny one, and he is more than happy to poke fun at himself.
Frost and Pegg have, of course starred in Edgar Wright's comedy trilogy Shaun Of The Dead, Hot Fuzz and The World's End, and while Frost has starred in several television series (such as the BBC's Hyperdrive) Cuban Fury marks his debut as fully-fledged film lead and romantic hero. The film has the potential to click with UK audiences looking for a bit of alternate Valentine's Day comedy (it opens on February 14), while casting of American actress Rashida Jones (from television's Parks And Recreation and feature Celeste And Jesse Forever, which she co-scripted) and Chris O'Dowd (from Bridesmaids) should aid international profile.
As a 13 year-old in 1987 Bruce Garrett was poised to sweep the floor at the UK Junior Salsa Championship, where he danced with his sister, but after being attacked by cruel young bullies he puts his Cuban heels away and packs up his sequinned shirts and concentrates on an ordinary life. Some 25 years later the adult Bruce (Frost) is an out-of-shape emotionally inept worker who finds his road to self-pity interrupted when he meets his new American boss Julia (Jones), a smart and funny woman who happens to have a passion for salsa.
His attraction for her make him re-examine his dull life, though he still figures she is way out of his league ("She's a 10, I'm a 2!"). But when his cocky co-worker Drew (O'Dowd) announces he aims to make Julia his latest conquest, Bruce stumbles into action. With the encouragement of his loyal sister Sam (the always excellent Olivia Colman) he approaches his old dance mentor Ron (Ian McShane) for a few top-up lessons.
But Ron announces that Bruce has lost his dance mojo and must take to the dance floor and learn to unshackle his inner dancing beast, regain his long lost fleet-of-foot-fury and try and claim the possible love of his life.
Of course the concept of the naturally chunky Nick Frost taking to the dance floor is a funny one, and he is more than happy to poke fun at himself – as well as prove he has more than a few dance moves of his own – as his character has to make the transition from wannabe to salsa star. His on-screen relationship with the charming Rashida Jones is warm and easy, while rivalry with the engagingly sleazy Chris O'Dowd (and especially their 'dance off' battle in the office car park) is one of the highpoints of the film.
Production companies: Big Talk Pictures, StudioCanal, Film4, BFI
International sales: StudioCanal, www.studiocanal.com
Producers: Nira Park, James Biddle
Executive producers: Matthew Justice, Nick Frost, Rachel Prior, Oliver Courson, Jenny Borgars, Danny Perkins, Tessa Ross
Screenplay: Jon Brown, based on an idea by Nick Frost
Cinematography: Dick Pope
Editors: Jonathan Amos, Chris Dickens
Production designer: Dick Lunn
Music: Daniel Pemberton
Main cast: Nick Frost, Rashida Jones, Chris O'Dowd, Olivia Colman, Kayvan Novak, Rory Kinnear, Alexandra Roach, Ian McShane