India has historically not been an active co-producer, but some European producers are finding ways to work with local talent. On the eve of the Film Bazaar co-production forum (Nov 23-26), Liz Shackleton explores the realities of co-producing international features in India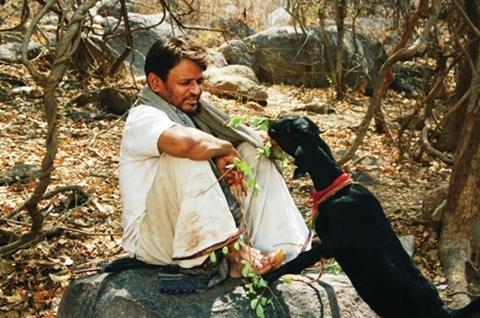 Since India has the world's largest domestic film market, at least in terms of admissions, the territory does not make a natural co-producer. Local producers think first and foremost about recouping from the various regions of India and regard the European method of financing, via pre-sales and soft money, as difficult and slow. The international market, if it generates any revenue at all, is icing on the cake rather than a key ingredient in the financing recipe.
But India is also a rich source of stories and creative inspiration and many film-makers from beyond its shores are developing Indian-themed projects. Some of these, such as Fox Searchlight's The Best Exotic Marigold Hotel, which John Madden is currently shooting in Rajasthan, will simply use Indian cast, crew and locations rather than being structured as an Indian co-production. However there are other projects, especially those which are Indian-language or deal with culturally specific themes, where a co-production makes sense.
There are also film-makers within India who reach out to European and other international co-producers because their stories are deemed too arthouse to attract financing in India's overtly commercial film industry, or because a foreign partner can help with international distribution.
"The Indian side will ask you to do everything in India as it is so much cheaper"

Trevor Ingman, Yaffle Films
Often in these cases, none of the financing comes from India, as with Murali Nair's Virgin Goat (pictured), an India-France co-production, which is currently playing the festival circuit. The satirical comedy, which starts with an Indian farmer seeking a mate for his goat, was financed via a pre-sale to German broadcaster ZDF/Arte and backing from several funds, including Fonds Sud Cinema and Hubert Bals.
"Murali was in touch with different Indian companies but they wanted to make the script more marketable or didn't like a story that's not set up in towns," explains the film's producer, Philippe Avril of France's Unlimited. "It's the story of a farmer and they said, 'That's not what our audience is supposed to like.'"
Other producers have turned to unconventional sources when raising finance for non-mainstream projects in India. Helena Danielsson of Sweden's Hepp Film is putting together a patchwork of public and private funds and private equity for environmental thriller The Pollutant, to be directed by Indian film-maker Prakash Belawadi from a script by Bangalore-based Swedish author Zac O'Yeah.
In addition to tapping Swedish regional fund Film I Vast and the region of Vastra Gotaland, the film also has funding from the cultural department of the Indian state of Karnataka, which has a cultural exchange programme with Vastra Gotaland, and Indian non-profit organisation INTACH (The Indian National Trust for Art and Cultural Heritage). The film is scheduled to shoot in Hampi, a UNESCO World Heritage Site in Karnataka, from spring 2011.
"We'll have a mixed team shooting in Hampi and will be doing post-production in Sweden, so it's a classical co-production, though you have to be more inventive with the Indian financing side as it's not traditional Bollywood," says Danielsson.
Another source of funding to emerge recently in India is revitalised public film agency, the National Film Development Corporation (NFDC), which is backing international co-productions such as Anup Singh's Qissa and Amit Kumar's Monsoon Shootout. The NFDC typically makes equity investments of around $400,000-$500,000 in individual projects, recouping on a pari passu basis, and sharing worldwide rights.
Qissa, a Punjabi-language drama about a traumatised farmer who brings up one of his daughters as a son, is being structured as a co-production between the NFDC, Germany's Heimatfilm, France's Ciné Sud and Dutch production house Augustus Film.
"It sounds obvious but you have to find the right partner for the right project — and doing an Indian story set in India, NFDC is the perfect partner," says Heimat Film's Johannes Rexin. "From our side, it was important to do a film with an experienced Indian partner, rather than shoot with a local line producer. We believe in adapting to the local processes and experiences."
However, adapting to local film-making may also involve revising a budget, as UK producer Trevor Ingman of Yaffle Films discovered with edgy cop-thriller Monsoon Shootout. "The Indian side will ask why it's so expensive, or ask you to do everything in India because it's much cheaper," Ingman explains. "But that also means fewer shooting days and working in a different way."
"It seems obvious, but you have to find the right partner for the right project"

Johannes Rexin, Heimatfilm
Increasing the Indian participation could also require making the film under an official co-production treaty in order to qualify for public funding from the non-Indian side. India currently has such agreements with the UK, Germany, Italy and Brazil, and talks are underway with France and Canada. In the case of Monsoon Shootout, Ingman is expecting to work under the UK-India treaty, though ironically the project, which had been developed by the UK Film Council, recently lost its funding from the public body's now defunct New Cinema Fund.
Meanwhile, there are exceptions to the rule that the mainstream Indian film industry does not co-produce. Currently shooting in Berlin, Excel Entertainment's Don 2, starring Shah Rukh Khan, has been set up as a co-production with Film Base Berlin and will receive $766,000 (€550,000) from Medienboard Berlin-Brandenburg. However, such deals are usually driven by locations and certain regions' drive to attract inward investment, rather than Bollywood's need to tap European funds.
FILM BAZAAR 2010
India's Film Bazaar connects the local film-making community with the overseas industry. Liz Shackleton reports

Organised by the National Film Development Corporation (NFDC), Film Bazaar (November 23-26) is India's leading event for connecting the local film-making community with overseas producers, distributors, sales agents and film festivals.
Several projects which took part in previous editions have emerged at top international film festivals and enjoyed commercial success this year. From last year's co-production market, Dibakar Banerjee's LSD: Love, Sex Aur Dhokha became a sleeper hit at the Indian box office in April, while Sidharth Srinivasan's Soul Of Sand, which took part in the Work-in-Progress (WIP) lab, screened at Toronto. Another WIP participant, Nila Madhab Panda's I Am Kalam, has played at a string of festivals including Giffoni and the Vienna International Children's Film Festival.
Anurag Kashyap's That Girl In Yellow Boots, which premiered at Venice this year, took part in Film Bazaar in 2008 and was subsequently co-financed by the NFDC.
This year the co-production market will feature 10 projects from Indian film-makers, along with a handful from film-makers in other South Asian nations. The Hubert Bals Fund will present an award for most promising feature film project.
"When we started out, film-makers were sceptical about submitting their projects. But the number of applications is growing and we've had more than 50 this year," says NFDC managing director Nina Lath Gupta. "The quality is also improving so it's been difficult to make the final selection."
Now entering its fourth edition, Film Bazaar has forged partnerships with a wide range of international film markets, festivals and training and development organisations. It has teamed with Amsterdam-based Binger Film Lab and the Locarno Film Festival on Screenwriters' Lab, which is now held annually in both Locarno and Goa. It also collaborates with CineMart, New York's IFP and the Moscow International Film Festival's Business Square on exchanging projects and information.
Indo-European collaboration
Last year Film Bazaar also introduced the Primexchange packaging workshop, organised by Germany's PrimeHouse with backing from the European Commission's MEDIA programme, which evaluates around eight projects in terms of their potential for Indo-European collaboration.
The event will also feature market screenings for the first time this year. Films presented by both Indian and international distributors and sales agents will be screened at the main Film Bazaar venue, the Goa Marriott Resort.
Among other events, Turkish-German film-maker Fatih Akin will present a masterclass; Austria's Cine Tirol Film Commission and Fund will give a keynote speech on film funding in Europe; while panels include a chance to interact with programmers from international film festivals, and a discussion on marketing and PR for independent producers.
Guests at the four-day event will also be registered to participate in the International Film Festival of India (IFFI) which takes place in nearby Goa from November 22-December 2.