With some sophisticated CGI houses and a world-class studio facility, Hong Kong's services sector is one of the strongest in the region. Liz Shackleton reports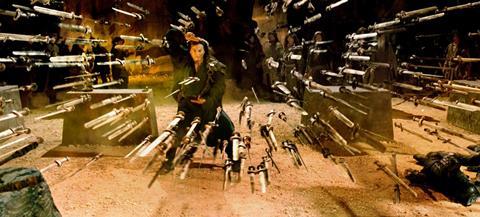 The Christmas holiday season was a time of both triumphs and anxiety for Hong Kong's post-production industry. Among the positives were the release of films such as Teddy Chen's Bodyguards And Assassins and the Pang brothers' The Storm Warriors, which showed just how far Hong Kong has come in the development of cutting-edge visual effects. But then came Avatar, which demonstrated Hollywood's continuing dominance of filmmaking technology, and prompted much soul-searching among local industry executives.
On the whole, however, Hong Kong's post and facilities sector has much to feel positive about. Due to the territory's history as a film-making hub, and more recent opportunities afforded by the booming mainland market, Hong Kong has a well-resourced and comprehensive collection of post-production ­companies. These range from labs and award-winning sound companies, such as MBS Studios and CineDigit, through to companies such as Centro Digital Pictures that offer high-end CGI and visual effects.
Show of strength
Hong Kong also has a state-of-the-art studio facility in Shaw Studios, which is flexing its muscles after a long gestation period, and companies that are exploring post-production of stereoscopic 3D. Until recently, it also had a world-class animation studio in Imagi International Holdings, although the company recently closed its Hong Kong facility after its in-house production Astro Boy failed at the box office.
Its decision highlights the difficulties of housing hundreds of animators in Hong Kong, where salaries and office rentals are relatively high. Imagi has said it plans to continue to develop movie projects but outsource the animation work to mainland China.
Yet despite Hong Kong's costs and the limitations the Chinese film industry faces compared with Hollywood, such as lower budgets and much shorter production cycles, a handful of Hong Kong effects houses have been producing quality work that has captured the imagination of global audiences.
Centro is the undisputed pioneer among these. Founded by John Chu in 1987, the company worked on Kung Fu Hustle and Kill Bill and co-produced children's film The Secret Of The Magic Gourd with Disney. In one of its most recent projects, Lu Chuan's City Of Life And Death, it helped to create moving scenes of the slaughter of thousands of Chinese citizens during the 1937 Nanking massacre. Demonstrating the sophistication of its work, audience awareness of the visual effects was kept to a minimum. "Everything was done in an extremely photorealistic way so you couldn't tell there were effects involved," says Chu.
However Centro's growing reputation means it is unlikely to remain independent. It is understood the company has been acquired by a US studio, though this was unconfirmed at press time.
Creative overview
Two other CGI houses ― Menfond and FATface Production ― have followed in Centro's footsteps. Menfond, founded by Victor and Eddy Wong, has carved a niche in animated characters and created the cuddly alien in Stephen Chow's CJ7. FATface, founded by Ng Yuen Fai, has been lauded for its work on blockbusters such as The Warlords, The Storm Warriors and Bodyguards And Assassins.
Like Centro, the two companies pride themselves in being involved at every stage of the creative process. "Our supervisors are strong at getting the balance right between the creative direction and the production requirement," says FATface's Ng. "We understand the production schedule in Asia tends to be tight, so we analyse each project in the pre-production stage, and do some tests to see how far we can go within the schedule."
Although Hong Kong has many smaller sound stages and editing suites, Shaw Studios, backed by centenarian tycoon Run Run Shaw, has taken the territory to a new level. The $180m studio houses sound stages, film processing and digital restoration, digital intermediate (DI) and audio facilities, including two Dolby Premier mixing suites.
"Our supervisors are strong at getting the balance right between the creative direction and the production requirement."

Ng Yuen Fai, FATface Production
The studio recently carried out post-production on Fox's first Chinese-language production, Hot Summer Days, and a host of other Hong Kong productions. It has also attracted foreign shoots to its sound stages, including Tran Anh Hung's I Come With The Rain and Push produced by Summit Entertainment. However, it decided against doing CGI and animation, especially at the point when some mainland facilities are setting up with teams of animators that number in the thousands. "Hong Kong's strength is in smaller, strong creative teams while the heavy lifting is outsourced to other places," says Shaw Studios director, business development and marketing, Lloyd Chao. "Our strengths are in audio, DI and processing. We're very proud of our audio which we've been told by US visitors is among the world's best."
The major challenge in Hong Kong, Chao says, is to find technical staff who are trained to a high level: "We've been talking to schools but they're not equipped with the consoles we have, so we've not been able to find local people." To counter this, the company has brought in experts from Los Angeles and New Zealand to train their staff.
Some Hong Kong CGI houses have worked on international movies ― Centro on Kill Bill and Menfond on Dead Or Alive and Ultraviolet ― but as the territory has no tax rebates and is not a low-cost location, it has not emerged as a centre for offshore production. Hong Kong companies also tend to have a different design aesthetic to the West, which is more suited to the martial-arts epics that keep them busy.
"Some companies are producing quality work but you don't see a huge desire to work on mainstream Hollywood pictures," observes Tony Clark, founder of Australia's Rising Sun Pictures, which has subcontracted work to post houses in the region. "That could change if they got behind the skill sets needed for mainstream films."
In the short term, however, Hong Kong's post companies appear to have more than enough work from the booming Chinese-language film ­industry, and are also kept busy with music videos and commercials. They may decide to look outside the region when the mainland CGI houses catch up with their capabilities. But for now, their biggest priority is the next frontier of technology ― working with ­stereoscopic 3D.
"Hong Kong's strength is in smaller, strong creative teams while the heavy lifting is outsourced to other places."

Lloyd Chao, director, Shaw Studios
Several 3D features are being developed by Hong Kong and mainland companies and some have already emerged, although the trend so far has been to create 3D effects during post-production rather than shoot in stereoscopic 3D. The local industry is keen to move beyond this situation. "We're setting up for 3D stereoscopic post-production and will be well placed to do 3D feature films," says Centro's Chu.
But the industry acknowledges the obstacles: 3D films are expensive and demand long post-production schedules and specialised expertise. "There are very few technicians in the world who really know how to do 3D. Every operation is trying to take the same team," says Chao.
Hong Kong post house Digital Magic is striving to overcome these obstacles. It is providing cameras, technicians and data management for 3D shooting on the Pang brothers' upcoming 3D horror film The Child's Eye, while FATface handles the CGI elements. "We've been working with RED cameras a long time, so we understand their 3D capabilities and invented our own rig," says Digital Magic's Anna Kan.
So while Hollywood may still be ahead, Hong Kong's post-production sector is developing fast and has long-term potential. Now that post has gone global, due to the emergence of high-speed data networks, the territory could carve a niche working on specific elements of international productions. And as local budgets increase, thanks to the growing mainland market, there will be opportunities to work on ever more ambitious projects. The challenge then will be in keeping all that talent and expertise in Hong Kong.