Against the backdrop of an astounding boom in China's box office, Hong Kong Filmart (March 22-25) is a key place to do business in Asia. Liz Shackleton profiles this year's event, and the financing forum and festival which run alongside it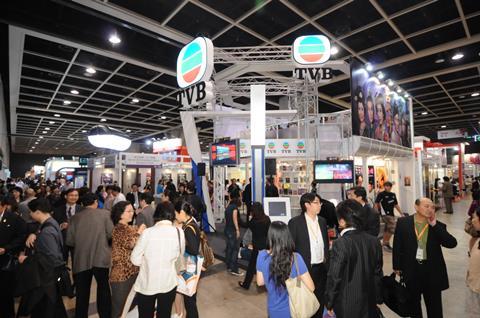 As Hong Kong's annual film and TV market, Filmart (March 22-25), gets under way this year, its organisers can draw comfort from the fact it takes place on the doorstep of the world's fastest-growing box-office territory, where there is still plenty of money available to make films.
The astonishing growth in mainland China's box office ― which doubled year on year during the recent November-February three-month holiday period to $440m (rmb3bn) ― combined with the relatively high market share of local product in neighbouring Japan and South Korea, is strengthening Filmart's role as a key platform for these three dynamic territories to discuss business and co-financing opportunities together.
Strong Asian participation has helped boost exhibitor numbers at this year's edition of the market to more than 500, while the event's organiser, the Hong Kong Trade Development Council (HKTDC), expects the total number of visitors to increase by 5% to around 4,500.
In addition to a strong showing from north-east Asia, there will also be larger delegations from several South-east Asian territories, including Thailand, the Philippines and Malaysia.
Western slowdown
Less comforting, however, is the fact Filmart has had to work much harder to attract visitors from the US and Europe in recent years.
Although there was talk of green shoots of recovery at the European Film Market (EFM) in Berlin, Western companies are still affected by the turbulence in the international sales business and are thinking long and hard about which markets they really need to attend.
The strength of local product in Asia makes it difficult to sell to this region, and while some Western sellers believe this means it is more important than ever to build up relationships with local distributors, others are deciding it is not worth making the trip.
"We can see a slowing down of responses from America and some regions of Europe, but we have taken every opportunity to promote Filmart to overseas industry professionals," says HKTDC assistant executive director Raymond Yip.
"We're glad that we managed to enlist exhibitors from emerging markets such as Russia, Poland and a first-time exhibitor from Latvia, whereas exhibitors from the growing Asian markets are demanding more space and support and will launch a series of promotions at Filmart."
While the Western sales business may still be in recovery, government-backed film bodies continue to regard Filmart as a key event to interact with the Asia Pacific region and this year European organisations will be particularly active.
In addition to large delegations organised by the UK Film Council and Unifrance, two new initiatives, spearheaded by Sunny Side of the Doc (SSD) and the Ile de France Film Commission, look set to give the Hong Kong event an extra dimension.
SSD, the 20-year-old French documentary market, is launching its first Asian edition, Asian Side of the Doc (ASD), during Filmart with backing from the European Union's MEDIA programme.
More than 170 film, TV and new-media executives are set to attend the three-day event (March 22-24), including broadcasters such as Franco-German channel Arte, the UK's BBC and Channel 4, Germany's ARD, Japan's NHK and China's state-backed giants CCTV and Shanghai Media Group.
In addition to public pitching sessions from 24 selected Asian and European documentary projects ― some of which are aiming for theatrical distribution ― the event will also feature one-on-one meetings, workshops and networking events.
"We thought it was the right time to do this because documentary channels are emerging all over Asia, along with independent documentary producers, just as in Europe and America," says Pierre-Yves Lochon of Hong Kong-based consultancy Sinapses Conseils, which is co-organising the event.
"The European side is looking for stories, distribution and potential co-producers in Asia, while the Asian participants are looking for finance and know-how, as Asia's documentary industry is still very young."
European opportunities
Meanwhile, Ile de France is working with its partners in the Capital Regions for Cinema (CRC) network to bring a large delegation of European production and post-production companies to Hong Kong for Filmart.
Last year, Fuji TV's Nodame Cantabile, a feature adaptation of the hit TV series, became the first Asian production to access France's new tax rebate.
Companies under the CRC's European Pavilion will be looking to lure further Asian productions to Europe, as well as seek out co-production opportunities. Co-production between Europe and Asia will also be the focus of a conference on the opening morning of ­Filmart ― entitled 'Europe/Asia:
A New Era for TV and Film Co-operation' ― which is co-organised by Ile de France and ASD.
As usual, Filmart runs concurrently with Hong Kong's successful feature film co-production and projects market, the Hong Kong Asia Film Financing Forum (HAF), which this year introduces a new award dedicated to the memory of HAF and Fortissimo Films co-founder Wouter Barendrecht who passed away last year.
The $6,400 (hk$50,000) Wouter Barendrecht Award is open to HAF projects led by directors who have made fewer than three films.
Not surprisingly, given the global impact of Avatar, this year's Filmart will also have a heavy emphasis on 3D. Hong Kong's Association of Motion Picture Post Production Professionals (AMP4) is organising a series of seminars and workshops about 3D ­film-making and distribution, to be held on March 24.
EXPO EVENTS
Filmart
March 22-25
Hong Kong Asia Film Financing Forum
March 22-24
Hong Kong International Film Festival
March 21-April 6
Asian Film Awards
March 22
Hong Kong Film Awards
April 18
Hong Kong Independent Short Film and Video Awards
March 12-21
Hong Kong Music Fair
March 20-22
IFPI Hong Kong Top Sales Music Award
April 7
Digital Entertainment Leadership Forum
March 23