Stephen Daldry also talks about his new Netflix-backed series, his first foray into episodic TV.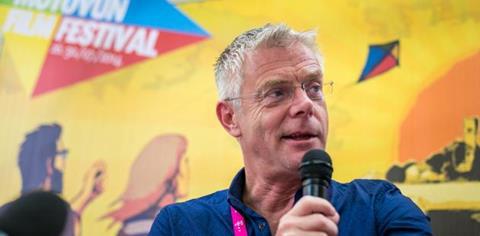 Stephen Daldry admits his new film Trash is likely to ruffle feathers because of "talking about poverty and corruption in Brazil."
Daldry, speaking at the Motovun Film Festival in Croatia this weekend, said: "The reason I made this film is because it's about the underbelly, the difficult side of Rio, the underexposed side of Rio."
Trash, which is slate for its world premiere at the Rio Film Festival in October, is now in the final stages of post production for Peapie Films, Working Title and Universal. It follows the story of impoverished kids who scavenge on a trash heap in Rio who get embroiled in a political scandal when they find an important item in the trash.
Daldrey spent three years on and off in Rio. "It's a country I feel in love with, they believe in change…and they believe in their country," he says.
The film cast young Brazilian streetkids, with no previous acting experience, in the lead roles. During the eight month casting process, he recalled, "You just ask, 'Who is the most popular kid in the area?'"
"The three lead actors in the film have never acted in a film before, they've never been to a cinema before," he said.
The kids were given lessons in parkour to help with their energetic roles. "They were already doing running and jumping, but [parkour] helped make them more physically comfortable," Daldrey recalled.
The production built its own garbage heap because using a real one would have been too hazardous. "It's a physically dangerous environment, even if our actors are used to it in real life. You can't put children into it," he said, partly because of the chemical reactions in a rubbish heap.
The power of theatre
Despite his success with films from Billy Elliot to The Hours to The Reader, Daldry says theatre is still his first love. "Theatre has been my life. Film came to me later. It's something that I've fallen in with in later life, it's a voyage of discovery for me. Theatre is much more my natural habitat."
He said he finds theatre more of a bonding experience — "the people who you start the process with become the people you finish with….film is much more of a relay race, it's a much more lonely process. It's a different experience."
He did note one advantage of film – "you can go back" – and told the story of writer David Hare watching a scene from The Hours performed by Meryl Streep and Claire Danes. Hare told Daldry about a year after the film was show, "I can make that scene better." So with a rewrite, they recreated the set and had the actors re-do the scene more than a year after principal photography; it fit into the film seamlessly and nobody noticed the reshoot.
Still, theatre tends to be more powerful for him. He noted for instance that more than 10 million people have now seen the stage adaptation of Billy Elliot – "it had a bigger reach than the film ever did."
He added: "I don't make films necessarily to change the world. I make theatre to change the world. Theatre for me is so much more of a political tool."
In addition to finishing post-production on Trash, Daldry is directing the lauded Skylight in London's West End; he plans to work on transferring both Skylight and The Audience to New York.
Trying TV
Daldry also confirmed that he's planning eight seasons of his new TV series, The Crown, that will be inspired by The Audience (the stage play was written by Peter Morgan), looking at The Queen's relationship to a series of prime ministers. Netflix is confirmed to back the first two seasons.
"I've never worked in TV before. I don't know how to direct it, I don't even watch TV," Daldry said with a laugh. "But it seems to be something interesting to explore."
The project will start shooting in July 2015, and Daldry will be casting for three actresses to play the Queen at three different ages.
The Internet age
Daldry also spoke about the new possibilities not just from a company like Netflix, but people using digital media to reach audiences directly. "Sometimes my work gets a lot of criticism," he said, pointing to a film like Extremely Loud and Incredibly Close – "some people thought that it wasn't appropriate to have a made-up story about 9/11."
The answer to the fact that "people try to stop people talking all the time" could be the Internet, he said.
"In the end I couldn't think people will make movies for cinemas by the end of my lifetime. It'll all be above accessing viewers directly….To be the bravest person I can be, I'd make my own shows and put them on YouTube and not worry about film companies."
Motovun connections
Daldry was speaking at Croatia's Motovun Film Festival, which welcomed him for a public talk and a screening of Billy Elliot.
The director has a rich history with Motovun, which gave its first Propeller Award to Billy Elliot 15 years ago – marking the first prize for the film.
The festival has even named its newest outdoor screening venue Cinema Billy, after Billy Elliot.
Daldry is also a long-time collaborator with Motovun Film Festival co-founder (and F&ME producer) Mike Downey.