Dir/scr: Justin Simien. US. 2014. 106mins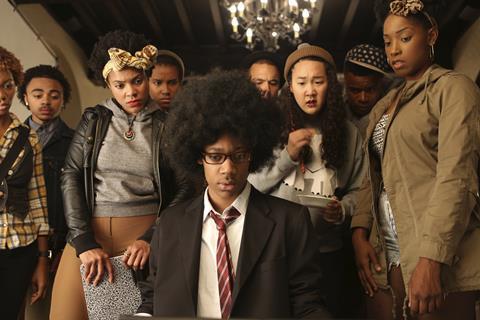 Puncturing the notion of a harmonious, post-racial America in the age of President Barack Obama, the comedy-drama Dear White People doesn't always tell its tale sharply, but that narrative rambunctiousness is at the service of crackling ideas about the many ways that we reflexively label each other — and ourselves. In his feature debut, writer-director Justin Simien examines the tension between whites and blacks at an elite university, but despite some melodramatic moments and an overabundance of characters and incidents, the film smartly pinpoints people's universal need for acceptance and belonging, no matter our race, gender, class or sexuality.
Its comedic leanings and strong reviews could attract audiences who may initially be concerned that this is merely a heavy message movie, not realising it's actually rather breezily entertaining.
Debuting at Sundance and recently screened at the Los Angeles Film Festival, Dear White People is set for an October release Stateside through Lionsgate and Roadside Attractions. Destined for select, upscale markets, the film doesn't have much star power. Nevertheless, its comedic leanings and strong reviews could attract audiences who may initially be concerned that this is merely a heavy message movie, not realising it's actually rather breezily entertaining.
As Dear White People begins, we learn that there's been a riot at Winchester University after a group of black students angrily crashed an offensive African-American-themed party thrown by a white club. Simien then proceeds to flash back about five weeks, showing the events that led to the altercation. Utilizing an ensemble structure, he introduces us to several students, including the combative Samantha White (Tessa Thompson), whose provocative radio program attacks white attitudes toward blacks, and Lionel Higgins (Tyler James Williams), an awkward black student who feels little kinship to his African-American classmates. (Of course, this is exacerbated by the fact that he's gay, which leaves him alienated from those around him.)
Admirably, Simien's screenplay has too much going on: Samantha, Lionel and several other characters have their own narrative arcs, which sometimes intersect but, more accurately, are bumping into one another, fighting for space. As a consequence, Dear White People is a bit herky-jerky, with character dynamics and interpersonal relationships truncated for the sake of brevity. And yet, this isn't too much of a hindrance. Simien is far more concerned with how his characters' insecurities and defence mechanisms reflect overarching human failings — with that in mind, the somewhat simplistic characters and storylines provide a sturdy vessel to articulate his thematic concerns about casual bigotry and intolerance.
The filmmaker, who is African-American, has publically expressed an affinity for the early, independent works of Spike Lee, and indeed Dear White People has some of the teeming, messy humanity that were the hallmarks of School Daze and Do The Right Thing. (The movie's stab at a cathartic ending also recalls Lee's 1980s films.) Dear White People's characters take pot-shots at pandering, anti-intellectual black films such as Big Momma's House and the oeuvre of Tyler Perry, and it's clear that Simien wants his debut to serve as a corrective, offering up complex black characters. And although they're a touch underdeveloped, he succeeds, reminding viewers that African-Americans are not one homogenous culture as they're often portrayed in popular entertainment.
But Simien digs deeper than simply exploding lazy cultural impressions of black life. The nature of black self-identity is one of the film's chief concerns. Questions concerning what constitutes true blackness are bandied about between light-skinned and dark-skinned characters — and in the case of Lionel, his love of science fiction and the folk-pop niceties of Mumford & Sons (which are typically white cultural totems) makes his blackness suspect in the eyes of his peers. With much humour, the film satirizes these racial nit-pickings while taking them seriously, revealing how both whites and blacks seem torn about how their particular skin colour defines them.
Thompson is a marvel as Samantha, a gruff, would-be anarchist whose fiery rhetoric doesn't help much when she's struggling over her budding romantic relationship with a white teaching assistant. As for Williams, he's a deadpan delight as the geeky Lionel, although that doesn't preclude him from genuine moments of tenderness and confusion as his lovable dweeb character wonders if his sexuality and sci-fi fanaticism will doom him to be a social pariah forever.
Production companies: Code Red; Homegrown Pictures; Duly Noted, Inc.
US distribution: Lionsgate/Roadside Attractions, http://www.lionsgate.com/ and http://www.roadsideattractions.com/
Producers: Angel Lopez, Ann Le, Lena Waithe, Julia Lebedev, Effie T. Brown
Executive producers: Stephanie Allain, Leonid Lebedev
Cinematography: Topher Osborn
Production design: Bruton Jones
Editor: Phillip J. Bartell
Music: Kathryn Bostic
Website: www.dearwhitepeoplemovie.com
Main Cast: Tyler James Williams, Tessa Thompson, Kyle Gallner, Teyonah Parris, Brandon Bell, Malcolm Barrett, Dennis Haysbert