Geoffrey Macnab's book is a thoroughly researched canter through a century of UK film distribution, writes Charles Gant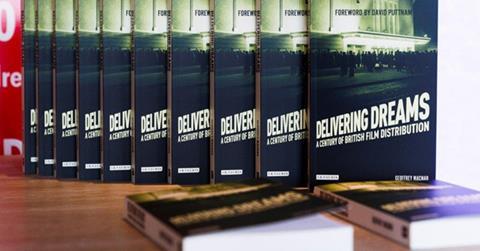 When, earlier this month, three high-profile UK cinema chains opted not to play The Hateful Eight, coverage of the story immediately spilled from the trade press to the consumer realm. Cineworld, Picturehouse and Curzon not playing a Quentin Tarantino film? This was major news for anyone in the UK interested in cinema. And making sense of what exactly had gone down between these exhibitors and local distributor Entertainment Films was a puzzle not just for civilians, but also for many industry professionals.
This spat, of course, is not recorded in Geoffrey Macnab's Delivering Dreams: A Century Of British Film Distribution, which was published a month prior to coincide with the centenary of the UK's Film Distributors Association. But its occurrence serves as a timely marker – a reminder that even in the modern age of digital film distribution and Rentrak data, when the Monday holdover negotiations are no longer quite the shouty, phone-throwing occasions of legend, the film industry remains capable of a good-old fashioned commercial dispute. The irony is that it was triggered not, as might be expected, by a technological innovation disrupting the status quo, but by the director's dogged throwback to analogue times with his roadshow 70mm projection.
A century of British film distribution: a topic that does not, at first sight, suggest itself as a rollicking page-turner. Macnab's subjects are not the actual idols of the silver screen, or even the cigar-chomping Hollywood moguls who lent their names to studios such as Warner Bros and MGM. Instead, they are the men and women (largely the former) who, since the invention of cinema, have been delivering films to UK audiences. "We do the donkey work," explains Altitude's Will Clarke at the very start of the book.
It's to Macnab's credit that his tale nevertheless proves amply entertaining. Beginning with the inaugural meeting of the Kinematograph Renters' Society (KRS) in London's Connaught Rooms in December 1915, and nimbly slaloming through the arrival of talkies, the challenge of television and home video, Macnab also manages to bring alive such arcane insider topics as barring, alignment, the house nut and break figures, throwing in intriguing statistics about quota quickies, the Eady Levy and the Entertainment Tax.
Chronological in structure, Delivering Dreams smartly pegs each chapter to a signature distribution success that defined its decade, including Carol Reed's The Third Man (1949), Norman Wisdom's star-making breakthrough Trouble In Store (1953), Dr No (1962), Star Wars (1977), Chariots Of Fire (1981) and Trainspotting (1996). As the decades tick by, Macnab (a long-time Screen contributor) is able to take more and more advantage of the fact that the executives who steered the marketing and distribution of these films are very much alive and available to explain how they did it.
Having said that, Delivering Dreams is never better than when illuminating the tribulations of the past, and best of all is the section on the Poster Viewing Committee, set up by the alarmed KRS in 1958 in response to a move to ban all horror movie posters from public places. The tide-of-history-defying pedantry of this committee makes for reliably amusing reading, with "Thrill to the Demon-Rites of the Witch Goddess" approved for a 1960 horror film called Macumba Love, for example, but "Weird, Shocking Savagery in native Jungle Haunts" sadly rejected.
Many current distributors will be intrigued to read that Sam Eckman, appointed MGM's chief UK executive in 1927, earned a reported £46,000, which at the time was more than the whole British Cabinet combined. And even the many footsoldiers who drove around the country doing deals with individual cinema owners considered themselves relatively well remunerated relative to a typical travelling salesman. This at a time when most people had no central heating in their homes, and the cinema offered a relatively cheap source of comfort and warmth.
In 1979, the Kinematograph Renters' Society rather belatedly changed its name to the Society of Film Distributors, before becoming the Film Distributors' Association in 2001. It is this body that commissioned Macnab to write Delivering Dreams and is listed in the book as its copyright holder. What results is a well-researched canter through the decades, sympathetic to the plight of UK distributors without ever becoming overly deferential to the trade body that's being celebrated. Anyone embarking on a career in the UK film industry – and not just in the distribution sector – is encouraged to investigate.