Fox's latest instalment in the action franchise unseats Disney's Wreck-It Ralph with a $7m (£4.6m) debut, including previews.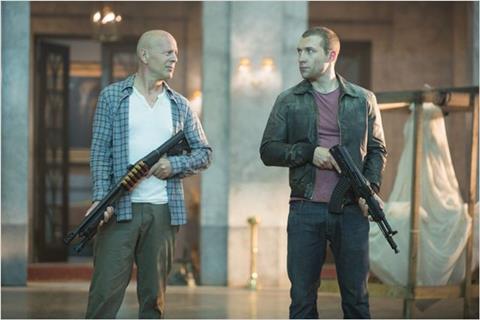 In spite of almost uniformly negative reviews, A Good Day to Die Hard has debuted top of the UK box office, unseating Wreck-It Ralph as the UK's champion after just one week.
The latest instalment in the action franchise exploded into life with a $7m (£4.6m) opening, including previews, on par with that of the previous best in the series, Die Hard 4.0's $7.7m (£5m). It's worth noting that A Good Day to Die Hard achieved its debut from four days, compared to 4.0's five-day opening in 2007.
In comparison to recent fifth instalments, A Good Day to Die Hard is just behind Fast Five, which opened with $8.3m (£5.3m) in 2011 also from a four-day weekend, before going on to take a series-best $28.7m (£18.5m).
Die Hard 4.0 is the series' strongest UK performer at $21.5m (£13.9m) and with A Good Day to Die Hard's much-talked about 12A certificate, the latest instalment could capitalise on the upcoming school half term to challenge 4.0's series-topping haul.
Despite falling a spot to second, Disney's Wreck-It Ralph still managed an excellent second weekend of around $5.3m (£3.4m).
That result has lifted the 3D animation, set in the world of arcade games, to a strong early $16.3m (£10.5m) tally in the UK, putting it narrowly behind The Princess and the Frog's $17.2m (£11.1m) UK result. In terms of Walt Disney Animation Studios features, Wreck-It Ralph still has the likes of Bolt ($27.8m/£17.9m) and Tangled ($31.7m/£20.5m) to catch.
The week's highest new entry belonged to Universal's This Is 40 in third.
Judd Apatow's latest feature debuted with $1.9m (£1.2m), including $492,000 (£318,000) in previews. In terms of Apatow's directorial efforts in the UK, it's a debut above that of Funny People ($1.6m/£1m) but behind Knocked Up ($2.5m/£1.6m) and The 40 Year Old Virgin ($2.7m/£1.8m).
Knocked Up (to which This Is 40 is billed as a "sort-of sequel") is Apatow's strongest UK performer at $13m (£8.4m).
Continuing its impressive run at the UK box office was another Universal release in the form of Les Misérables, which sung its way to an additional $1.7m (£1.1m) for a sterling $55.6m (£36m) to date.
Rounding off this week's top five was Entertainment's Beautiful Creatures, thanks to an estimated $1.7m (£1.1m) debut, including previews.. That marks director Richard LaGravenese's best-ever UK debut, although it's worth nothing that P.S. I Love You (LaGravenese's strongest UK performer at $16.5m/£10.6m) had two weeks of limited release before expanding in its third weekend.
By comparison, Twilight debuted with $3.9m (£2.5m) in 2008.
Enjoying a respectable hold in its second weekend was StudioCanal's I Give It A Year, which laughed its way to $1.6m (£1m) for $5.8m (£3.7m) after ten days in play. Were it based on solely Fri-Sun figures, I Give It A Year would find itself in fourth place.
Paramount's Flight is now up to $6.5m (£4.2m) after a $732,000 (£473,000) third weekend.
In Oscars week, Fox's awards contenders Lincoln and Life of Pi are up to $10.8m (£7m) and $44.4m (£28.7m), respectively, while Universal's Zero Dark Thirty has taken $5.1m (£3.3m) to date.
After becoming Quentin Tarantino's biggest UK grosser last week, Sony's Django Unchained is now up to $21.9m (£13.7m).
This week sees saturation releases for Warner Bros' Cloud Atlas, Universal's Mama and eOne's Song for Marion. StudioCanal's To The Wonder receives a wide release, while Dartmouth Film's Fire in the Blood and Artificial Eye's Lore are among the films receiving a limited release.