Dir: Joe Swanberg. US. 2015. 83mins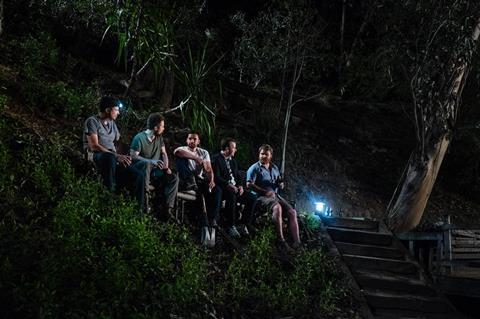 Is it better to dig into the dark corners of your marriage, rooting out the buried resentments and unresolved feelings, or is it wiser not to risk what you might find? This question has been posed by plenty of romantic dramas, and prolific filmmaker Joe Swanberg adds his two cents with Digging For Fire, a modest but probing character piece that's rich in the secret language that all long-term couples speak. Featuring Swanberg's starriest cast to date — and highlighted by nimble, low-key performances from Jake Johnson and Rosemarie DeWitt — Digging For Fire grows progressively more mysterious and intriguing as it rolls along, making one couple's unaddressed issues a microcosm of the discontent festering inside plenty of adults stumbling toward middle age.
Johnson is excellent as a decent guy who has yet to adjust to the idea of being a grownup with a kid. As for DeWitt, she radiates a muted sexual frustration that will be untapped on her night out.
In his recent films, Drinking Buddies and Happy Christmas, micro-budget director Swanberg has inched closer to the mainstream, and Digging For Fire (which had its premiere at the Sundance Film Festival) seems another step in that direction, although his latest maintains his tradition of focusing on dialogue-heavy, character-driven stories that have a lifelike, improvisational feel. With a cast that includes Anna Kendrick, Sam Rockwell, Brie Larson and Orlando Bloom, Digging For Fire will appeal to indie audiences, whether at the theatre or on VOD platforms.
As the film opens, Los Angeles married couple Tim (Johnson) and Lee (DeWitt) have arrived at the posh home of one of Lee's yoga clients, who will be away for a few weeks. While they stay at the house, Tim is supposed to be preparing the couple's tax returns, but he's distracted by a bone and a pistol he finds buried in the backyard. Absorbed in this possible mystery — Was there a murder? Is there a body? — Tim puts off his work, which frustrates Lee, provoking her to take their baby son and go visit her parents for a few days.
It's a simple setup, but from there Swanberg and co-writer Johnson open a Pandora's box of temptations for both partners. Even with his wife gone, Tim cannot bring himself to organise their receipts and paperwork, and instead he invites his guy friends to hang out at the house, which quickly becomes a night of drinking, pot smoking and general bachelor behaviour. Lee, meanwhile, wants to spend the evening with an old girlfriend (Melanie Lynskey), but when she has to decline, Lee is forced to find something fun to do by herself.
Digging For Fire's title hints at the unseen danger both characters could bring upon themselves. Without revealing anything, let's simply say that Tim and Lee separately embrace their newfound, short-lived independence, mostly in harmless ways that are, nonetheless, fraught with great meaning for their marriage. (The purchase of a leather jacket, for example, is less a sign of rebellion than a wilful act of defiance against the couple's tight budget.)
Swanberg never hits us over the head with these implications, though. Preferring stripped-down, naturalistic acting, he cultivates an environment in which conversations feel overheard and unplanned — and in which ambiguous actions could develop in plenty of different directions. Discussions about parenthood, public versus private schools, money woes and dashed aspirations seem to float on the air, the unfussy camerawork by cinematographer Ben Richardson serving as a quiet observer of everything that occurs, each chronicled moment inconsequential or perhaps a hint of what's to come.
The looseness of the proceedings is deceptive, though. Slowly, Digging For Fire starts to hint at darker undercurrents that are tormenting our characters. The arrival of a couple flirtatious women (Kendrick and Larson) to Tim's impromptu party changes the dynamic of the whole evening, as well as the next day. And Lee's search for something to do leads her to get rides from Uber drivers, prompting discussions about L.A. real estate and other sore subjects that appear to trigger a longing in this woman.
Aided by Dan Romer's very, very lightly ominous score, Digging For Fire is a small gem of building, invisible unease. The opening introduction of this excavated bone and handgun portends a possibly violent or unsettling outcome, and Swanberg plays with our expectations. It turns out that nothing truly horrific will happen to Tim or Lee, but they both enter into what might be described as psychic realms cut off from their normal lives. And in this unexplored terrain, they meet people who offer new perspectives — as well as an escape from the realities of marriage and parenthood.
This is not to suggest that the movie isn't often very funny as well. Grounded in everyday situations — that one friend who's a little too loud, that one married couple who don't understand that not everyone can afford a live-in nanny — Digging For Fire pulls humour from the basic irritations of the day-to-day, especially from people in their late 30s who are starting to realize that their youth is fleeting. This is a moody comedy about unconscious marital discord, but it's also about that ineffable discontent that envelops most of us. Digging For Fire is funny because it rings true — and because it stings a little.
Johnson is excellent as a decent guy who has yet to adjust to the idea of being a grownup with a kid. As for DeWitt, she radiates a muted sexual frustration that will be untapped on her night out. Much of Swanberg's large supporting cast don't have a lot to do, but a few, such as Orlando Bloom's fetching restaurateur and Larson's enigmatic gal pal, make the most of their screen time. At the end of Digging For Fire, not a lot has changed for Tim and Lee — and, yet, we suspect that they both really needed their brief excursions. Swanberg's film is too agreeably modest to be profound, but there's an awful lot of wisdom packed into 83 minutes.
Production companies: Forager Film Company, Webber Gilbert Media Group, Dark Arts, Lucky Coffee Productions, Garrett Motion Pictures
International sales: Alicia Van Couvering/Dark Arts, avc@darkartsfilm.com
Producers: Jake Johnson, Joe Swanberg, Alicia Van Couvering
Executive producers: Peter Gilbert, Eddie Linker, Chris Webber
Screenplay: Jake Johnson, Joe Swanberg
Cinematography: Ben Richardson
Editor: Joe Swanberg
Production designer: Liz Toonkel
Music: Dan Romer
Main cast: Jake Johnson, Rosemarie DeWitt, Jane Adams, Steve Berg, Mike Birbiglia, Orlando Bloom, Tom Bower, Sam Elliott, Anna Kendrick, Brie Larson, Judith Light, Ron Livingston, Melanie Lynskey, Chris Messina, Kent Osborne, Sam Rockwell, Timothy Simons, Jenny Slate, Jude Swanberg