Jeremy Irons and Dev Patel star in the recent Toronto world premiere about the Indian maths genius Srinivasa Ramanujan.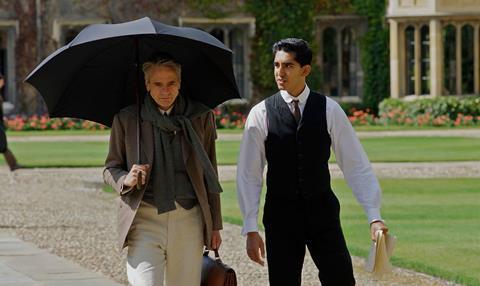 Matthew Brown directed The Man Who Knew Infinity from his adaptation of Robert Kanigel's biography The Man Who Knew Infinity: A Life Of The Genius Ramanujan.
Click here for Screen's interview with Dev Patel
Click here for Screen's interview with Jeremy Irons
The film takes place in the run-up to WWI and charts the friendship between Cambridge don GH Hardy and the young Indian prodigy.
Hardy, himself a renowned academic, was initially cagey but nonetheless intrigued when he received a letter of self-commendation from Ramanujan.
He brought the youngster under his tutelage at Cambridge and helped the school drop-out become India's first Cambridge fellow. Ramanujan's work continues to play an important role in string theory and research into black holes.
IFC Films negotiated for North American rights with CAA. Mister Smith handles international sales.
Devika Bhise, Stephen Fry and Toby Jones also star in The Man Who Knew Infinity and producers are Ed Pressman, Jim Young, Joe Thomas, Sofia Sondervan, Jon Katz and Brown.
Swati Bhise, Joseph N Cohen, Gary Ellis, Pamela Godfrey, Phil Hunt, Mark Montgomery, Compton Ross, Manraj S Sekhon, Shail Shah, Tristine Skyler, Min-Li Tan, Masaaki Tanaka and Richard Toussaint complete the executive producer roster.