Open Road Films has scheduled a November 6 limited release for Tom McCarthy's thriller about the team of Boston Globe reporters that uncovered abuse within the Catholic Church.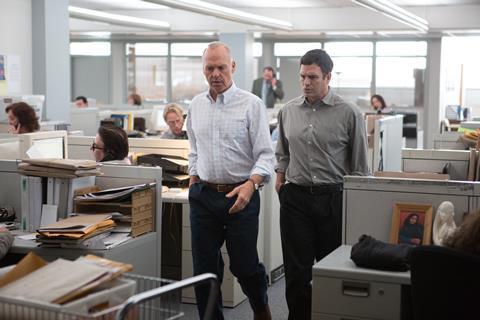 The slot is prime awards season territory and comes four days after the start of the AFI FEST in Los Angeles, which must rank as a contender for the film's world premiere launch pad.
Spotlight will expand on November 13 and go wide a week later. Michael Keaton, Mark Ruffalo, Rachel McAdams, Liev Schrieber and Stanley Tucci star.
The November 6 weekend will also see debuts for Trumbo via Bleecker Street and Fox Searchlight's Sundance pick-up Brooklyn, as well as wide releases for the latest James Bond episode Spectre via Columbia Pictures, Fox's The Peanuts Movie and The Outskirts through Clarius Entertainment.
Meanwhile Open Road has moved back its thriller Triple Nine from September 11 to March 4 2016.
John Hillcoat directed the story of crooked police officers blackmailed by Russian gangsters into orchestrating a heist.
Casey Affleck, Chiwetel Ejiofor, Kate Winslet, Aaron Paul, Teresa Palmer, Gal Gadot, Norman Reedus, Woody Harrelson, Anthony Mackie and Clifton Collins Jr star.