Locarno's Open Doors co-production lab (Aug 7-10) is focusing on Central Asia in 2010, a region that remains something of an unknown quantity internationally despite a diverse production sector.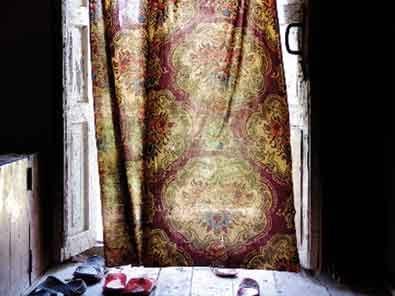 The Locarno International Film Festival (August 4-14) is known as an event of discovery — and its Open Doors co-production initiative shines a powerful spotlight on cinema from emerging territories and regions.
Now in its eighth year, Open Doors is focusing on territories in Central Asia for its 2010 edition: Kazakhstan, Kyrgyzstan, Uzbekistan, Tajikistan and Turkmenistan.
In the past Locarno has played an essential role in discovering several major auteurs from Central Asia, such as Aktan Abdykalykov (Beshkempir — The Adopted Son) and Darezhan Omirbayev (Kairat) and is aiming to give the 12 final projects selected for Open Doors 2010 a similar boost.
Supported by the Swiss Agency for Development and Cooperation (SDC) of the Federal Department of Foreign Affairs (DFA), the event has dual aims: to enable film-makers from the region to make contacts and find co-production partners, both from the European industry and their local region and to boost the knowledge of Central Asian cinema among visitors to Locarno. Previous editions have focused on Greater China, Latin America, the Near and Middle East and South-East Asia.
Running from August 7-10, the Open Doors Factory consists of workshops and one-to-one meetings. At the end of the workshop, the festival and the SDC offer a production grant of $47,000 (sfr50,000) which is jointly decided by a jury and Swiss support fund visions sud est. Another prize of $9,500 (EUR7,000) is offered by France's CNC to support a film in development. There is also a new prize, the $8,100 (EUR6,000) International Relations ARTE Prize.
In addition to the industry activity, Open Doors Screenings are open to the public and will present earlier work of the directors invited to the workshop along with a range of key titles from Central Asia.
Head of Open Doors Martina Malacrida was gratified by the 114 submissions received. "Overall we had good-quality projects, especially when thinking about the difficulties encountered by these directors and producers when making their films," says Malacrida, who took trips to Kazakhstan and Tajikistan to research and promote this year's event and worked with Joel Chapron, Locarno's Eastern Europe, Central Asia and Russia correspondent.
Despite difficulties such as economic restrictions and censorship, the submissions underlined the broad range of cinema in Central Asia, with projects ranging from social dramas to ethnographic documentaries to romantic comedies and science fiction. A final 12 projects were then selected.
"The large number of good-quality submissions received testifies that cinematography in central Asia lives and breathes," says Malacrida. "Additionally it speaks volumes about an enthusiasm and necessity, for both new and old generations, of making movies, of being able to translate in voice and image what is important to them and the ambition to find a place in the European and worldwide system of co-production."
The industry office at Locarno plays a key role in bringing together Open Doors delegates and industry attendees at the festival. "With the support of the most important European producers' associations — ACE, EAVE and EPC — we inform the producers to facilitate networking and exchanges among world film industry attendees at the festival," says Nadia Dresti, head of Locarno's industry office and artistic direction delegate.
Locarno artistic director Olivier Pere underlines the fact that helping emerging countries to gain recognition on the international scene is of vital importance to the festival. "Facilitating encounters between [film-makers] coming from such areas and co-producers and other professionals of the principal European countries is part of our mission and one of the main objectives," he says.
Cinefondation

Locarno has invited the Cannes film festival's Cinefondation — an initiative which supports the next generation of international film-makers — to participate in Open Doors.
The six projects are:
■ Daniel Joseph Borgman (NZ), The Weight Of Elephants
■ Michel Franco (Mexico), Lucia
■ Cristian Jimenez (Chile), Bonsai
■ Yaelle Kayam (Israel), Providence
■ Franco Lolli (Colombia), Gente De Bien
■ Dominga Sotomayor (Chile), Thursday Through Sunday (De Jueves A Domingo)
BARZAGH (Uzbekistan)
Dir Saodat Ismailova Prod Saodat Ismailova, Kamilla Biktimirova
Saodat Ismailova is best known for her documentary work about Central Asia. In 2004 her first full-length documentary Aral: Fishing In An Invisible Sea took the best documentary prize at the Torino Film Festival and screened at the Filmmaker Film Festival Milano. Co-directed by Carlos Casas, the film was also selected for Rotterdam and a number of other international festivals.
Barzagh is Ismailova's second fiction feature and is being developed by Map Productions, a company she founded in 2008 with Kamilla Biktimirova and Carlos Casas
Ismailova is in pre-production on her debut fiction feature 40 Days Of Silence and plans to shoot Barzagh afterwards, looking to finish it by 2012. Named after an Islamic word referring to an intermediate state between life and death, Barzagh is an existential road movie about a three-day journey undertaken by two women and a driver as they transport a body to the burial ground.
"Barzagh is an intimate story of my family that can be applied to anyone pre-occupied by the concept of homeland or one's roots," Ismailova says. In 1999 she experienced the death of an aunt, visiting from a village in South Uzbekistan. "It was my first conscious experience of death so close. My mother took a decision to take her aunt back to the village to bury her."
Barzagh requires $540,000 (€398,000), and Ismailova has already planned her financing strategy, with financing partners to include the Hubert Bals Fund, Torino Film Lab, Fond Sud, World Cinema Fund, MDM, ZDF, Global Film Initiative, Gothenburg Film Fund and several private companies.
HALOLA (Tajikistan-Germany)
Dir Bakhtyar Khudojnazarov
Prod Veit Helmer
Bakhtyar Khudojnazarov is one of Central Asia's most famous directors. Born in Tajikistan, he studied in Moscow and splits his time between the Russian capital and Berlin. His films Brother (1991), Odd And Even (1994), Luna Papa (1999) and The Suit (2003) were welcomed at festivals including Berlin, Venice, Moscow, Sochi, Turin and Bergen and collected numerous awards. Now the director is in post on the Germany-France-Russia co-production Waiting For The Sea.
In the meantime Khudojnazarov has finished the script for Halola, named after a Muslim divorce ritual. "The film will show the weakness of the ritual, how it operates as a strict regulation excluding any sort of human feeling," says the director. The story, set in a small Tajik town, follows an unexpected love triangle. Bagram divorces his wife, but then changes his mind. According to Muslim tradition, she must marry and divorce another man before her first husband can remarry her, so they find a phony husband. But things do not go to plan.
Casting has begun, with Khudojnazarov planning to use Merab Ninidze (Luna Papa) and Golshifteh Farahani (Shirin) in the lead roles. Georgian cinematographer Giorgi Beridze (Absurdistan) will shoot the picture, which is scheduled to go into pre-production at the end of the year. Khudojnazarov is looking for a budget of $1.3m (€1m). In addition to Germany's Veit Helmer Filmproduktion, which is developing the project, Russia's Vvis Studio and France's Wild Bunch and Silkroad Production have also showed interest. In 2009 the script received the Short Corner Award ($3,400) at the Manaki Brothers Film Festival in Macedonia. The MEDIA Programme will also provide a small amount of funding.
THE SINGING GRANNIES (Kyrgyzstan)
Dir Nurlan Asanbekov
Prod Gulbara Tolomushova
Director Nurlan Asanbekov, a graduate of Moscow's Russian Theatre Academy of Arts, is widely known in Kyrgyzstan for his theatre and opera productions. In 2005 his debut short Lullaby, which explored the mother-daughter relationship, earned critical appraisal and a prize at the Tashkent Film Festival. After making two documentaries, Asanbekov's next short The Loss (2009), about an encounter between an old war veteran and a homeless boy, was selected to compete at the Dubai International Film Festival.
Asanbekov's new script, The Singing Grannies, focuses on several old women who cannot speak but only sing. "Pure in thoughts, they are the only ones to have saved the natural integrity of relationships and love," says Asanbekov. "They're not interested in material wealth, all they need is to keep comfort at home and to pass traditions through generations." The collision between the grannies' traditional world and modern society will propel the plot. "There is a vocalist group in the south of the country which consists of 12 old women," says Asanbekov. "They inspired me and I decided to engage them in the movie."
The director, who wants to capture the spirit of declined cities, intends to shoot with cinematographer Yevgeny Baryshnikov and set designer Sharip Zhailobaev — who collaborated on Asanbekov's The Loss.
The project requires financing of $590,000 (€440,000), and a small amount has been provided by Asanbekov's Sakhna Cultural Public Foundation and a Swiss international development agency. Asanbekov also hopes that after the situation in Kyrgyzstan improves, private investors will also take part in the production as well as local television.
PRINCESS Nahzik (Kyrgyzstan)
Dir Erkin Saliev
Prod Gulmira Kerimova
After studying film in Moscow in the late 1970s, Erkin Saliev worked as a set designer on Central Asian features and commercials and won several awards as an artist. His first film as director, Cloud (2004), told the story of a Kyrgyz band and took the best debut prize at Russia's Smolensk Film Festival.
Saliev continues his directorial career with Princess Nahzik. Set on the shores of Kyrgyzstan's picturesque Lake Issyk Kul, the film focuses on a seven-year-old girl who fantasises about being a princess, with a king for a father. In reality she lives with her mother, a fishery worker, and has never met her father. One day a prodigal artist returns to the remote village and realises Nahzik is his daughter. They soon build a deep emotional connection but the artist brings the burden of his recent past and trouble is just around the corner.
"The story stems from my personal experience and is quite autobiographical," says Saliev. "It also reflects our time — the aftermath of the collapse of the Soviet Union when the brotherly countries of Kazakhstan and Kyrgyzstan were separated by borders."
Saliev says Princess Nahzik will be the first film in a cycle. "Initially I wanted to shoot without any special equipment like camera booms or tracks," he explains. "But we decided to reinforce the technical part." The film is budgeted at $77,000 (€57,500) and Saliev has around one-fifth in place.
"The cast is ready, we've examined the locations," he says. "We'll be [ready] to start shooting this summer."
GALLIC VILLAGE (Uzbekistan)
Dir Shukhrat Karimov
Prod Aleksey Gurkin
Shukhrat Karimov graduated from Tashkent's School of Fine Arts in 2007 but his CV already includes several shorts and documentaries, produced in Uzbekistan and Kyrgyzstan and screened at festivals in Central Asia, Russia and France. His recent 44-minute documentary Gallic Village (2009) depicts a small Central Asian settlement where the locals have been studying French for decades. "There actually is a place where people can give you directions in French if you ask," says the director.
Now Karimov is working on a script which will develop this story into a full-length fictional film. "It will be a jolly grotesque — a rather positive story that incorporates elements of satire and social criticism," he says. "But at some point before the finale, it takes a somewhat tragic turn."
In the film the director brings the villagers' deliberate immersion in a foreign culture to an absurd conclusion when the village is virtually demolished. However, he says it is not a film about the destructive influence of the West or Asia's self-humiliation before Europe, but is about a weird, intricate synthesis of East and West which has become possible in one unique place. The film will be set in an imaginary country combining traits of the Central Asian states and will be intertwined with a recurrent performance of a puppet theatre which belongs to one of the characters.
An Uzbek production company is ready to invest in the project, which has an estimated budget of more than $537,000 (€400,000). "The difficulty is that we may fail to receive an approval from Uzbekistan's authorities," says the director, "so we may have to move the production to Kyrgyzstan."
ARAL (Uzbekistan)
Dir/scr Ella Vakkasova
Prod Bakhodir Adilov
After making several short films, Ella Vakkasova, an Uzbekistan-born graduate of the Met Film School and the UK's National Film and Television School, is currently finishing the script for her first feature.
Aral is both the name of the main character, a 10-year-old boy, and that of a landlocked sea in Central Asia which vanished several decades ago. Set at the very end of the Soviet era, the story follows Aral over one day as he sets off to the city to sell melons and earn money for his father. There he meets an old loner called Ulmas.
"Aral's bond with Ulmas opens a totally new world to the boy, while Aral helps the old man to realise the meaning of life," explains Vakkasova.
The director has already presented the project at co-production forums in Moscow, Tallinn and Sofia, which helped her to secure 16% of the project's $865,000 (€640,000) budget. Moscow's Gorky Studio has also confirmed it will invest $140,000 (€104,000) and Vakkasova is negotiating with European producers. She plans to work only with non-actors on the film. "Non-professionals can put it to the level that can't be achieved by acting," she explains. "I'd like to catch sincere, genuine manifestations of human spirit." However, it is not realism but "poetic cinema which discovers beauty in the daily passage of life" that inspires Vakkasova.
"It's a feature about subtleties of human soul, its connection with nature," she continues. "The sea, splashing in Aral's memory and soul, is a metaphor for innocence and integrity. It's not a story about a political collapse or real historical events, it is somewhat a parable about the sea hidden inside each of us."
PASTURE IN THE SKIES (Jolbakan) (Kyrgyzstan)
Dir/prod Elnura Osmonalieva
After receiving a degree in politics from the American University in Central Asia, 29-year-old Elnura Osmonalieva worked for various international development organisations. Her first short, Farewell (2009), was closely connected with her social and political involvement. Osmonalieva is now finishing the documentary Almaz, about a young man whose family moves from the mountains to the city to find a better life — but falls apart.
Her new documentary, Pasture In The Skies, again tackles the transformations in today's Kyrgyz society. An old couple of nomadic herders, Osmonalieva's relatives, live in the mountains, sharing an uneasy but happy life. Tokon, the wife, is also a healer and an algebra teacher at the country school. "It is quite a day to witness — an aged teacher tending her cows and goats, then boiling milk in a large iron pot on a fire in a tent, then changing her clothes and walking from the top of a mountain down to a valley to take state exams from nervous students," says Osmonalieva. "But I feel sad they don't have an heir, and soon there will be no more such villages and shepherds."
Shooting began in March, but it will take at least a year to complete since the director plans to catch seasonal changes. As the work progressed, Osmonalieva modified her approach: "I decided to get deeper into the subject, give a better inside [view] of the characters. The documentary won't be so lyrical and contemplative, but more dramatic." She also believes that images and actions are more convincing than television-style interviews. About 50% of the financing has been already supplied by the Netherlands' Jan Vrijman Fund. Pasture In The Skies is planned around a budget of only $21,500 (€16,000), and any script changes will not significantly increase the budget.
HARMONY LESSONS (Kazakhstan)
Dir/scr Emir Baigazin
Harmony Lessons is a school drama about 14-year-old Aslan, who is suffering from a psychological illness after experiencing trauma at the urologist at the tender age of 10. The story follows the boy through three periods in his school life as he struggles with obsessive perfectionism: he keeps all his belongings spotlessly clean, washes his hands every 45 minutes and plans according to a developed sequence. Any break of this order causes him to panic.
The film is the debut feature from 25-year-old Kazakh writer-director Emir Baigazin, an alumni of the Asian Film Academy in Pusan and the Berlinale Talent Campus, where he presented his second short movie, Steppe, in 2008.
Baigazin, who started as an actor at the age of 20 with a role in Timur Bekmambetov's Russian blockbuster Day Watch, will shoot Harmony Lessons in black and white and intends to combine the best traits of European and Asian cinema. "The storytelling has an emphasis not on the incidents or events, as commercial film-making does, but on the understanding of these events by both spectator and the main character," says the director.
"Aslan is an introvert," he adds of his main character. "By his nature, he is not a hero — he is an observer."
Harmony Lessons is budgeted at $240,000 (€179,000), and the State Studio of Kazakhstan is planning to cover half of this figure.
ENER (Turkmenistan)
Dirs Bayram Abdullayev and Lora Stepanskaya
Writer-directors Bayram Abdullayev, a native Turkmen, and Ukraine-born Lora Stepanskaya have been working together for years. "I write scripts incorporating some local ethnographic and verbal features," says Stepanskaya. "Bayram gives me the knowledge of some cultural nuances I lack in my genes." While their first feature together, Where Are You, Brother? (1990), was appreciated mostly only in Turkmenistan, their second collaboration, Yandym (1995), was a prize winner at Russia's Kinotavr Film Festival and at Uzbekistan's Tashkent Film Festival and also screened at Berlin, Moscow, Karlovy Vary, Montreal, Tehran and New York. The film told the story of a man repressed under the Soviets who returns home and meets his brother, who has remained a conformist even after the fall of communism.
Ener focuses on the life story of a well-digger who must overcome many hardships, including jail, the death of his mother and the marriage of the woman he loves. But there are other characters in the film — animals such as a camel and a wolfhound that are equal to the humans. "A regular story of a tragic love has been raised to the level of a parable," explains Stepanskaya.
Ener is set in the Karakum Desert mostly in the 1970s and 1980s. "We've chosen this location because we wanted to capture the life of desert people who have a peculiar psychology, a specific way of life, a harsh discipline," explains Stepanskaya. The duo aim to raise $1.6m-$2m for the project. "We came up with this approximate figure because nobody has experience of shooting in the desert in the summer," says Stepanskaya. "We're planning to use helicopters as we need to create an impressive image of the desert. The conditions will be hard."
BUZKASHI! (Tajikistan-Canada)
Dir Najeeb Mirza
Prods Najeeb Mirza, Micheline Shoebridge
Director Najeeb Mirza is not a native of Central Asia: he was born in Pakistan and grew up in Canada. Mirza's work for the Canadian International Development Agency brought him to Central Asia and gave him a unique opportunity to record local life. His first short documentary, Herders' Calling (2004), focused on Kyrgyz herders and was selected for various festivals around the world. It was followed by the short documentary Falak (2005) about a peculiar type of mystical Tajik music. Mirza's first full-length documentary, The Sweetest Embrace: Return To Afghanistan (2009), told of two Afghans who were deported to Tajikistan from their native country during the Soviet occupation when they were only 10 years old.
Set in the Pamir Mountains, the documentary Buzkashi! follows three very different players of the traditional Central Asian sport of buzkashi, which is said to be an ancient precursor to polo. "We present a seemingly distant Muslim land, a strange-looking sport and an unrecognisable language, which for many will immediately appear too foreign," says Mirza. "But as people get caught up in the human stories, they may find familiarity in what otherwise appears to be far away, recognising that perhaps those people are just like us but live in different circumstances."
Some 41% of the announced $770,000 budget has been secured, including instalments from private production companies, Canada and Quebec's art councils, as well as the Canadian and Quebec tax credits. The crew is already shooting in Tajikistan, and more than half of the material has been filmed. The release of the 90-minute film is planned for August 2011.
SUNNY DAYS (Kazakhstan) Dir Nariman Turebayev Prod Limara Zhexembayeva
Writer-director Nariman Turebayev graduated from the Kazakh Academy of Arts in 2001, the same year his second short, Antiromantika, participated in the Cannes Cinefondation programme. The film later received the Grand Prix at the 2002 Angers European First Film Festival and screened at other festivals.
Turebayev's first feature, Little Men, portrayed young outcasts in Kazakhstan and premiered in competition at Locarno in 2003 before playing at Rotterdam, Nantes, Angers, Chicago, Marrakech and Vienna.
Sunny Days again depicts a young dropout. "Making a film about an outcast, I can afford to be really frank and tell a simple story at the same time," says Turebayev. "I was attracted by the theme of human loneliness, the suspended situation when a person starts losing loved ones, the situation of extremity."
The plot spans five days in the life of a nameless character who is desperately seeking money to pay debts, but loses much more of what he has in the process. "This is a story of loss," says Turebayev. "But it seems the protagonist doesn't pay much attention to what he loses". The director has set the film in the city of Almaty and will shoot in winter so there will be light from sun and snow. "Light strengthens grief," he says. "And there's a lot of grief in the movie." Describing the visual style, Turebayev mentions Antonioni, Godard and Hal Hartley as his guiding lights
Although the script has been finished, no cast or crew are yet attached to the project. Sunny Days is budgeted at $675,000 (€500,000), and there is an unconfirmed arrangement with the Kazakfilm