Dir: Mia Hansen-Løve. France. 2014. 131mins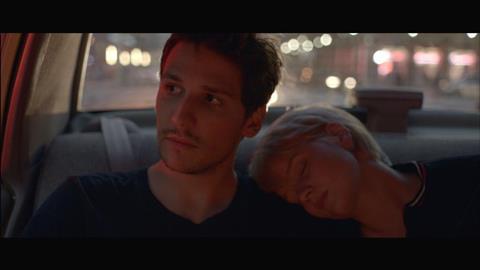 Heartbreaking and profound in its beautifully modest way, filmmaker Mia Hansen-Løve's Eden tackles one of fiction's oldest themes — the awkward transition from youthful idealism to wised-up, resigned adulthood — and finds rich new terrain to explore. The director of Father Of My Children and Goodbye First Love once again chronicles life's nagging habit of not working how we hoped, but her latest shows her working in a slightly more accessible vein, charting the 20-year odyssey of an aspiring French DJ who comes to learn what most of us eventually discover: the things we love can define and imprison us in ways we couldn't have imagined.
Eden is a film about how a creative passion can be both heaven and hell for those who hear a call to make a life out of the arts.
World premiering at the Toronto Film Festival, Eden could prove to be more of a box office draw than Hansen-Løve's previous small-scale indies — partly because of the film's dance-music milieu (especially with Daft Punk enjoying a recent renaissance) and partly because of the presence of indie favourites Greta Gerwig and Brady Corbet in small roles. Still, Eden's introspective, wistful tone will keep the film a limited art house offering in the States, although strong reviews could boost its profile.
Starting in the early 1990s, Eden is interested in the journey of two young men who are starting up a DJ group in Paris called Cheers, but in reality the film is more invested in Paul (Félix de Givry), the handsome, unsettled member of the duo. Over two decades, Eden checks in on Paul as Cheers finds limited international success and he goes through a series of girlfriends, including a commitment-phobic American (Gerwig) and a loyal local girl (a stellar Pauline Etienne) who may end up being the love of his life — if he's smart enough to realise it.
At first, Eden (which was written by Hansen-Løve and her brother Sven, who had been a DJ) risks being merely a very enjoyable, nostalgic look at the French dance scene that spawned a modern electronic disco movement in the form of Daft Punk and others. (In the world of Hansen-Løve's film, Daft Punk are friends with Paul and his cohorts but go on to enjoy a worldwide acclaim that Paul never experiences himself.) But Eden's deliberate, careful pacing — the movie stretches over two hours — turns out to be one of the film's great strengths, giving the narrative room to grow and develop as we begin to grasp at what Hansen-Løve is after.
Somewhat similar to last year's Inside Llewyn Davis — although without that movie's barbed humour and poetic strangeness — Eden is a film about how a creative passion can be both heaven and hell for those who hear a call to make a life out of the arts. Hansen-Løve has a deep affection for the music that soundtracks her film — not just Daft Punk but also Frankie Knuckles and MK — but eventually it becomes clear that Eden isn't so much concerned about that specific musical era as it is in investigating how Paul's desire to make sweepingly euphoric and melancholy dance songs both reflects and dramatizes the highs and lows of his personal life.
Intriguingly, Hansen-Løve and her brother don't necessarily pinpoint a fatal flaw in Paul that has led Cheers not to become the great band they hoped they'd become. But Eden certainly offers clues, chief among them being Paul's years-long cocaine habit, which doesn't lead to clichéd rehab sequences but does suggest the man's inability to focus fully on his creative pursuits.
Likewise, Paul's carousel of unsatisfying love affairs isn't the "key" to his lack of sustained musical success, but the movie does show how romantic fulfilment (like fame) can be the by-product of a tricky combination of drive, skill and luck. Hansen-Løve doesn't reduce his girlfriends to mere props, though: Each is given her own arc, suggesting how everyone (not just DJs) must negotiate life's choices, realising that saying yes to certain things means saying no to others.
Gerwig's role is small but crucial as her character Julia represents for Paul a certain kind of unbridled love that only happens in one's youth when the future seems to be stretching endlessly ahead. (Corbet's role is even smaller, but his character's arrival is a tart reminder of how the person who seemed so right for us can end up finding someone even righter — or simply finding someone good at the right time.)
Paul isn't a particularly dynamic character, which may lead some to contend that he brings on his own problems. But as played by de Givry, there's a deep well of sadness in the young man, and as Paul ages over the film's 20-plus years, he never quite sheds that unspoken sorrow, as if the brief acclaim that Cheers enjoyed threatens to be a curse, a cruel reminder of how close he got to his dreams. This is a challenging performance, one in which an unformed young man has to find himself, but de Givry makes Paul's plight a small-scale treatise on thwarted aspirations.
Just as Hansen-Løve doesn't try to exaggerate the severity of Paul's predicament — she understands that lots of adults don't end up doing what they wanted — she also doesn't assign greater meaning to the generation of young Parisians who grew up in the throes of what was once called techno music. But whether it's Paul's friends (who will face their own tragedies and momentous life moments) or Etienne's Louise (a woman flecked with as much sadness as Paul but blessed with a wisdom he doesn't possess) there is something undeniably moving about the juxtaposition of their painfully imperfect lives and the gloriously ebullient music they danced to in clubs.
All movies about one's childhood music can't help but feel a bit precious, but Eden is remarkably pointed in its laceration of nostalgia. For most of us, the music of our youth reconnects us to an earlier, probably romanticised version of our lives. For Paul, the sting is more palpable, a constant reminder of everything he wanted — success, love, fame — and didn't quite get.
Production company: CG Cinema
International sales: Kinology, www.kinology.eu
Producer: Charles Gillibert
Screenplay: Mia Hansen-Løve, Sven Hansen-Løve
Cinematography: Denis Lenoir
Production design: Anna Falguères
Editor: Marion Monnier
Main cast: Félix de Givry, Pauline Etienne, Vincent Macaigne, Greta Gerwig, Golshifteh Farahani, Laura Smet, Vincent Lacoste