British actress to receive career award; festival guest list includes Tom Hiddleston, Ellen Page, Emily Blunt and Benicio del Toro.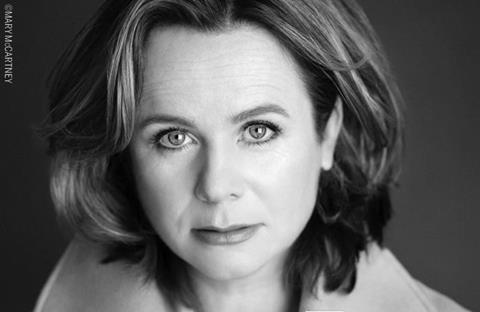 Emily Watson, star of Breaking The Waves, The Book Thief and Everest, is receive the Donostia Award at the 63rd San Sebastian Film Festival (Sept 18-26) in recognition of her 30 years in film.
The British actress will collect the award at a gala on Sept 25 in San Sebastian's Kursaal Auditorium.
The festival also unveiled some high-profile names and juries for its upcoming edition.
Actors attending include stars of Ben Wheatley's High-Rise, Sienna Miller, Tom Hiddleston and Luke Evans; Freeheld actress Ellen Page; Sicario stars Emily Blunt and Benicio del Toro; Tim Roth, at the festival with 600 Miles and Chronic; Louise Bourgoin, star of The White Knights; and Karin Viard and Isabelle Carré from 21 nuits avec Pattie.
Filmmakers in attendance include Pablo Agüero (Eva Doesn't Sleep), Laurie Anderson (Heart of a Dog), Scott Cooper (Black Mass), Terence Davies (Sunset Song), Michel Franco (Chronic), Lucile Hadzihalilovic (Evolution), Hou Hsiao-Hsien (The Assassin), Charlie Kaufman and Duke Johnson (Anomalisa), Hirokazu Koreeda (Our Little Sister), Joachim Lafosse (The White Knights), Pablo Larraín (The Club), Jean-Marie and Arnaud Larrieu (21 nuits avec Pattie), George Miller (Mad Max: Fury Road), Rufus Norris (London Road), Corneliu Porumboiu (The Treasure), Gabriel Ripstein (600 Miles), Walter Salles (Jia Zhangke, A Guy from Fenyang), Peter Sollett (Freeheld), Pablo Trapero (The Clan), Denis Villeneuve (Sicario) and Jia Zhangke (Mountains May Depart).
Spanish cinema will have a large representation at this year's festival. Among the actors and directors who have confirmed their presence are: Alejandro Amenábar (Regresión), Ricardo Darin and Javier Cámara (Truman), Bárbara Lennie (The Apostate), Agustí Villaronga (The King of Havana), Imanol Arias (Eva doesn't sleep), Marc Recha and Sergi López (Un dia perfecte per volar), Pere Joan Ventura, Pere Portabella and El Gran Wyoming (No estamos solos), Imanol Uribe, Elena Anaya, Eduard Fernández and José Luis García Pérez (Far from the Sea), Paula Ortiz, Inma Cuesta, Álex García, Leticia Dolera, Asier Etxeandía and Manuela Vellés (The Bride), Fernando Colomo (Isla bonita) and the director Dani de la Torre with the cast of his film, El desconocido (Retribution): Luis Tosar, Goya Toledo, Paula del Río and Javier Gutiérrez.
Álex de la Iglesia will arrive accompanied by the cast of Mi gran noche (My Big Night): Raphael, Carlos Areces, Carolina Bang, Mario Casas, Carmen Machi, Santiago Segura, Hugo Silva and Blanca Suárez.
Also present will be the cast responsible for dubbing the Spanish version of Hotel Transylvania 2: Alaska, Clara Lago, Dani Martínez, Santiago Segura and Mario Vaquerizo.
The juries comprise:
KUTXABANK NEW DIRECTORS AWARD JURY
Diego Lerer (President)
Francine Brücher
Desirée de Fez
Olivia Stewart
Edgard Tenembaum
HORIZONTES AWARD JURY
Agustina Chiarino (President)
Fran Gayo
Rubén Otxandiano
IRIZAR BASQUE FILM AWARD JURY
Jose Mari Goenaga (President)
María Elorza
Dolores Meijomín
INTERNATIONAL FILM STUDENTS MEETING JURY
Benedikt Erlingsson (President)
TVE - ANOTHER LOOK AWARD JURY
Elena S. Sánchez (President)
Marian Álvarez
Begoña del Teso