As Harry Potter and the Deathly Hallows: Part II smashed a number of international records, Screen looks at the non-US international movers and shakers.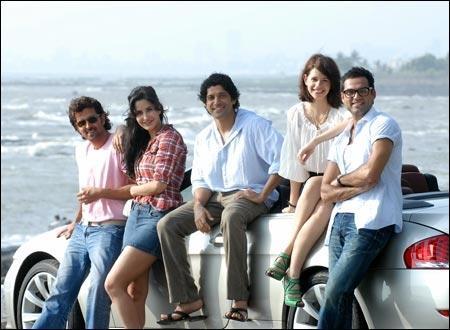 Eros' coming-of-age romance-drama Zindagi Na Milege Dobara grossed $7.6m on debut last weekend, scoring a screen average of $8,181 across 16 territories.
The comedy is Eros' latest success after Murder 2 opened well last weekend and currently stands at $13.6m, and Anees Bazmee's smash Ready took close to $40m last month.
Directed by Zoya Akhtar, and starring bollywood star Hrithik Roshan, Abhay Deol and Farhan Akhtar, the Hindi-language film follows three friends who find bull-running, sky-diving and love during a holiday in Spain.
Toho's fourteenth instalment in the ever-popular Pokemon franchise was the only other non-US entry in the top ten international films, taking $6.8m for $10.3m from 655 screens at an excellent screen average of $10,391 in Japan.
The same company's Up On Poppy Hill (Kokuriko-zaka kara) took a slightly disappointing $4.9m for $7.4m from 457 screens. The anime-drama is the latest from powerhouse Studio Ghibli, responsible for local box office sensations Arrietty and Spirited Away, among Japan's biggest-ever earners.
Written by legendary Ghibli founder Hayao Miyazaki and directed by Hayao's son Goro, the film follows a group of Yokohama teens trying to save their school from demolition.
The two anime films are likely to be among Japan's biggest local products of the year so releasing them over the same weekend was questionable. However, the combined results bode well for the recovering Japanese box-office.
Chinese holdovers Wu Xia and Mysterious Island did decent holdover business for We Distribution and Mei Ah, grossing a further $5.7m for $23.3m and $4.6m for $9.9m respectively.
Other Angle's comedy Case Depart fought off Transformers 3 to retain second place at the French box office, making a further $2.8m for $8m, while Cilada.com did exactly the same thing in Brazil, holding on $2.2m for $7.5m.
Memento's thriller The Monk wasn't a hit in France, entering the local market in only ninth, after taking $672,929 from 215 screens.
However, France is well-represented by local product even during the summer months with five of its current top ten films locally produced. Inevitably, this compares favourably to other major European territories like the UK, which has only one local film in its top ten, and Germany, which has none.