EXCLUSIVE: Mongrel International has spiced up its EFM slate and joined a select handful of sales agents to secure the services of red-hot Ethan Hawke.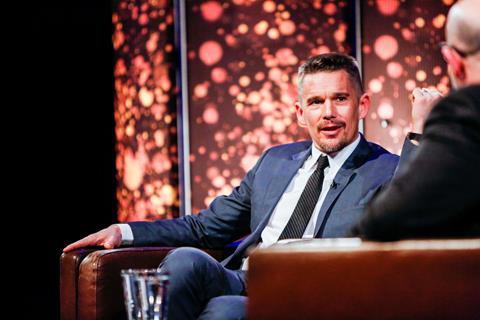 The Oscar-nominated star of Boyhood will act opposite Sally Hawkins in Maudie, the true-life romance that is scheduled to shoot this summer in Newfoundland, Canada.

Hawke will play a reclusive fish peddler who falls for his arthritic housekeeper, the eponymous Maud who displays little talent for her job but huge ability as a painter and goes on to become a celebrated folk artist.

Aisling Walsh will direct from Canadian Sherry White's screenplay inspired by the real romance that played out in Nova Scotia in the 1950s and 60s.

Bob Cooper of Los Angeles-based Landscape Films produces with Mary Young Leckie of Toronto's Solo Productions and Susan Mullen of Parallel Films, the Dublin producers behind Albert Nobbs.

"Ethan Hawke is one of the finest actors and artists working today," said Walsh. "His passion and his attention to detail in every role he takes on is astonishing. He inhabits characters always. I am absolutely thrilled that he is going to play Everett Lewis opposite Sally. No-one is more perfect to play the role."

"We specialise in bringing carefully curated, culturally relevant, story-driven and beautifully crafted films to Canadian audiences," said Mongrel Media president and founder Hussain Amarshi.
"Ethan is an extraordinarily talented actor. As the distributor of both Boyhood and Seymour in Canada, I'm thrilled that we now have another film with Ethan."

Executive producers are Heather Haldane of Toronto-based H Is 4 Productions, Mary Sexton of Newfoundland-based Rink Rat, Landscape's Tyler Mitchell and Parallel's Alan Moloney and Johanna Hogan.