Dir/scr Dan Rush. US. 2010. 96mins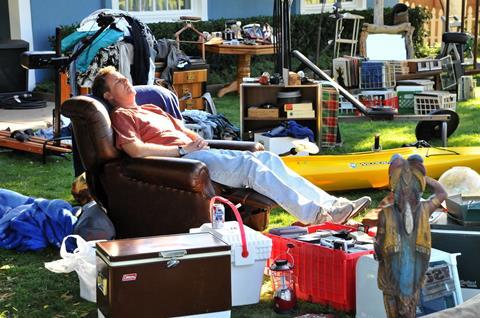 Will Ferrell proves he doesn't always have to go wild'n'wooly to get the laughs in writer/director Dan Rush's gently amusing and delightfully performed Everything Must Go. Ferrell is perfectly cast as the engaging alcoholic who has the worst day of his life when he loses his job and arrives home to find his wife has changed the locks and dumped all of his possessions out on the front lawn.
Dan Rush's impressive script is gently amusing – with Ferrell delivering some charming and often sad comedy moments.
Based on a Raymond Carver short story, the film allows Ferrell to take his acting down a couple of notches and play a sadsack businessman who has to take a cold hard look at his life. And he is all the better for it, delivering a subtle and insightful performance as a man at his own personal crossroads as he sifts through the detritus of his life out on his lawn.
He plays Nick Halsey, a regional sales executive who is finally fired due to his excessive boozing. He arrives home to find his wife gone, the locks changed, and every possession he owns – from vintage LPs and kayak through to his mouthwash and blender – unceremoniously dumped out on the front lawn. With his car repossessed and his credit cards stopped he spends his remaining money on beer and plonks himself down on his favourite chair and tries to drink away his problems.
A pregnant new neighbour (the charming British actress Rebecca Hall) is kind to him, but has issues of her own, and his only friend seems to be a plump local kid on a bike (Christopher 'CJ' Wallace, son of rapper Notorious BIG) who he pays to keep an eye on his stuff while he heads to the store to buy more beer.
Nick has no great epiphany. He simply eventually comes to the conclusion that he should cut out the booze, and with the help of the kid he eventually stages a sale of virtually all of his possessions…finding a way to leave his old life behind and emerge with less weight on his shoulders and certainly a lot less possessions.
There is a sub-plot about his wife hooking up with a local cop (Michael Pena) who is Nick's AA sponsor, and a short trip Nick makes to see a girl (Laura Dern) he once knew at school, but these have little impact on the proceedings.
Dan Rush's impressive script is gently amusing – with Ferrell delivering some charming and often sad comedy moments – and while never attempting to be profound it does poke fun at the darker side of the American dream. It might be said that Ferrell is simply trying to prove he can tackle the subtler stuff alongside his blockbuster Hollywood comedies, but in truth he is the perfect everyman character and is spot on here.
Production companies: IM Global, Nationlight Productions, Temple Hill Entertainment
International sales: IM Global, www.imglobalfilm.com
Producers: Marty Bowen, Wyck Godfrey
Executive producers: Marc Erlbaum, J Andrew Greenblatt, D Scott Lumpkin, Jody Simon
Cinematography: Michael Barrett
Production designer: Kara Lindstrom
Editor: Sandra Adair
Music: David Torn
Main cast: Will Ferrell, Rebecca Hall, Christopher 'CJ' Wallace, Laura Dern, Michael Pena