Universal's hit scores the year's second biggest opening (including previews), with an impressive $8.8m (£5.3m) from 437 screens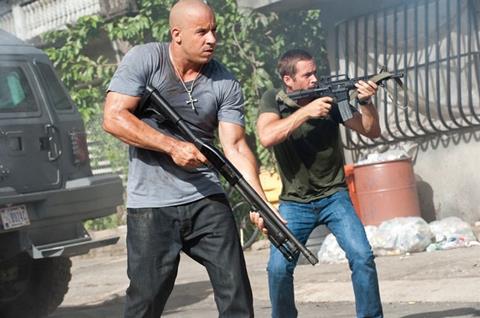 Crime-action Fast & Furious 5 raced to number one in the UK, grossing $8.8m (£5.3m) from 437 screens, pummelling the opposition in the process. £1.3m came from previews.
With an excellent screen average of $20,217 (£12,202), the latest in Universal's popular franchise was untroubled by the excellent weather and looks set to rival the best-performing of the previous instalment in the series Fast & Furious 5, which opened on $8.1m (£4.9m) from 364 screens in April 2010 and went on to gross a strong $22.4m (£13.5m).
Fast & Furious 5 is already close to the total taken by the third in the franchise Tokyo Drift ($9.3m / £5.6m) and should overtake The Fast And The Furious ($10.6m / £6.4m) this week.
In sharp contrast to Justin Lin's high-octane car-fest, the rest of the box office struggled to get out of first gear this week, with no other films grossing over £1m and only four others taking more than £500,000, largely a result of the fine weather.
Fox's Rio was the best of the rest taking $1.5m (£886,669) from a week-high 519 screens in its third week. Carlos Saldanha's animated-comedy currently stands at $13.3m (£8m).
Warner's comedy-remake Arthur was the second-highest of three top five openings in third, taking $1.3m (£764,468) from 434 screens at an unspectacular location average of $2,917 (£1,761).
Critically panned, Arthur is a reversal of recent box office fortunes for Brit actor Russell Brand, who – barring the catastrophe The Tempest – has fared well with HOP, Despicable Me and Get Him To The Greek.
Entertainment's Scream 4 saw the biggest drop off in the top-ten, sliding 65% in its second week after taking $1.2m (£730,963) for $6.7m (£4m).
Paramount's fantasy-drama Beastly, a modern-day take on the Beauty and the Beast tale, entered the chart in fifth, grossing $916,226 (£553,069) from 250 screens at a respectable average of $3,665 (£2,212).
Two wheels also proved popular in the UK this week, with CinemaNX's Isle of Man-set motorcycle documentary TT3D debuting in ninth on $518,535 (£312,998) from only 79 screens and a second-best screen average of $6,564 (£3,962). The opening was among the best ever for a documentary in the UK.
This week sees saturation releases for Momentum's horror Insidious and Paramount's action Thor. Fox's comedy Cedar Rapids gets a wide release.