Dir: Chris Chong Chan Fui. Malaysia. 2009. 74mins.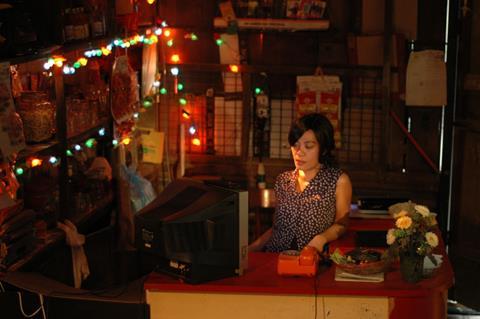 A karaoke bar on a Malaysian palm oil plantation provides the backdrop for this thoughtful feature debut, which owes a debt to the slow-moving existential meanders of Thai arthouse master Pen-ek Ratanaruang and the laconic visual style of the director's compatriot, Malaysian-born (but Taiwan-based)Tsai Ming-Liang. But although it possesses a certain quiet grace, this elliptical coming-of-age tale is more of a roadside snack than a sit-down meal.
What Chong really seems interested in as a director are the relations between people and the landscape
Still, the film has character and a surprisingly mature directorial poise, and could work as a crossover calling card for video artist Chris Chong Chan Fui in the festival tour that seems sure to follow Karaoke's Directors Fortnight Cannes premiere.
The bar scene that opens the film sets the film's unhurried tone with a leisurely montage of faces, gestures, drinks, accompanied by snatches of random conversation – almost as if the camera and microphone are searching for their story. This emerges gradually as we settle on the bar owner, Kak Ina (Mustaffa), and her son Betik (Adzim) (though the narration is so unassertive that it takes us a while to work out that they really are mother and son). Betik, it emerges, has returned to this village plantation after two years studying in the big city, and he walks through the place in a daze, as if he's already beyond it yet unable to cut his ties.
The schmaltzy love and religious songs playing on the karaoke system (which were written to measure) echo through their lyrics those themes of love and loss that underpin the film. Betik begins a shy flirtation with a diffident young girl, Anisah (Nisaa), and helps a karaoke video director make the kitsch soft-focus romantic vignettes that accompany the songs, which are filmed on the beach or next to waterfalls; when a model fails to appear, he is cast himself as the male lead. Though there's a certain romantic tension in the central girl-boy story, the only real drama comes in a two-minute conversation towards the end, when we learn that Betik never returned for his father's funeral, and that his mother is selling the bar and moving away with Betik's uncle.
What Chong really seems interested in as a director are the relations between people and the landscape (which is captured in a series of carefully-framed photographic fixed- shots by DoP Pengpanich), and the way that the characters' conflicting desires make them always a little out of tune with each other, in a sort of emotional karaoke. It's also about the exploitation of paradise – in beauty-spot karaoke videos, but also in the palm oil plantation, with its long symmetrically-planted rows of trees.
Production company
Tanjung Aru Pictures
International sales
M-Appeal
(49) 30 61 50 75 05
Producers
Pierre Laburthe
Chris Chong Chan Fui
Screenplay
Chris Chong Chan Fui
Shanon Shah
Cinematography
Jarin Pengpanich
Production design
Yee-I-Lann
Editor
Lee Chatametikool
Main cast
Zahiril Adzim
Mislina Mustaffa
Mohammad Hariry
Nadiyatul Nisaa