Dir. Lu Chuan. China. 2009. 135mins.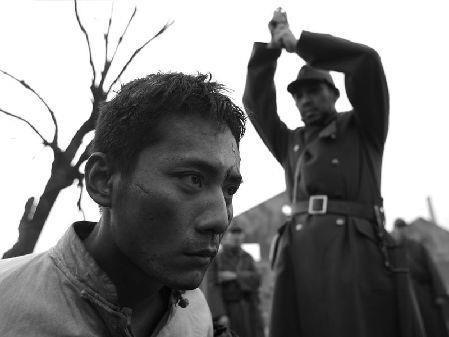 In Kekexili: Mountain Patrol, Lu Chuan and cinematographer Cao Yu turned the barren tundra of the Qinghai-Tibetan plateau into something poetic, even when strewn with hundreds of poached antelope carcasses. Here, the team achieves equally lyrical, if much more harrowing, results with a far more forbidding backdrop: the destroyed wartime Chinese capital of Nanking, in which the corpses of executed Chinese soldiers and civilians fill the widescreen frame.
This hit a commercial seam on release in China earlier this year, and should also become a festival favorite and an arthouse draw in international markets, even without berths in Cannes or Venice: a foreign language Oscar nomination would also help.
The look of this gorgeous black-and-white, mostly handheld labour of love is a daring, mostly successful, fusion of neorealism with self-conscious stylisation
The Japanese army needed only four days in December 1937 to conquer the city of Nangking and violate basic rules of war and treatment of noncombatants. Too little attention has been given outside China to the horrors of the Nanking invasion, and Lu Chuan wants the story to be clear to foreigners (it has also been addressed this year in Germany's John Rabe).
Postcards, in English, clarify the sequence of events, and a recurring cute child Chinese soldier provides additional continuity. In case spectators have become immune to feelings of revulsion at atrocities committed in movies, Lu makes identification easier by rounding out several characters on both sides of the fighting.
Handsome resistance fighter Lu Jianxiong (Liu Ye) and stunning Safety Zone leader Miss Jiang (Yuanyuan) are heroic archetypes, and Japanese commander Ida (Kohata) the expected incarnation of cruelty, but the more inviting characters are the reformed collaborator Mr. Tang (Wei) and the reborn prostitute Xiao Jiang (Yiyan).
The main focus, however, and the viewer's moral compass is Kadokawa (Nakaizumi), a naive Japanese soldier who is repelled at what he witnesses but is too much a creature of nationalistic discipline to intervene.
The look of this gorgeous black-and-white, mostly handheld, labour of love (Lu Chuan studied in Nanking and researched the subject for four years) is a daring, mostly successful, fusion of neorealism -Hao Yi's sets of destroyed facades and inert spaces recall the Rossellini of Germany Year Zero - with self-conscious stylisation, like the symmetrical shots of the vast church interior which houses mostly displaced women.
The director also makes some striking formal choices for a war film. An extended close-up of a relentlessly firing Japanese machine gun instead of the conventional shots of victims being massacred works well. Too mannered, however, is a nearly abstract scene of hands in the air, rather than the usual view of full upper torsos, when 100 females must volunteer to be "comfort women" for the enemy in order to save others in the so-called Nanking Safety Zone.
The most unforgettable stylized portion is the eerie militaristic dance performed by Japanese soldiers accompanied by shirtless men overhead pounding on huge drums during an outdoor, Triumph of the Will-style victory celebration.
Liu Tong's musical score is exceptional. It ranges from lightly melodramatic piano and reed instruments to drums so thundering that the intermittent silences, like the empty parcels of land outside the tense city, are loaded with significance.
To sign up for Screen's weekly Reviews Newsletter with all the week's new releases, internationalopenings and full festival reviews delivered free to your mailbox every Friday, please click HERE
Production companies
Media Asia Films Ltd.
Beijing Film Studio
CFGC
Stellar Megamedia
Jiang Su Broadcasting
Shanghai Bailiang Investment
International sales
Media Asia
+ 852 2314 4288
Producers
Han Sanping
Qin Hong
Zhou Li
John Chong
Andy Zhang
Screenplay
Lu Chuan
Cinematography
Cao Yu
Editor
Teng Yun
Production design
Hao Yi
Lin Chaoxiang
Music
Liu Tong
Main cast
Liu Ye
Gao Yuanyuan
Hideo Nakaizumi
Fan Wei
Jiang Yiyan
Ryu Kohata