Steve McQueen's 12 Years A Slave is a box-office hit in the US and has been attracting major awards attention, including 10 Bafta nominations. Andreas Wiseman speaks to the film-maker, star Chiwetel Ejiofor and other key members of the team about creating an unflinching film about slavery.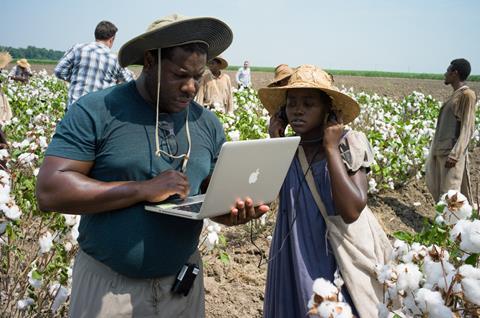 In November 2011, in the halls of the American Film Market in Santa Monica, one script above all generated buzz among distributors.
12 Years A Slave was set to be the latest project from red-hot UK film-maker Steve McQueen, whose prestige drama Shame was at that time building awards buzz: most larger independents were intrigued by the film and many were desperate to have 12 Years A Slave, which was handled by Summit Entertainment.
"It was an intense time," recalls eOne Films UK managing director Alex Hamilton, about the ensuing bidding war for the project. eOne ended up paying somewhere between $2m-$4m to beat UK rivals StudioCanal and Momentum. "It was our number one priority at the market but each potential buyer was pointing out their respective connections to the film."
But even with McQueen's allure, 12 Years A Slave was not without its challenges - including its tough subject matter and a budget that, at the time, was understood to be around $20m. "The asking price is a lot of money," one of the UK's top independent buyers told Screen at the time. "It's quite a risk."
But 26 months later the film is a palpable hit in the US, with $38.5m and counting, and has amassed more than 100 awards nominations, including 10 from Bafta.
Story origins
Turner-prize winning artist McQueen began ruminating on ideas for a film about slavery in 2008, the same year his debut feature Hunger took the festival circuit by storm.
Hunger caught the attention of many of the industry's biggest independent financiers, who were soon clamouring to work with the London-born director of Grenadian descent. Suitors included Brad Pitt's Plan B Entertainment, whose co-presidents Dede Gardner and Jeremy Kleiner engineered a meeting with McQueen soon after being "stunned" by Hunger. A meeting with Pitt followed.
Soon after that, Amsterdam-based McQueen began working with US writer John Ridley: "At that time the narrative for me was of a free African-American who gets kidnapped and dragged into the maze of slavery," recalls the director. "But that's all I had."
McQueen's partner, the cultural critic Bianca Stigter, spurred the crucial breakthrough on the script when she discovered Solomon Northup's then little-known 19th century memoir of his own harrowing experience of slavery.
"It was astonishing," recalls the director. "When I finished the book I felt so angry, so upset with myself because I thought, 'How come I didn't know this book?' But then I realised that no-one I knew knew the book. Sometimes you can be a magnet, you want something so badly it comes to you."
Northup's memoir recounts his ordeal as an African American free man who was kidnapped in 1841 and sold into slavery. After toiling for 12 years on cotton plantations in Louisiana, he finally regained his freedom.
For McQueen, finding the actor to play Solomon was far less time-consuming than finding his source material.
"I went out to see Steve in Amsterdam after Hunger," recalls lead actor Chiwetel Ejiofor. "We talked about movies and drank coffee and walked the canals. We were hopeful about working together at some point and we spoke about a couple of projects. But they didn't pan out for one reason or another.
"But then he sent me the script for 12 Years," continues the UK actor, star of Dirty Pretty Things and Kinky Boots. "I loved it. But I felt the weight of it. I felt the significance of it."
For a time Ejiofor doubted whether he, or anyone, could do the part justice. "I was wracked with self-doubt. But Steve was very sure he wanted me for the part. It was a bizarre role reversal."
After reading and re-reading the book, the London-born Ejiofor knew he had to play Solomon. With Nigerian parents, the connection was particularly poignant for him.
"As soon as I had consciousness, I was aware of slavery, " he remembers. "More particularly of the slavery in Nigeria and that of the Igbos, of which I am one. Hundreds of thousands of Igbos were taken out of Nigeria as slaves. I remember being in the Nigerian museum of Calabar looking at the entry logs for the slave ships. Some were taken to the West Indies, some to South America and some to Louisiana. A sense of connection was always very real."
After a period of development, US financier River Road Entertainment and Summit joined Plan B and producer Anthony Katagas on the project before the 2011 AFM. Agency CAA, which represents Pitt and McQueen, packaged the film.
Patrick Wachsberger, then Summit co-chairman, had had his eye on McQueen for some time. "I was totally blown away by Shame in Toronto. I went to [CAA agent] Maha Dakhil and asked her to introduce me to this genius director. I told Steve, 'You know what? I'm going to figure out a way to work with you.' He probably dismissed it. But then when the project came, I talked to Bill Pohlad at River Road, with whom I'd done several movies, and it worked out."
Wachsberger and his then Summit partner David Garrett sold the film as a package comprising McQueen, his regular collaborator Michael Fassbender - on board to play sadistic plantation owner Edwin Epps - producer Brad Pitt in a smaller role, and the talented Ejiofor in the lead.
Buyers flocked as the film's finance structure quickly took shape. UK financier Film4, which had strong ties with McQueen having backed his first two features, was another investor determined to board the project.
Film4 head Tessa Ross was prepared to take the unusual step of investing a sizeable chunk of equity in a US production in order to maintain the connection with McQueen: "We ended up negotiating through quite a long period of time with River Road to join the financing structure. They always left a gap for us [understood to be between $1.6m-$3.3m (£1m-£2m)]… Steve always wanted us there," says Ross.
"We have £15m [$24.6m] a year to spend on films. We spent a good proportion of that investing in 12 Years. But we needed to know that we could be valuable beyond money, because we're never rich enough to be useful just for money," adds Ross, who would later visit the set and take a more active role during post-production. McQueen also credits Film4 for "saving us" when the production had to do a few days of reshoots and money was tight.
Additional casting took place as the film headed towards a spring 2012 shoot.
"Casting the film was a really amazing experience - not one I've had often," says producer Gardner with a laugh. "People said, 'I'll do whatever I can to be in the film.' It was an echo of what our experience had been with financiers. The movie was bigger than the sum of its parts but I think Steve at the helm was the primary and fundamental draw."
The stellar supporting cast would include Sarah Paulson, Paul Giamatti, Benedict Cumberbatch, Paul Dano and Alfre Woodard. However, casting the role of Patsey, the film's young female lead, was proving difficult.
"We auditioned more than 1,000 women," remembers McQueen. "It was very difficult. Francine Maisler [casting director] finally found Lupita [Nyong'o]. I saw her in New Orleans, and I took her to see Michael in our hotel. They did a little bit of rehearsal, and I thought, 'Well, that's the girl.'"
The casting of newcomer Nyong'o, a Yale School of Drama graduate who had been a production runner on Fernando Meirelles' The Constant Gardener, was a bold move that paid off spectacularly, with Bafta and Golden Globe nominations for supporting actress, as well as a nomination for Bafta's EE Rising Star Award.

The final partner
Heading into production a US distributor had yet to be attached. Summit was a potential candidate but its imminent acquisition by Lionsgate soon ruled out the company.
Paramount, which had an output deal with Plan B since 2005 and whose chairman Brad Grey co-founded Plan B with Pitt, was also a potential distributor but ultimately was not seen as the right fit.
Pitt's outfit would instead turn to Los Angeles-based financier New Regency, whose chairman Arnon Milchan and CEO Brad Weston separately had long-term relationships with Pitt and his executives.
"We were repositioning ourselves," says Weston of New Regency, which up to that point had focused on mainstream comedies and action fare. "We had a strategy for the company and Steve fell into that category of a wall-to-wall brilliant film-maker that we wanted to work with."
For New Regency and all the backers, McQueen's film represented the ultimate in highbrow but accessible film-making.
In April 2012, a few weeks before filming began, New Regency agreed to co-finance and distribute the picture via Fox Searchlight, per its output deal with Fox. In fact, the company committed less than 48 hours after reading the script.
"New Regency were the last people in, but I think it's fair to say they are the reason the movie got made," acknowledges Gardner.
The production headed to Louisiana, the real-life location of Northup's ordeal and a state now known for its attractive film tax incentives. The boost was essential as the film's budget ended up being tighter than the $26m originally envisioned.
"We faced a $10m problem," says Gardner. "We had $20m gross to make the movie, which netted out to just more than $16m after the rebate."
A tight 35-day shoot added to the need for restraint. McQueen and his team would need to be savvy with their time and money. "Of course we wanted more money, but you take what you get and you do the best you can with it. Sometimes your limitations can be your strengths," says McQueen.
"Fortunately I think Steve is a captain of economy," says Gardner. "But never to the detriment of narrative."
McQueen and his regular DoP Sean Bobbitt worked with only one camera and were spare in their number of set-ups: "If the material's working, they just don't think it's necessary," Gardner explains.
None of the original Louisiana locations of Northup's story were available. Instead, the film was shot primarily at four historic Louisiana plantations.

Starting the dance
For Ejiofor the early period of production was vital as he began his creative dialogue with McQueen in earnest. It was a dialogue, conversely, in which his co-star Fassbender was well versed.
"I was very aware Steve and Michael had worked together. The conversations they had were more real in a way. My conversations with Steve were engaged but we hadn't started our dance yet. That created a subtle tension in a way. I was waiting for that tension to be alleviated [come the shoot].
"That's why I was pushing originally to shoot in chronological order but that wasn't possible because of schedules. As it turned out we shot the first few weeks on the Epps Plantation. That was useful as I was able to observe Steve and Michael and work my way in."
Gardner adds: "Everyone was really conscious that a lot of the content that we were going to shoot was going to be difficult to watch, difficult to perform and difficult to capture in the time allotted. So it needed to be authentic."
Much of that authenticity came from the film's impressive crew and creative team. Ejiofor singles out costume designer Patricia Norris for praise: "She would sample different soils from different plantations and use those soils to age the clothing from each of the plantations in different ways."
Creating an authentic sound was also key. Without slave-era recordings, dialect coach Michael Buster suggested the actors study Vanessa Vadim's 2002 documentary short The Quilts Of Gee's Bend about an isolated African American community in Alabama.
While the production turned to iconic composer Hans Zimmer for the score, composer Nicholas Britell created new spiritual songs and arranged well-known ones, including a deeply moving rendition of Roll, Jordan, Roll.
In addition, historian Henry Louis Gates Jr, one of the foremost scholars on black history, was a consultant on the film.
'Focus' was the word most often repeated by the production when describing the atmosphere on set. Achieving that focus was often difficult. "The biggest challenge was keeping the focus, keeping the buzz, through all that emotion," says McQueen.
"On set there was a heightened sense of focus," says Ejiofor. "We'd go out on the weekends in New Orleans. We'd let loose. But it was never full release because there was a lot to do and get through. I had violin classes on the weekends, for example."
Gardner says: "Sometimes intensity is a really wonderful, quiet kind of concentrated environment, and that's certainly true of this film. Again, I really credit Steve as the leader of that, of setting that tone."
"There were challenging days," adds Ejiofor. "The hanging scene was uncomfortable, for example. But I didn't think of it like that. I could only ever reach a fraction of Solomon's feelings but that was my goal."
The heat was another major factor. On the first day of the shoot, it was 106 degrees in the shade. "I was thinking, 'My God, I need a water vest,'" confides the director. "People were saying 'Steve, it's hot isn't it?' and I was replying 'No, it's fine, it's brilliant, it's not hot, it's good, it's good.' Inside I was saying to myself, 'I don't know if I can survive this another day.' It drains you."
The combination of heat, focus and emotional intensity took its toll on Fassbender, who during his visceral performance as the maniacal Epps went to places McQueen had never before seen him go. "In the rape scene with Patsey, Michael blacked out," explains the director. "Months after I cut it, he told me he woke up and thought, 'Who is that person in my bed?' before turning and seeing the mic. Apparently it was the first time it had ever happened to him."
The bond between McQueen and Fassbender is one of the most fruitful and impressive actor-director collaborations in film today. "You can't measure Michael to most actors," says McQueen. "He's a once-in-a-lifetime actor. But he's also an actor who doesn't keep you at arm's length. He inspires me, and I hope I inspire him. There's a kind of connection, although sometimes we don't really say too much. It's very odd. I'm just happy he's there. We have something together but I don't really talk about it too much."

Protecting the vision
McQueen and editor Joe Walker first cut the film at McQueen's home in Amsterdam, then in Los Angeles. The final cut was unflinching, uncompromising and brilliant: a film of remarkable energy and emotion, interspersed with moments of startlingly beautiful repose.
McQueen, who always has final cut, did not concede an inch of truth in the edit and neither was he asked to. "You think to yourself, 'What are the movies that have moved me or charged me?'" explains Gardner. "For me those are movies which have an element of challenge. Protecting that vision was part of our job, and not letting fear of rejection or discomfort prompt you to encourage the edges to be sanded off, or lifting minutes or frames of moments that are really hard to watch."
After one early screening Brad Weston recalls how one distributor expressed concern about the film's commercial potential. "'It's so tough,' they said." But dissent was rare.
Positioning the film in the calendar and in the market was a key challenge. "We screened this movie more than I've ever seen a film screened," acknowledges the New Regency executive. "We took the approach early on that we'd convert one person at a time."
"We showed it to taste-makers, both African American and Caucasian; we showed it to faith-based leaders; we took it to colleges and we showed it to students, civil-rights groups and universities from Harvard down. It was a really extensive ground game.
"We were in uncharted territory with this picture," continues Weston. "It was both an arthouse and an African-American release pattern. We spent a long time talking about the right approach. But we ultimately chose to go after both audiences."

Gathering momentum
The film was originally dated for late December but invitations from Telluride and Toronto changed that schedule. The film went down a storm at both festivals, picking up the coveted audience award at the latter. The US release moved up to October 18.
"We were going to platform it out, but we didn't know at what pace we would do that because we still wanted to see the reaction to a very difficult picture," says Weston.
By November 8, it was playing in more than 1,000 US sites. By the end of the month it had added another 500 sites. By way of comparison, 2010's best picture winner The Hurt Locker capped at 535 sites.
"Searchlight's strategy paid off," says Weston. "The film was the biggest specialty release in the US in 2013 ahead of Blue Jasmine."
To date the film has grossed $38.5m domestically and will have a re-release on January 17. Analysts predict at least $50m as a final theatrical box office for the film, which is also likely to do strong home entertainment business. "I'm pretty thrilled [with the film's box office]," beams Gardner. "We always hoped it could catch on and its honesty could be rewarded but you never know. God knows we've made some movies that don't get seen by anybody."
The film led the SAG and Golden Globe nominations and has already racked up 87 wins on the festival circuit. It rolls out worldwide in January.
McQueen has credited president Barack Obama's US presidency for influencing the film industry to make more mainstream films about civil rights and racism.
Yet despite the flurry of mainstream films with race at their core, 12 Years A Slave was a risk. Above all, the film's director and the power of the subject matter have inspired its backers to go the extra mile.
"We'll spend more on this film than on films playing in almost double its number of screens," says Hamilton of eOne, which releases the film on more than 200 UK screens this weekend. "I said to our sales guys, 'I want to see this get up towards 400 screens.' I consider it a duty to get this film out there. This goes beyond my job."