As the 2019 American Film Market kicks off, Screen highlights some of the buzziest projects from Europe being offered by international sales companies.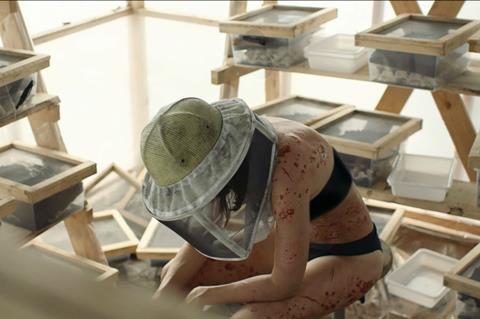 France
mk2 Films is launching sales on Emmanuel Courcol's comedy The Big Hit, starring Kad Merad as a struggling actor who takes a troupe of convicts on tour with a performance of Samuel Beckett's Waiting For Godot. Dany Boon takes an executive producer credit on the film, which is lead produced by Agat Films. It will also show new promos for documentaries Helmut Newton: The Bad And The Beautiful and Birds Of America.
Pathé International will kick off sales on comedy drama The Duke, starring Jim Broadbent as a real-life retired London bus driver who staged an infamous art theft in the 1960s, opposite Helen Mirren as his wife. Pathé also launches Asterix & Obelix, The Silk Road, which Guillaume Canet will direct and star in as the iconic comic-strip characters head to China.
Playtime is market-premiering Algerian War drama The Breitner Commando, the debut feature of French screenwriter Abdel Raouf Dafri, who had a co-writing credit on Jacques Audiard's A Prophet.
Wild Bunch is launching Just Philippot's fantasy drama The Swarm, starring Suliane Brahim as a woman obsessed with the grasshoppers she is breeding as a high-protein crop. It is also co-selling Quentin Dupieux's idiosyncratic road movie Mandibles, about two friends who try to train a giant fly, with WTFilms. Further new titles include Gustave Kervern and Benoit Delépine's comedy drama Delete History, about neighbours desperate to remove compromising data from their social media accounts.
SND - Groupe M6 is launching sales on Marc Fitoussi's Vienna-set psychological thriller Appearances, starring Karin Viard, Benjamin Biolay and Laetitia Dosch, and will show first images for Nicolas Vanier's Poly about a young girl who goes on the run with an abused circus pony. It is also market-premiering Jay Baruchel's horror picture Random Acts Of Violence, which it acquired at the production stage.
Indie Sales is talking to buyers about Dutch director David Verbeek's long-gestated Taiwan-set vampire tale Dead & Beautiful, which is in post-production. Further previously announced titles include Bruno Dumont's On A Half Clear Morning, starring Léa Seydoux as a TV presenter who falls out of love with fame, and Flore Vasseur's documentary Bigger Than Us, about young climate change activists, which is executive produced by Marion Cotillard.
Gaumont is kicking off sales on From Africa With Love, the third instalment in its popular OSS 117 spoof spy film series, starring Jean Dujardin as an accident-prone secret agent opposite Pierre Niney as his rival. Nicolas Bedos, riding high on the success of La Belle Epoque, takes over directing duties from franchise creator Michel Hazanavicius.
Le Pacte will market premiere Italian director Gianni Di Gregorio's comedy Citizens Of The World, about three longtime Roman friends who dream of retiring abroad. It is also seeking to consolidate sales on documentary Phil Tippett: Mad Dreams And Monsters, exploring the stop-motion maestro's work on films such as Star Wars, RoboCop, Jurassic Park and Starship Troopers, and hot Venice title Madre by Spanish director Rodrigo Sorogoyen.
Elle Driver is in town with its recent acquisition, the TIFF Midnight Madness supernatural horror The Vigil. Elle Driver has all world rights outside the US, which are handled by CAA Media Finance. It is also screening Costa-Gavras's geo­political drama Adults In The Room, an adaptation of former Greek finance minister Yanis Varoufakis's account of the Greek debt crisis, which premiered at Venice.
Other Angle has the market premiere of French comedy A Good Doctor starring Michel Blanc as a doctor who enlists the help of a food delivery man on his Christmas Eve house visits. It is also show­casing US comedy Babysplitters, an audience award-winner at various US festivals about two couples who decide to have one child between them.
Kinology is unveiling the first footage of Leos Carax's English-language musical Annette, starring Adam Driver and Marion Cotillard, which is shooting in France and Belgium. It is also teasing Mathias Malzieu's fantasy romance A Mermaid In Paris, Mia Hansen-Love's couple drama Bergman Island and thriller How I Became A Superhero.
TF1 Studio is launching sales on Katia Lewkowicz's Ballsy Girls, starring comedian Melha Bedia as a woman who takes up pole dancing. It also has the market premiere of Donato Carrisi's adaptation of his crime thriller Into The Labyrinth, starring Dustin Hoffman and Toni Servillo, and is showing first images from Jaume Balaguero's Spain-set heist drama Way Down.
The first footage from Franka Potente's drama Home, starring Jake Mclaughlin and Kathy Bates, will be shown by Bac Films International. Potente's directorial debut is about a man who returns to his home town after 20 years in prison. Bac is also launching sales on the French Riviera-set thriller The Case, starring Niels Arestrup as a lawyer who comes to blows with a powerful client played by Patrick Bruel.
Memento Films International is showing new promo reels for Martin Provost's 1960s-set comedy-drama How To Be A Good Wife, starring Juliette Binoche as the headmistress of a girls' housekeeping school on the eve of the women's liberation movement; the Second World War drama Persian Lessons; and drama My Salinger Year, set in the world of 1990s New York publishing and starring Sigourney Weaver and Margaret Qualley.
The Bureau Sales is introducing Harry Macqueen's Supernova to the US market. Colin Firth and Stanley Tucci star as a couple who embark on a UK road trip, visiting favourite places and friends, when one of them is diagnosed with early onset dementia. It is in post-production.
Buzzy titles on the Studiocanal slate include period biopic Louis Wain, in which Benedict Cumberbatch plays the eponymous 19th century artist; Anne Fontaine's Night Shift, starring Omar Sy and Virginie Efira as two police officers questioning orders to deliver an illegal immigrant to the airport after it emerges he will be killed if he returns home; and Long Story Short, in which Rafe Spall plays a man who finds that every few minutes his life jumps forward a year.
Upcoming features on the Luxbox slate include Sharunas Bartas's drama In The Dusk exploring good and evil through the tale of an anti-Soviet activist in post-Second World War Lithuania; and Selene 66 Questions by Jacqueline Lentzou.
Hot titles from Urban Distribution International include timely Brazilian drama Three Summers, which premiered at Toronto; upcoming Canadian drama Laughter by Martin Laroche about survivors of an imaginary Canadian civil war; and Coppelia, a reimaging of the classic ballet mixing live action with animation.
Wide Management's AFM slate is headlined by the market premiere of Ecuadorian filmmaker Gabriela Calvache's thriller La Mala Noche, which has been gaining traction on the festival circuit after debuting at SXSW.
WTFilms attends with a packed genre-focused slate topped by James Kermack's fight thriller Knuckledust and first footage of French werewolf movie Teddy.
Spain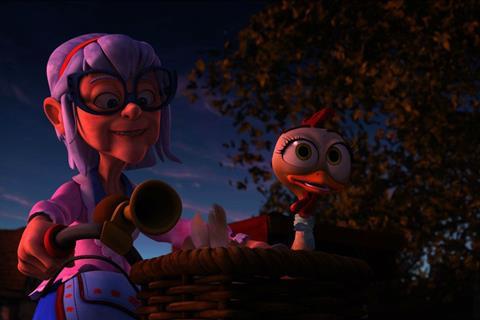 Latido Films is showcasing the upcoming productions of two veteran Spanish talents: Baby by Juanma Bajo Ulloa (Airbag, Butterfly Wings), and Unfortunate Stories by Javier Fesser. Baby is a psychological thriller about an upper-class girl with a drug problem who sells her newborn baby to a child-trade network. Fesser's comedy Unfortunate Stories is structured around four different tales with a premise that suggests laughing at other people's misfortunes is better than crying over your own. Fesser's Champions was a box-office hit last year in Spain. The Madrid-based company is also representing drama A Thief's Daughter, the feature directorial debut of Belen Funes, which won Greta Fernandez the Silver Shell for best actress at San Sebastian.
Film Factory Entertainment's AFM line-up includes Isabel Coixet's It Snows In Benidorm produced by the Almodovars' El Deseo, which was also behind her previous titles My Life Without Me and The Secret Life Of Words. The thriller is set in the Spanish resort of Benidorm where a man arrives looking for his missing brother. Film Factory is also introducing The Wedding Planner, a comedy by Dani de la Orden. Scheduled for a 2020 release in Spain, it stars Belen Cuesta, an actress on the rise in Spain thanks to comedies such as Holy Camp! and drama The Infinite Trench. Film Factory's slate also includes Black Beach, currently in post-production. It is a thriller by director Esteban Crespo, who was nominated for best live-action short at the Oscars in 2014.
Filmax's slate includes animated feature Turu, The Wacky Hen, by Victor Monigote and Eduardo Gondell, which is now finished and ready for a Spain and Argentina Christmas release with some territories still available at AFM. Also completed are the comedy If I Were A Rich Man, distributed by Paramount in Spain, and The Innocence, by first-time feature director Lucia Alemany, which premiered at San Sebastian.
Italy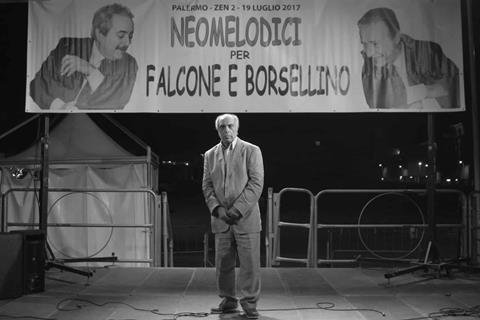 True Colours is bringing two genre movies to AFM. The Nest is a horror film produced by Colorado Film (Daughter Of Mine) and directed by Roberto De Feo (Ice Scream). It is about a family living in an old manor house sheltered from the world by high garden walls. In The Trap is a supernatural horror produced by Mad Rocket Entertainment (Shortcut) and directed by Alessio Liguori. It is set in an apartment where a young man spends nights protecting the house from the evil that haunts him until one evening he falls asleep at the wrong time.
Fandango is talking to buyers about Venice title Mafia Is Not What It Used To Be, the documentary by Franco Maresco that won the festival's special jury prize. It explores the impact of the 1992 assassinations of Italian anti-Mafia magistrates Giovanni Falcone and Paolo Borsellino. The company is also starting sales on documentary One More Jump by Between Sisters' director Emanuele Gerosa, which chronicles the struggle of a Gaza parkour team to join the main European parkour competition in Sweden.
Minerva Pictures' slate contains horror and romance. The latter is served by US feature The Nearest Human Being, Marco Coppola's debut film which is produced by Creative Realm and Cultivated Films (Christmas Wedding Baby), and stars Charlie Hofheimer (Mad Men). On the horror side Minerva is presenting Alessio Liguori's low-budget debut feature Shortcut, which is set on a school bus as a group of students are kept under siege by a mysterious creature. The Rome-based sales company also has Bed Number 6, an Italy-Argentina co-production, which stars Carolina Crescentini (De Sable Et De Feu) as a woman working the night shift in a paediatric clinic haunted by the ghost of a boy.
Nordics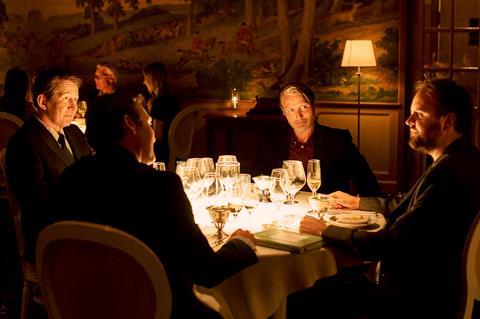 TrustNordisk will start discussions on disaster film The North Sea from the Norwegian team at Fantefilm, behind hits The Wave and The Quake. John Andreas Andersen will direct and the film, set on an offshore oil rig, will film in summer 2020. Now shooting, TrustNordisk also has Christoffer Boe's culinary-themed Danish romantic drama A Taste Of Hunger starring Nikolaj Coster-Waldau and Katrine Greis-Rosenthal. Buyers can also see the first promo from Thomas Vinterberg's anticipated drinking drama Another Round, which reunites him with Mads Mikkelsen.
SF Studios will host the first market screenings of 438 Days and Funhouse. Jesper Ganslandt's 438 Days, which had its festival premiere in Rome, stars Gustaf Skarsgard (Vikings) and Matias Varela (Narcos) in the true story of journalists who were on assignment in Ethiopia and accused of terrorism. English-language horror Funhouse is directed by Jason William Lee and stars Valter Skarsgard and Gigi Saul Guerrero. The story is about C-list celebrities from around the globe participating in a reality show that turns deadly. SF also has new work-in-progress footage to share for Christian Ryltenius's family animation Pelle No-Tail.
The latest addition to LevelK's slate is Tove, the biopic of Moomins creator Tove Jansson. Zaida Bergroth will direct from a script by Eeva Putro. The film will start shooting in January and is set for delivery in autumn 2020. The cast is not yet announced. Helsinki Filmi (Tom Of Finland, Dogs Don't Wear Pants) produces. LevelK also has a trio of English-language films: Australian family film H Is For Happiness, Australian romantic comedy Standing Up For Sunny and New Zealand father-son drama Bellbird.
The Yellow Affair is selling Rojda Sekersoz's Swedish drama My Life As A Comedian, based on the bestselling novel by Jonas Gardell. The film, about a 12-year-old class clown and his later life as a successful comedian, premiered in Toronto's Discovery section. Mika Kaurismaki's cross-cultural culinary comedy-drama Master Cheng is also finished with a screener available. The Yellow Affair has a script available for Marteinn Thorsson's Icelandic supernatural thriller Recurrence, about a young mother caught up in a supernatural event that forces her to live parallel stories that happened hundreds of years ago. The film will shoot from December.
Germany, Russia & rest of world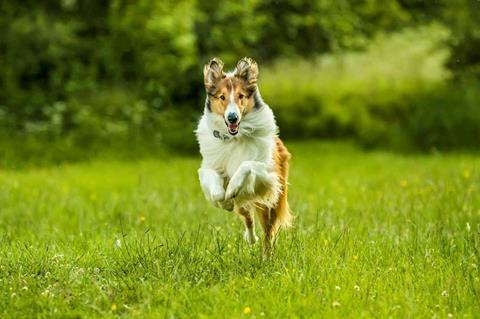 Beta Cinema is holding a first screening for invited buyers of When Hitler Stole Pink Rabbit, a German-language adaptation of Judith Kerr's bestseller. Caroline Link directs the story of a nine-year-old girl in 1930s Germany who has to flee home with her family because of Hitler — but she is not even sure who Hitler is. The film is being given a Christmas release in Germany by Warner Bros. Beta also has promos at AFM for three English-language titles: Matt Chambers' The Bike Thief starring Alec Secareanu (God's Own Country) and Anamaria Marinca; thriller Corvidae starring Jack Lowden; and Uberto Pasolini's Nowhere Special starring James Norton.
New titles from fellow German powerhouse The Match Factory include Christian Petzold's Undine starring Paula Beer and Franz Rogowski; Three Floors by Nanni Moretti, starring Riccardo Scamarcio, Margherita Buy and Alba Rohrwacher; and Apichatpong Weerasethakul's Memoria starring Tilda Swinton.
Another German outfit, ARRI Media International, arrives at AFM with a trio of new family movies including Three Unlikely Heroes based on a book by Wolfgang Hohlbein, which will be released theatrically by Sony Pictures Germany in January. Also getting a major release next year through Walt Disney Pictures is Four Enchanted Sisters, based on the book by Sheridan Winn. The third title is The Three!!!, which Arri brings to AFM following a successful release in Germany this summer through Constantin Films. Arri's slate also contains Andrei Konchalovsky's Sin (Il Peccato), which chronicles Michelangelo's struggles to finish the Sistine Chapel, and has a market screening.
Among the titles Films Boutique will be screening are crowd-pleasing Bhutanese children's film Lunana: A Yak In The Classroom, from Pawo Choyning Dorji, and Anne Emond's comedy Jeune Juliette.
Global Screen has started pre-sales on a German-language remake of Lassie Come Home. It has also picked up worldwide distribution rights (excluding North America, the UK and German-speaking territories) to the English-language animated feature The Amazing Maurice, based on one of Terry Pratchett's Discworld novels and scripted by Terry Rossio (Shrek, Aladdin). Also on the slate are animated adventure Bayala — A Magical Adventure, based on the international toys by Schleich, and psychological thriller Sleep, about three generations of women fatefully bound together. Sandra Hüller (Toni Erdmann) stars, and the film should be ready next year.
Sola Media's AFM slate is headlined by animated feature Moonbound, directed by Ali Samadi Ahadi. Due to be released next year, it tells the story of Peter who sets out on a magical journey to rescue his little sister Anne, who has been kidnapped by the evil Moon Man.
Media Luna is back with several new features, among them Dutch director Joost van Hezik's dark comedy Boy Meets Gun and horror picture Skin Walker, starring Udo Kier.
From the Netherlands, Dutch Features Global Entertainment is introducing buyers to The Columnist, starring rising local actress Katja Herbers (Westworld). The horror drama sees Herbers as a writer who, after receiving death threats on social media, exacts retribution on her tormentors.
Also from the Netherlands, DFW International has a raft of projects including Diederik van Rooijen's crime thriller Black Widow starring Monic Hendrickx, which is in post. The outfit is also pre-selling My Best Friend Anne Frank, directed by Ben Sombogaart and currently in development. It tells the story of Hannah Goslar and her friendship with Anne Frank, whom she tried to save in Bergen-Belsen concentration camp.
The Russians will be out in force in Santa Monica. Mars Media is screening footage of A Dog Named Palma, which is currently shooting and will be released in June 2020 by Central Partnership. It is inspired by the true story of a shepherd dog named Palma who was inadvertently left at the airport by her owner.
Animation specialist Wizart Animation is continuing pre-sales on Hansel And Gretel and Fantastic Return To Oz. It is also pre-selling Igor Kopylov's Second World War film Unknown Battle. Based on an award-winning novel by Vyacheslav Kondratiev, it tells of a bloody battle that occurred near the Russian town of Rzhev.
Art Pictures Studio is presenting Fedor Bondarchuk's Attraction sequel Invasion, and also selling his current project Fedor Konyukhov about the Russian explorer's solo air balloon voyage around the world in 2016. The company also has Ice 2, the sequel to its skating hit, and Sputnik, the debut feature of Egor Abramenko.
All Media Company is selling Timofey Zhalnin's drama Coupled, about a young couple who get lost in a vast Siberian forest. The company also brings secret service thriller The Hero, directed by Karen Oganesyan.
Ark Pictures is selling Konstantin Fam's harrowing drama Kaddish, while Central Partnership has a new animated feature, The Fixies Vs Crabots, and period skating film The Silver Skates, set in late 19th-century St Petersburg. Also from Russia, KD Studios has sci-fi epic Project Gemini, directed by Vyacheslav Lisnevskiy and currently in post.
Mint Films International has Alexey Uchitel's mini-series Coronation, a spin-off from his controversial film about the romance between the Tsar and a ballet dancer. Planeta Inform is pre-selling dystopian sci-fi drama Coma, directed by Nikita Argunov and is currently in post.
Moscow-based Revolution Film has revenge comedy-drama Mistresses, about three women who get their own back on their adulterous partners. Russian World Vision has Andrey Bogatyrev's war drama Red Ghost, about the myth of an invincible Soviet soldier.
Vega Film has Veta Geraskina's hard-hitting mother-daughter psycho-drama, It's Not Her Name. Vega is also pre-selling Ivan Tverdovsky's The Conference.