As keen supporters of the film and entertainment industry, Air New Zealand offers a daily London-LAX service, on-board innovation and an exceptional understanding of passenger needs.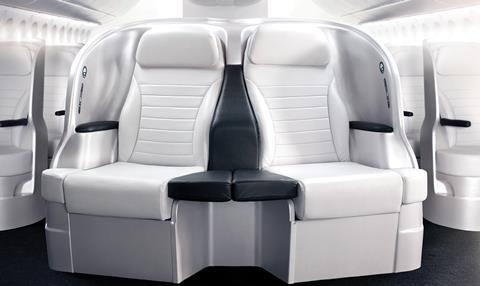 Is there an international route more travelled in the film world than London-Los Angeles? With Hollywood studios producing an increasing number of major blockbusters on UK soil, to take advantage of superb crews, state-of-the-art studio spaces, leading VFX houses and generous tax incentives, and UK film-making talent making the reverse journey to deploy their skills at the beating heart of the US entertainment industry, the LON/LAX leg acts as a creative umbilical cord between two creative centres.
Flying nonstop daily between these two film and entertainment hubs, Air New Zealand has earned a position as one of the most desirable airlines to fly the route, offering passengers a unique blend of comfort and service that is grounded by the airline's focus on true product innovation and its commitment to delivering a world-class flight experience.
As keen supporters of the film and entertainment industry, Air New Zealand understands its passengers' travel needs from last-minute ad hoc travel to full-blown production logistics. Adaptable and flexible, the airline can discuss bespoke solutions for specific production and corporate needs.
On board
Ground-breaking cabin features such as Premium Economy Spaceseat™ and Economy Skycouch™ complement thoughtful touches such as being able to order drinks and snacks on demand from a touch screen, giving airborne customers an exceptional long-haul experience. Particular pride, too, is taken in the crew: helpful, professional and possessing that down-to-earth Kiwi touch.
Space to relax in Premium Economy
The airline's award-winning Premium Economy Spaceseat™* has a fixed-shell design, creating an uninterrupted seat pitch of 42" and avoiding fellow passengers reclining into your space. A cabin more premium than economy, benefits include Premium check-in, an increased baggage allowance of two 23kg pieces; a unique 2-2-2 seat configuration and a premium food selection.
Lie-flat in Business Premier
Designed with sleep in mind, Air New Zealand's leather armchairs convert to a 6' 7.5'' lie-flat bed with a memory-foam mattress, fluffy duvet and full-sized pillow. Passengers can select from chef-designed menus; a 12.1'' touch-screen entertainment system with more than 1,800 hours of content, in-seat power and USB connections. Further benefits include Premium check-in, airport lounge access and an allowance for up to three 23kg bags.
Put your feet up in Economy
The Economy Skycouch™* is an upgrade option for those wanting more personal space: a trio of Economy seats with leg rests that rise to create a flat horizontal space with a couch length of 5' 1". Share a Skycouch with a colleague to benefit from a spare seat between you. Other Economy features include a 33'' seat pitch, touch-screen entertainment from the moment you board and refreshments on-demand.
Flight schedule
With a departure from London Heathrow in the late afternoon, flyers have more time to make those meetings and prepare before leaving the UK, with arrival in Los Angeles at around 8pm.
Flying LON/LAX frequently?
Passengers who fly the route regularly are eligible for discounts and additional benefits every time they fly with Air New Zealand's Company Advantage programme. Get in touch to find out more about discounted flights and earning money back for future travel.
Travel plans
To find out more about Company Advantage, and for film or TV production travel enquires, please visit airnewzealand.co.uk/companyadvantage or contact ukcorporatesales@airnz.co.nz
*Available on the 777-300 service between London Heathrow, Los Angeles and Auckland