Alice Winocour's action horror-thriller Disorder, starring Matthias Schoenaerts and Diane Kruger, premiered in Un Certain Regard (Indie Sales is selling).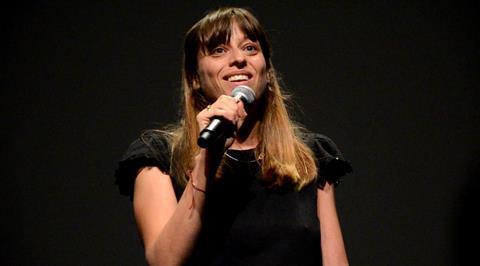 Schoenaerts plays an army veteran struggling with Post Traumatic Stress Disorder (PTSD) who has taken a job as a security guard for the family of a wealthy Lebanese businessman living in a luxury villa in the South of France, where his psychological nightmares become reality.
Winocour's debut feature Augustine, starring Patrick Lindon as real-life 19th century neurologist Jean-Martin Charcot and singer and writer Soko as a famous patient suffering from hysteria, premiered in Critics' Week in 2012.
The director talks about the genesis of the project and objectifying Schoenaerts.
What was genesis for this project?
I became fascinated about what it meant to return to civilian life having spent time in a war zone, close to death. I met French soldiers who had been in Afghanistan who spoke to me about their fears, nightmares and the outbursts of violence they sometimes experienced on their return, or what we call post-traumatic, stress syndrome. The character of Vincent grew out of this meeting
Disorder is very different from your debut feature Augustine on a number of levels, was this a deliberate move?
Actually there's a continuity with Augustine in that Vincent's journey is that of someone re-taking possession of his body after a traumatic experience. I've always been interested by bodily dysfunctions and how the trauma manifests itself through the body. In Augustine, the fits experienced by the main character occur because she has no more words to express what she is feeling… her body is rebelling.
But in terms of genre, style and subject-matter, the film is radically different…
I wanted to explore a territory which is usually reserved for men… that of genre pictures and I wanted to show that women can do anything these days. They're not confined to certain types of films. The film is on the frontier between action film and horror pictures, inspired by the home invasion horror genres.
How did you get Matthias Schoenaerts involved?
I wrote the character of Vincent for Matthias. I wanted him on board from the beginning. For me he was only one actor who could play the character in that he has this sort of animality, physical side which meant he would be authentic as an ex-soldier.
At the same time, the character is borderline in terms of his behaviour, unbalanced and violent. He knew he couldn't play the character, he had to emerge himself… he slept two hours a night during the shoot. On another level, I also wanted to do what men do with women, film a man as an object of desire… even though his character has more depth than that.
I notice that you also have a co-writing credit on Deniz Gamze Erguven's Mustang in Directors' Fortnight, how did you get involved in that film?
We were both at La Femis together but we actually met at the Cannes L'Atelier when I was financing Augustine and she had another project. We started to discuss projects and ended up co-writing the film. Its about a group of girls who try to emancipate themselves from their conservative families. I was supposed to go on the shoot but then I ended up shooting Disorder around the same time.