UK distributor Dogwoof Films is celebrating a decade of championing its socially conscious films across multiple platforms. Company founders Andy Whittaker and Anna Godas tell Geoffrey Macnab about their vision.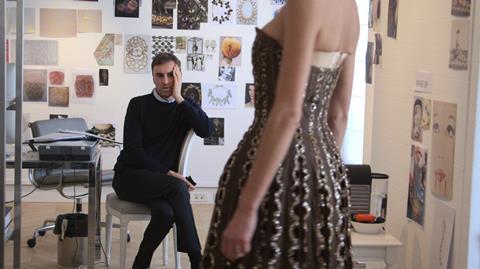 In 2004, Andy Whittaker, a veteran of eBay, Nomura investment bank and Ernst & Young, and script doctor Anna Godas, who had met in Cannes, decided to form a distribution company.
They had just less than $78,000 (£50,000). It did not seem like the UK was crying out for more independent distributors, as the crowded marketplace included the likes of Artificial Eye, Tartan, Metrodome, Optimum, Icon and Entertainment vying for the best independent and foreign-language releases.
'Documentary is a niche that is growing. We do it well and it is very rewarding'

Anna Godas, Dogwoof
They had to come up with a name quickly. Remembering a recent Peter Bogdanovich film, The Cat's Meow, they alighted on Dogwoof. At first, the intention was to try to pioneer digital releases.
One of the company's earliest releases was Danish political thriller King's Game, which became the first film to reach UK cinemas via the newly established UK Film Council Digital Screen Network. Another title, thriller EMR, pre-dated Steven Soderbergh's Bubble as the first day-and-date multi-platform release in the UK.
The UK's exhibitors - as fiercely protective of the theatrical window then as they are now - were not happy. "We got absolutely hammered," Whittaker acknowledges. Cinemas became very wary about booking Dogwoof fare. "It took a couple of films to get back in the good books."
But Whittaker and Godas learned from their experiment and realised they did not need to cling to traditional releasing models.
The 2006 feature documentary about the coffee industry, Black Gold, transformed Dogwoof's fortunes. The film's directors, Marc J Francis and Nick Francis, were very canny users of social media during its release campaign. "It was the first time where we did a model with a lot of in-kind partnerships attached and extremely strong film-maker support. We released the film and it did very well," Godas explains.

Game changers
Black Gold was a film that really made a difference. One of its targets, Starbucks, changed its corporate policy in the wake of the debate the film provoked. The coffee chain now promotes sustainability and ethical sourcing.
After Black Gold, Dogwoof gave an even more ambitious release to Franny Armstrong's The Age Of Stupid, which was launched as a 'green' premiere in London's Leicester Square and received hefty marketing support from the UK Film Council.
"It evolved into way more documentaries," Godas recalls of the changing Dogwoof strategy. "At some point, I realised documentary is a niche that is growing. It makes sense. We do it well and it's very rewarding."
Dogwoof has become adept at striking partnerships with corporate partners that support the principles showcased in the documentaries, and have the resources to back a major marketing push. For example, the company joined with UK supermarket Waitrose to promote the ethical fishing documentary, The End Of The Line, in 2009. The supermarket giant provided the distributor with access to its customer database and the film was promoted in every Waitrose store. Supermarket Co-Op provided similar support for the release of Danish doc Burma VJ, about the Saffron Revolution in Burma.
'We've always believed a good film should be in the theatre'

Andy Whittaker, Dogwoof
"It was always about getting the big audiences and making it with the wider public than keeping it as a niche," says Whittaker of the strategy.
From the very first moment Dogwoof started handling documentaries, it was an article of faith that its films should be shown in cinemas. "We have always believed that a good film should be in the theatre," he says. "That was probably one of the best decisions we made. We could attract some really high-calibre documentary films because we were offering theatrical release. Other people may have offered more money but were just going to shunt it to TV."
Whittaker describes Dogwoof as a "filmmaker-friendly label" and Oscar-winning directors such as Steve James (The Interrupters) and Errol Morris (The Unknown Known) were enthusiastic about working with the company because they knew their films would be seen on the big screen. Other theatrical successes include Blackfish, Cutie And The Boxer, and The Act Of Killing. The latter screened for more than a year at London's ICA.
As Whittaker notes, a decade ago "99% of documentaries" went straight to TV with only one-off films such as An Inconvenient Truth or Bowling For Columbine making it into cinemas.
A decade on from its launch, Dogwoof is established as the pre-eminent documentary distributor in the UK and has helped change the market for feature documentaries.
A measure of the company's success is that so many of its rivals are competing to pick up and release documentaries, and exhibitors Picturehouse and Curzon are now dedicating screens to documentaries.
And now Dogwoof is increasingly investing in production, backing projects including Ryan Mullins' Chameleon and Des Henderson's Project Children. It also has its own international sales arm, Dogwoof Global, handling films such as Dior And I and Finding Fela.
"Our business is naturally evolving into a vertical integration where we produce, sell and distribute our films," says Whittaker. "The 'Stewart Till model', so to speak. We will build the right alliances to make that happen."