A trio of works inspired by real-world events is shaking up the animated feature film category's traditional focus on comedy and fantasy.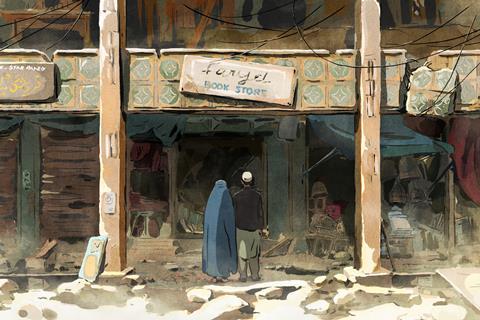 When French actress and director Zabou Breitman was first approached by producer Julien Monestiez to co-direct a feature animation adaptation of Yasmina Khadra's novel The Swallows Of Kabul, one of the questions she asked as she read the draft script was: "Would it work as a live-action feature?"
Depicting life in the Afghan capital under Taliban rule in the late 1990s, the storyline revolves around two couples - one young and once-prosperous; the second, older and more conservative - whose lives intertwine against the brutality of a society run under a strict interpretation of Islamic law.
"My conclusion was 'no'. The reality it shows is so tough and events so dramatic. I felt it would have been hard for the audience to swallow the emotion through a live-action film," says Breitman of the work, which opens with a scene of a woman being stoned to death. "The animation creates a distance and gives the audience space to think."
Monestiez, who produces under the banner of Paris-based company Mysteo, started developing the film eight years ago and then hooked up with respected French animation production house Les Armateurs, which has previously clinched Oscar nominations for The Triplets Of Belleville and Ernest & Celestine.
Les Armateurs recruited Eléa Gobbé-Mévellec as co-director to create the aesthetic, concept art and characterisation, and lead the animation process. The animation artist developed a 2D watercolour-style look for the film, which she had previously used in Ernest & Celestine but to totally different effect.
"When I looked at the documentation for Kabul, I discovered this white, overexposed light and deep, dark shadows," says Gobbé-Mévellec. "This inspired me to at first make simple black-and-white line drawings to which I added a hint of colour here and there. These touches of colour and blanched-out borders encapsulated the look of the city for me."
The feature is among a trio of works drawing heavily on past and present real-world events among the 32 submissions for the Academy Awards' animated feature film category this year, alongside Norwegian director Mats Grorud's The Tower and Another Day Of Life by Polish animation director Damian Nenow and Spanish documentarian Raul De La Fuente.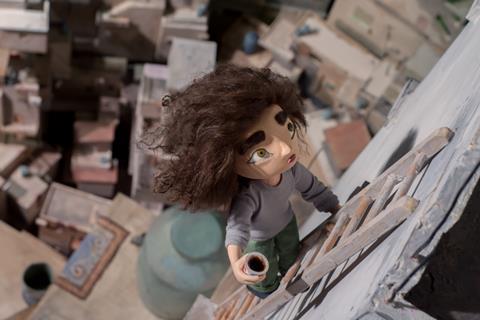 Grorud's The Tower reconstructs the everyday reality of the inhabitants of the Palestinian Bourj el-Barajneh refugee camp in Lebanon through the eyes of an endearing 11-year-old schoolgirl character called Wardi, as she listens to accounts of three generations of her family, having originally been driven from their village by Israeli troops in 1948.
Animator Grorud wrote the screenplay on the basis of interviews he conducted with inhabitants of the camp, while living and working there as an animation teacher. He wanted to capture the harsh reality of the camp, which is home to 20,000 people in a 1km-square space.
"One of the challenges of the film was getting the right tone, to create a picture of this place which is a tragedy, without being too heavy," he says. "With Wardi, I wanted to create this innocent character, which is how I see the kids at the camp, who are growing up in this brutal environment. I wanted there to be a contrast between the innocence of childhood and this tough life and the lack of opportunity."
As it moves between the present reality and tales of the past, The Tower mixes 2D animation by Mozambican art director Rui Tenreiro with puppet animation and archive photos to build a picture of the events that led up to the contemporary lives of Wardi and her family.
Grorud says he made the film for adult audiences but was pleasantly surprised to discover it could also work with younger viewers. "That was a revelation for me," he says, adding that as a result he created a new sound mix, toning down the sounds in war scenes for younger ears.
For his next film, Grorud wants to explore the reality of living in the Nigerian Delta - one of the most-polluted places on the planet after decades of oil production - working in collaboration once again with Tenreiro.
War stories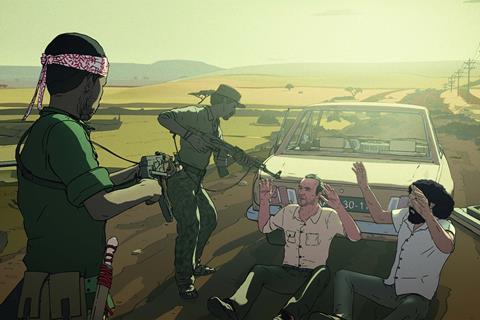 Another Day Of Life is a hybrid production celebrating the life and work of late Polish journalist Ryszard Kapuscinski through his memoir of covering the Angolan War of Independence in the mid-1970s. It combines graphic novel-style animation with live-action reportage.
"It's not a concept we created out of the blue. It is inspired by Kapuscinski's writing, which mixes facts and reportage with creativity, magical realism and poetry. In a way, you could say he was mixing animation with live action, although that is a huge simplification," explains Nenow.
The aesthetic of the animation was taken from Nenow's work Paths Of Hate, about two fighter pilots, which made it onto the Oscar short animation shortlist of 10 titles in 2011. It was this work that originally prompted De La Fuente to contact Nenow.
Another Day Of Life was a complex co-production involving collaborators across Europe, including Belgium's Walking The Dog, Germany's Wüste Film and Animationsfabrik, and Hungary's Puppetworks.
"I worked with Raul on the reference and documentation stage, and as soon as we had an idea of what we wanted, my team developed the concept art and design and then started distributing it around Europe," says Nenow, who was working under the auspices of prestigious Warsaw-based animation house Platige Films.
Both Nenow and Grorud credit Marjane Satrapi and Vincent Paronnaud's Persepolis and Ari Folman's Waltz With Bashir with setting a precedent for reality-based animation works. Up until the nomination of Persepolis in the 2008 Academy Awards, the then-fledgling best animated feature film section, which only launched with the 2002 Oscars, had been dominated by family-focused comedies and fantasies from Pixar, Disney and DreamWorks.
Satrapi's hard-hitting autobiographical depiction of her childhood and early adulthood in Iran during and after the Islamic Revolution heralded the arrival of a new type of animation, steeped in reality and with a political edge. It was followed swiftly by Folman's Waltz With Bashir, inspired by the Israeli filmmaker's memories of serving in the Israeli army in the 1982 Lebanon War. This film failed to snag an Oscar nomination as an animation, but landed one in the foreign-language category (losing to Japan's Departures).
Both Persepolis and Waltz With Bashir went home empty-handed from the Academy Awards, but won a slew of prizes elsewhere and were acclaimed as seminal works.
"People still tend to associate animation with fantasy film by DreamWorks or Pixar, like Shrek," says Nenow, referring to the winner of the first animated feature film Oscar. "But Waltz With Bashir and Persepolis showed that animation could also explore major and serious topics."