This year's Asia Pacific Screen Awards see the addition of a four-day Asia Pacific Screen Forum (November 18-21) — bringing more focus and heft to the event's industry sessions in the run-up to the awards.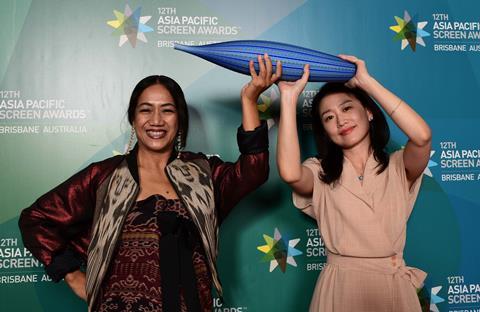 Now in its 13th edition, the Asia Pacific Screen Awards (APSA) has established itself on the awards calendar for its cultural diversity and extensive reach, spanning 70 countries and areas in the region. Significantly, it has also moved beyond being just a ceremony, with an industry forum now becoming a standalone event.
For the first time, the industry sessions scheduled in the days leading up to the awards night (held on November 21 at the Brisbane Convention & Exhibition Centre) will be grouped together under one umbrella as the Asia Pacific Screen Forum. It is a curated selection that ranges from informal networking opportunities to a more structured programme with roundtables and workshops to facilitate relationships and collaborations.
Michael Hawkins, chair of APSA and its Academy, says: "Bringing together APSA nominees has long been one of the most fertile networking and nurturing grounds for the filmmakers. Ideas have been conceived, collaborations born and projects nurtured, resulting in lasting contacts, networks and possibilities for all who join us for the event."
Hawkins believes the Forum is in many ways as important as the awards and films themselves. "In as much as the films inform us about cultures from other lands, listening to and collaborating with other practitioners is just as instructive and in keeping with the whole notion of the Academy," he says. "By introducing the Forum, we have recognised that meaningful connections happen in person and through shared experiences in an environment conducive for connections to evolve."
Famous for its clement weather and ease of getting around, Queensland's capital Brisbane has played host to the awards over the past eight years as well as to APSA's aligned conferences such as World Congress of Science & Factual Producers (WCSFP), International Association of Film and Television Schools (CILECT), and the Asian Animation Summit (AAS). This year SIGGRAPH Asia, a conference and exhibition on computer graphics and interactive techniques, will be relocated to Brisbane to coincide with APSA.
Celebrating animation
From November 18-21, the Forum will be preceded by a pre-opening animation weekend. Free public screenings of this year's APSA-nominated animation features will be held on November 16-17, including Penguin Highway, Underdog, Mosley and Weathering With You. A winning short from 2018 SIGGRAPH Asia Computer Animation Festival will be played before each screening.
Australian government agency Screen Queensland continues to lend its support after working with APSA on the industry forum over the past three years. "The industry forum has become an integral part of the awards programme and within that a key element has been the industry roundtables," says Jo Dillon, Screen Queensland's executive vice president, content.
"The roundtables provide a rare and wonderful opportunity for Queensland's screen industry to come together to share ideas and experiences with their global partners from across the Asia Pacific. This helps to broaden our minds and ideas, and to forge strong relationships that can lead to unexpected and exciting creative collaborations."
Three roundtables are scheduled this year: 'Protest in motion: political expression in animation', which looks at how animation could offer a way into complex political issues; 'Reeling backwards into tomorrow: how historical reflections serve the story today' looks at how important it is to reflect on where the global community has been in order to help plot a path forward, and 'Sustainable cinema: when culture meets commercial', which is about balancing cultural and artistic integrity against commercial considerations, and how the tensions between them can be used to bring together creative and commercial success.
Meeting of minds
Hawkins highlights another three main events that define the Forum in its first year: a meet-the-programmers session with Paolo Bertolin from Cannes Directors' Fortnight and Lydia Ogwang from Toronto International Film Festival; a director's chair session with Kazakh filmmaker Adilkhan Yerzhanov, this year's APSA achievement in directing nominee for A Dark, Dark Man, and a brunch panel discussion on cultural diversity and freedom of expression in the Asia Pacific — a session that recalls one of the founding aims of APSA under the auspices of UNESCO for the protection and promotion of the diversity of cultural expression.
Speakers for this panel include Indonesian filmmaker Garin Nugroho and European Film Academy deputy chairman Mike Downey, both of whom are APSA cultural diversity award winners, and Liubov Borisova, a nominee for the same award this year for feature The Sun Above Me Never Sets.
The Forum also includes a special networking function celebrating 100 years in Korean cinema; a creative collaborations panel with Catherine Fitzgerald whose new project The Love Song is set to be the first Korea-New Zealand co-production, and House Of Hummingbird producer Zoe Sua Cho; a VFX workshop conducted by Luke Hetherington of Industrial Light & Magic (ILM); and a screening of 1975 Australian classic Sunday Too Far Away, which will be followed by an in-conversation with APSA Academy president Jack Thompson and Australian actor David Wenham.
10th anniversary of the MPA APSA Academy Film Fund
Mike Ellis, president and managing director of MPA Asia Pacific region, discusses the importance of cultural diversity on screen
Celebrating its 10th anniversary, the MPA APSA Academy Film Fund will announce its latest four recipients on November 21 during the 13th APSA ceremony in Brisbane. By then, the film fund will have awarded 40 projects in the Asia Pacific, with a total investment of $1m wholly supported by the Motion Picture Association (MPA).
Notable completed projects include Asghar Farhadi's A Separation, winner of the best foreign-language Oscar in 2012; Maryam Ebrahimi's No Burqas Behind Bars, winner of the international Emmy award for outstanding documentary in 2014, and more recently Sergey Dvortsevoy's Ayka, Nuri Bilge Ceylan's Wild Pear Tree, Lee Chang-dong's Burning and Emir Baigazin's The River.
MPA has long partnered with festivals and events to promote and protect screen communities in the Asia Pacific. "We had been looking for the right collaboration to provide a funding stream for script development to the filmmakers of the Asia Pacific, which would enable them to tell their stories through cinema," says Mike Ellis, president and managing director of MPA Asia Pacific region.
"In 2007 we were thrilled to see the launch of APSA, which encompassed all the countries that we represent at MPA Asia Pacific. We found the perfect partnership when the APSA Academy was launched in 2008 as it represented a melting pot of cultures of developed and emerging filmmaking nations, and both established and early career talent."
Discussions with filmmakers helped MPA identify a need for script development support. "We all know how difficult the filmmaking process is and it is even harder for filmmakers to get their stories off the ground in smaller countries or countries with young film industries when their funding options are limited," says Ellis.
In 2014 Bangladeshi director Mostofa Sarwar Farooki received funding for his project No Land's Man, which is due to shoot in early 2020. He says: "The film fund helped me develop the script, but it also put the film on the radar and that's what helped the project with financing, casting and team building." Indian actor Nawazuddin Siddiqui (APSA best actor winner in 2018 for Manto) has come on board No Land's Man as both lead actor and producer, while Australian theatre actress Megan Mitchell will make her feature debut.
From script to screen
The MPA APSA Academy Film Fund awards four $25,000 development grants annually to new feature projects at early script development stage.
The fund is open exclusively to APSA Academy members, which number more than 1,200 comprising past APSA nominees, winners, jury and nomination council members. Australian veteran Andrew Pike heads the assessment panel for the 10th time, and is joined this year by Indian actress/director Tannishtha Chatterjee and Australian producer Glenys Rowe.
Ellis adds: "Our hopes for the success of the fund have been exceeded tenfold. Who would imagine we would see quality films like A Separation, No Burqas Behind Bars, Ayka or Burning arise from the fund? It is actively fulfilling its aim to increase cultural diversity on screen in the fastest-growing region of film production in the world."