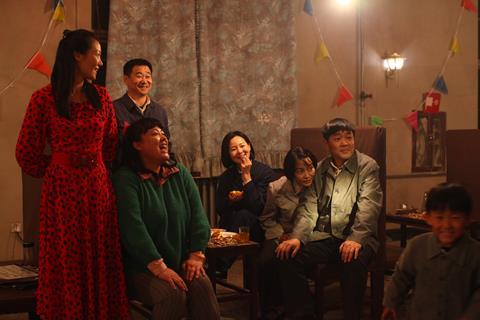 Chinese films dominate the nominations for the Asia Pacific Screen Awards (APSA) which will be held in Brisbane, Australia, on Novemer 21.
Scroll down for full list of nominations
Films from 22 countries will be represented at the awards but while the likes of India, Japan and Russia have picked up a handful of nods, Chinese films have more than double that of any other country with 13 nominations across seven features.
Wang Xiaoshuai's family drama So Long, My Son has secured a record six nominations, including best feature where it will be up against Bong Joon-ho's Parasite (Korea), Kantemir Balagov's Beanpole (Russia), Pema Tseden's Balloon (China) and Ridham Janve's The Gold-Laden Sheep and The Sacred Mountain (India).
The best feature category marks the sole nomination for Parasite, which won the Palme d'Or at Cannes and is considered a strong contender for the Oscars.
So Long, My Son debuted at this year's Berlinale, where it picked up Silver Bears for lead actress Yong Mei and lead actor Wang Jingchun. It follows two married couples, who adjust to the vast social and economic changes taking place in China from the 1980s to the present.
The film, which has screened at Toronto among other festivals, also picked up nominations for director; screenplay for Wang and A Mei; cinematography for Kim Hyunseok; actor Wang Jingchun; and actress Yong Mei.
In the best director category, Wang will be up against Kazakhstan's Adilkhan Yerzhanov for A Dark, Dark Man, the Philippines' Lav Diaz for The Halt, Palestine's Elia Suleiman for It Must Be Heaven, and Thailand's Anocha Suwichakornpong alongside the U.K.'s Ben Rivers for Krabi, 2562.
The long list included 12 female directors from 11 nominated films and 30 male directors from 29 nominated films. Announcements regarding the jury as well as nominations for the FIAPF Award will be announced shortly.
Asia Pacific Screen Forum
APSA also revealed details of the first Asia Pacific Screen Forum, held in Brisbane from November 18-21.
Designed to strengthen relationships and generate collaborations between filmmakers across Asia Pacific, the programme will be open to industry professionals and includes a celebration of 100 years of Korean cinema.
Other highlights include a panel exploring cultural diversity and freedom of expression in the region; a focus on central Asian filmmaker Adilkhan Yerzhanov; and an exploration of opportunities between the Australian and Korean screen industries.
There will also be a chance to hear from festival programmers Lydia Ogwang, who works for TIFF, and Paolo Bertolin, who handles programming for Venice and Cannes Critic Week.
Additional sessions include a look at VFX giant Industrial Light and Magic, presented by ILM Singapore's Luke Hetherington, and a conversation between Australian actors Jack Thompson and David Wenham.
Asia Pacific Screen Awards 2019 Nominations
Best Feature Film
Balloon (China) Pema Tseden
Beanpole (Russia) Kantemir Balagov
The Gold-Laden Sheep And The Sacred Mountain (India) Ridham Janve
Parasite (Korea) Bong Joon-Ho
So Long, My Son (China) Wang Xiaoshuai
Best Youth Feature Film
Buoyancy (Australia) Rodd Rathjen
The Crossing (China) Bai Xue
A First Farewell (China) Wang Lina
The Orphanage (Afg-Den-Ger-Fra-Luz-Qat) Shahrbanoo Sadat
The Red Phallus (Bhu-Nep-Ger) Tashi Gyeltshen
Best Animated Feature Film
Mosley (NZ-China) Kirby Atkins
Penguin Highway (Japan) Hiroyasu Ishida
Underdog (Korea) Oh Sung-Yoon, Lee Choon-Baek
The Unseen (Iran) Behzad Nalbandi
Weathering With You (Japan) Makoto Shinkai
Best Documentary Feature Film
Advocate (Isr-Can-Swi) Rachel Leah Jones, Philippe Bellaïche
Aquarela (UK-Ger-Den) Victor Kossakovsky
The Australian Dream (Aus-UK) Daniel Gordon
Narrow Red Line (Iran) Farzad Khoshdast
One Child Nation (China-US) Nanfu Wang, Jialing Zhang
Achievement In Directing
Adilkhan Yerzhanov for A Dark, Dark Man (Kaz-Fra)
Lav Diaz for The Halt (Phil)
Elia Suleiman for It Must Be Heaven (Pal-Qat-Tur-Can-Fra-Ger)
Anocha Suwichakornpong, Ben Rivers for Krabi, 2562 (Thai-UK)
Wang Xiaoshuai for So Long, My Son (China)
Best Screenplay
Pema Tseden for Balloon (China)
Kantemir Balagov, Alexander Terekhov for Beanpole (Russia)
Mohsen Gharaei, Mohammad Davoudi for Castle Of Dreams (Iran)
Tamar Shavgulidze for Comets (Georgia)
A Mei, Wang Xiaoshuai for So Long, My Son (China)
Achievement In Cinematography
Ksenia Sereda for Beanpole (Russia)
Yu Ninghui, Deng Xu for Dwelling In The Fuchun Mountains (China)
Saurabh Monga for The Gold-Laden Sheep And The Sacred Mountain (India)
Teoh Gay Hian for The Science Of Fictions (Indo-Mal-Fra)
Kim Hyunseok for So Long, My Son (China)
Best Performance By An Actress
Viktoria Miroshnichenko for Beanpole (Russia)
Samal Yeslyamova for The Horse Thieves. Roads Of Time (Kaz-Jap)
Ji-Hu Park for House Of Hummingbird (Kor-US)
Yong Mei for So Long, My Son (China)
Max Eigenmann for Verdict (Phil-Fra)
Best Performance By An Actor
Manoj Bajpayee for Bhonsle (India)
Eran Naim for Chained (Isr-Ger)
Navid Mohammadzadeh for Just 6.5 (Iran)
Mohsen Tanabandeh for Rona, Azim's Mother (Iran-Afg)
Wang Jingchun for So Long, My Son (China)
Cultural Diversity Award Under The Patronage Of Unesco
Bhonsle (India) Devashish Makhija
It Must Be Heaven (Pal-Qat-Tur-Can-Fra-Ger) Elia Suleiman
Made In Bangladesh (Bang-Fra-Den-Por) Rubaiyat Hossain
Rona, Azim's Mother (Iran-Arg) Jamshid Mahmoudi
The Sun Above Me Never Sets (Russia) Liubov Borisova