Dirs: Joachim Roenning, Espen Sandberg. Fr. 2005. 95mins.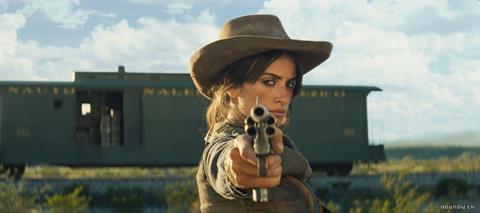 An everything-but-the-kitchen-sink action-comedy Western, Bandidas is a technically-accomplished star vehicle for Penelope Cruz and Salma Hayek that proves equal parts Zorro, Thelma & Louise and Butch Cassidy And The Sundance Kid.
The derivative, predictable plot and umpteenth cliched joke ensure that Bandidas never quite thrills as much as it could have.
Opening in France through EuropaCorp on Jan 18, it should enjoy good returns from advocates of Luc Besson's style - he has co-writer and producer credits - after a strong promotion. Elsewhere in continental Europe it will find favour among Europeans enamoured by its fun take on American pop culture and Westerns.
In the US - where Fox holds distribution rights like it does in several other territories - its prospects as a foreign production will be helped by the fact it is English language and numbers domestic talent among its supporting cast.
Wherever it plays, Bandidas will skew towards young male demographics: this is essentially a male fantasy, with its gun-slinging, bank-robbing, horseback riding and two hot girls competing for the affection of an average Joe. There is little for female audiences: Hayek and Cruz may be taking on the evils of capitalism, but the film has nothing to say about feminism, empowerment or women as leaders.
The plot is simple enough in its conceit. Set in 1880s Mexico, it recounts the exploits of Sara (Hayek) and Maria (Cruz), two women who try bank robbery to halt an American railroad company encroaching on their land.
While Bandidas is a period piece, it nevertheless feels contemporary in its production, characters and attitude. With a breathless momentum and near wall-to-wall Western-themed music, it is shaped by the advertising background of co-directors Joachim Roenning and Espen Sandberg, who number more than 300 commercials between them.
Despite the gimmick of two sexy Latinas with revolvers on their waists, the milieu has more in common with the cartoonish old-time Mexico of films such as The Three Amigos rather than more relatively sober Hollywood cowgirl ventures like BadGirls and The Quick And The Dead.
There are also several wink-wink jabs at the United States for its current foreign policy practices through (mostly corrupt) American characters who refuse to stay at home and mind their own business.
The film-makers don't miss an opportunity to reveal ample amounts of cleavage and play up the sexual tension that develops, if a bit whimsically, between the two bandits - although Bandidas reveals the truism that there is such a thing as too many catfights.
After a while the derivative, predictable plot turns and umpteenth cliched joke ensure that Bandidas never quite thrills as much as it could have. But even with the cliched plot, Cruz and Hayek strike the right note of tough, playful sexiness.
Dwight Yoakam, decked out with long, curly black hair and a nefarious moustache, hams it up as Tyler Jackson, one of the most cheekily deplorable villains since Alan Rickmanin Robin Hood: Prince OfThieves.
The always dependable Steve Zahn, as Quentin Cooke, an initially milquetoast forensics specialist, again proves why he is a natural choice for this sort of comicstraight man support. And Sam Shepard is irascible as the retired solitarybank robber who trains the ladies for their exploits.
Luc Besson's giddy love for intense action is, as would be expected, in full-force, with bank robbery and gunplay scenes that rival similar set-ups from Mission: Impossible when it comes to tension and bravura.
Technical credits are strong, including beautiful cinematography that fully exploits the vast, open Mexican range.
To sign up for Screen's weekly Reviews Newsletter with all the week's new releases, international openings and full festival reviews delivered free to your mailbox every Friday, please click HERE
Production companies
EuropaCorp
TF1 Films
French distribution
EuropaCorp
International sales
EuropaCorp
Producers
Luc Besson
Ariel Zeitoun
Screenplay
Luc Besson
Robert Mark Kamen
Cinematography
Thierry Arbogast
Editor
Frederic Thoraval
Production design
Hugues Tissandier
Music
Eric Serra
Main cast
Penelope Cruz
Salma Hayek
Steve Zahn
Dwight Yoakam
Sam Shepard