Dir. Alain Monne. France, 2009. 120 mins.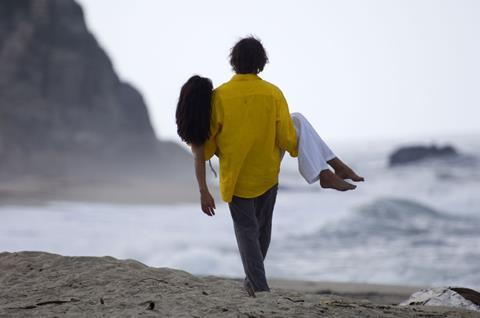 French film veteran Alain Monne makes his directorial debut with this enjoyable if somewhat high-end TV drama featuring Sophie Marceau as a bed-ridden tetraplegic and her real-life partner Christophe Lambert as a washed-up drunken boxer who comes to her aid in the picturesque Colombian city of Cartagena.
Eminently watchable for Marceau's expressively-rendered, elegant plight and Lambert's hang-dog bad-hairdo boozehound, Cartagena may overstay its welcome – it had a modest opening in France recently – but overseas markets may be more warmly receptive to these two French mainstays in a rarely-shot milieu.
Monne has sourced a colourfully decaying colonial Colombia, which he shoots beautifully and credibly, even as the main relationship on screen politely requests a suspension of disbelief.
Marceau plays Muriel, a beautiful, rich French woman who has been confined to bed since an accident in Colombia put an end to her engagement to a French diplomat there. She refuses to return to her homeland. Angry and sharp-tongued she has, we are told, been through at least 40 carers – none male – but somehow ex-boxer Leo catches her eye in an interview during which he drinks the cooking sherry (or soy sauce) and she hires him.
An addict to the point where he gulps down her disinfectant, Leo has no experience as a carer, but he crustily stands up to Muriel's abuse and soon the couple are forming a close friendship.
Meanwhile, back in the kitchen, nurse Lucia (de Francisco) is on the morphine and Leo's boxing protégé, the jealous prostitute Lina (Valdes), will do her best to scupper their relationship.
Marceau, making a welcome return to the big screen, looks palely beautiful throughout and is icily effective with limited tools at her disposal. Lambert is appropriately grizzly, growling out his Spanish dialogue as if he'd taken lessons from the Terminator's delivery of hasta la vista. The two supporting characters, Margarita Rosa de Francisco as a nurse and the feisty Linnet Hernandez Valdes as a tough hooker, make a strong impression.
Production companies
Cine Nomine
Thelma Films
International sales
Goldcrest Films International
Producers
Christine Gozlan
Pierre Forette
Thierry Wong
Screenplay
Alain Monne
Nathalie Vailloud
Based on the novel L'Homme de Chevet by Eric Holder
Cinematography
Antoine Roch
Music
Florencia di Concilio
Editor
Catherine Schwartz
Main cast
Sophie Marceau
Christopher Lambert
Rosa de Francisco
Linnett Hernandez Valdes
Rodolfo de Souza