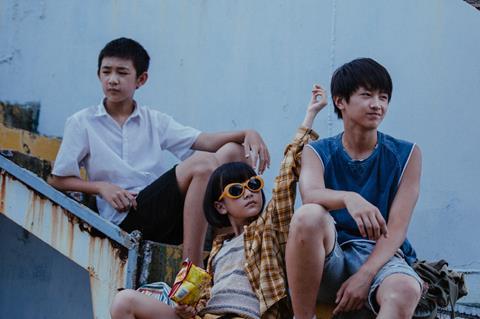 While Asian film festivals have had better luck in retaining some physical elements during the Covid-19 pandemic, it's not been so easy for markets, which have traditionally depended on face-to-face meetings and international visitors.
So it was not entirely surprising when Busan's Asian Contents & Film Market (ACFM, October 26-28) announced in August that it would take place virtually, a fate also shared by the other major market events in the region – Filmart in Hong Kong, which took place online in August, and Tokyo's TIFFCOM, which is holding a virtual edition in early November.
Like other virtual markets, ACFM will feature online market booths and online screenings, but has the added advantage of providing access to almost two thirds of the Busan International Film Festival (BIFF) programme.
"This benefit is what I believe would be the differentiator from other markets held online such as Marche du Film and Filmart, which didn't have a festival," says ACFM general manager Daniel Kim. "As the Covid-19 pandemic makes it difficult for foreign attendees to join BIFF, we are bringing the essence of the festival to them this year."
Out of the 192 BIFF-selected titles, ACFM is screening 117 – including eight from New Current, five from Flash Forward and 24 from A Window On Asian Cinema – throughout the festival period (October 21-30) and available on-demand rather than through a set schedule. In addition to the market and BIFF screenings, market badge holders will also have access to the virtual booths, a series of webinars and receive Cinando membership for six months.
But in a break from some other recent virtual events, ACFM has decided against providing a platform for online meetings. Kim explains this decision was based on feedback from industry professionals who have participated in other online markets.
"Most of them recalled that they used external meeting solutions rather than the internal online meeting system," Kim says. "Instead, we're focused on implementing online booths and screenings into our platform.
"As an exception, we decided to provide online meeting services for the E-IP Market for the convenience of original IP-related publishing, webtoon and web novel companies who are not familiar with online meeting solutions compared to film-related industry professionals."
Market evolution
Launched in 2006 as the Asian Film Market, BIFF's industry platform changed its name earlier this year to reflect a move towards embracing a wider range of content, including content distributed on TV, OTT and other platforms.
Since 2015, the market has also provided a platform for different kinds of intellectual property (IP) used as source material for visual content – including books, web comics and web novels – through its Entertainment Intellectual Property (E-IP) Market.
Initially focused on Korean properties, E-IP has since brought in Japan and Taiwan – two territories renowned for the strength of their ACG (anime, comics & games) sub-cultures – and this year is partnering with Japan's Visual Industry Promotion Organization (VIPO) and the Taiwan Creative Content Agency (TAICCA).
"With the global and local OTT's rapid growth, the demand for video content is increasing and resulting in strong interest in adaptation right for original IPs," says Kim. "As an industry event organiser, our role is to be a bridge between each related industry to meet their natural demands from the film and TV industries."
The E-IP line-up this year includes 17 Korean properties, 10 Taiwanese projects and eight properties from Japan. As an example of the kind of deals that are signed at E-IP, at last year's edition, Book To Film selection Abyss was sold for film adaptation to Korean production company Red Peter Films, which produced Train To Busan and Peninsula.
ACFM's expansion into the worlds of OTT and streaming actually started last year when it formed a new committee with industry veterans Tcha Sung Jai and Oh Dongjin as market directors, launched the first edition of the Asia Contents Awards (ACAs), and started proactively signing up TV exhibitors and buyers to attend the market. The ACAs, which are designed to recognise drama series from across Asia, handed out awards to shows such as Mr Sunshine (Korea) and The World Between Us (Taiwan) and featured a red carpet with hordes of screaming K-drama fans.
This year, ACFM will host the second edition of the ACAs, although due to Covid-19 restrictions, only the ceremony hosts and live performers (including Korean girl band Lovelyz and singer Kim Jae-hwan) will be present on-site with nominated guests and audience participating online. For its second edition, the awards received 75 submissions from 17 countries, which was whittled down to 28 series across seven categories.
Chinese web thriller The Bad Kids, produced by iQiyi, and Netflix's Taiwanese drama The Victims' Game head the nominations with five nods apiece, including one each in the best creative category. The event will be live-streamed on BIFF's YouTube channel on October 25.
Strong European, Taiwan presence
At the time of writing, ACFM had signed up 205 exhibitors from 22 countries, ahead of last year's 200 exhibitors, and 275 buyers from 231 companies. Kim observes that fewer people are signing up from each buyer company, corresponding with the trend at other online markets, as not so many people are needed to cover virtual events.
"After several online markets have been held, I heard lots of negative reviews such as lack of new titles, unstable connections for video meetings, unstable viewing of screenings etc, so my expectations were minimal," says Kim. "However, the current figures came as a surprise and definitely exceeded my expectations."
Among Asian exhibitors, there's been a big increase from Taiwan, where production and cinemas have been much less affected by Covid-19, with 38 exhibitors registered for the market compared to 11 last year. European Film Promotion (EFP) and Unifrance, which usually have a joint presence at the market, are hosting separate pavilions with 14 European sales agencies and 18 French companies respectively.
On the TV side, around 30 TV and streaming companies have signed up to attend, compared to 20 last year, including China's iQiyi, France Television and Studiocanal, Taiwan's PTS, Fox Networks Group and Damou Entertainment (The World Between Us), and Korean broadcasters and producers such as CJ ENM, Studio Dragon, JTBC, SBS Medianet and SK Broadband.
This year's Asian Project Market (APM, October 26-28) has selected 22 projects, including Tick It from Vietnam's Tran Thanh Huy, whose Rom won BIFF's New Currents Award in 2019; A Burning Question from Bangladesh's Mostofa Sarwar Farooki, whose Television closed BIFF in 2012; and Love Life from Japan's Koji Fukada (The Real Life). Korean projects include Kim Seungwoo's The Survivor and A Thousand Years Together from Annecy film festival award winner Ahn Jaehuun (The Shaman Sorceress).
APM has also gone virtual and will use the b.square platform to host online video meetings. b.square was also used by the NAFF projects market at this year's Bucheon International Fantastic Film Festival (Bifan).
ACFM will also feature a series of online seminars and panel discussions, including a session in partnership with Screen International, Screen Talk: Asian Production Bounces Back, which will explore how filmmaking is safely restarting in Asia.