Two worlds collide in Bong Joon Ho's Cannes Palme d'Or winner Parasite. The filmmaker talks to Jean Noh about combining meticulous planning with freedom for actors on set.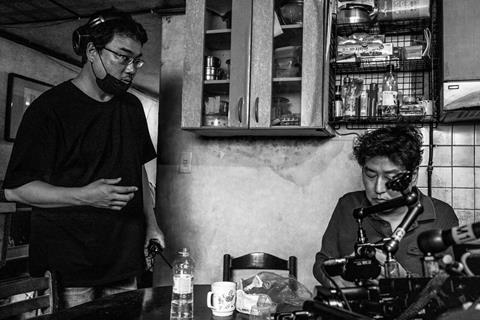 Korean director Bong Joon Ho hasn't been counting, but he estimates he has done about 1,000 media interviews since Screen International was the first to talk with him about Parasite in May, before the film made its world premiere at Cannes Film Festival. A black comedy that twists into a violent thriller, Bong's film is threaded with social commentary about wealth inequality in its tale of two families — one rich, the other poor, with the latter looking to scam the former after inveigling their way into the household.
Winning the Palme d'Or at Cannes, Parasite went on to play at a host of other festivals including Telluride and Toronto, and opened theatrically in a slew of territories to gross more than $115m worldwide (at time of press). It has also grown a fanbase for the Korean director, who dub themselves #BongHive on social media.
Produced by Barunson E&A with investor/distributor CJ Entertainment, the film has clocked up more than 10 million admissions in South Korea (which has a population of roughly 51.5 million) taking $73m at the box office since its May 30 release, according to the Korean Film Council. It also became the highest-grossing foreign-language Palme d'Or winner in the US, where distributor Neon has clocked $16m at the box office.
Parasite stars Song Kang-ho — who played leading roles in Bong's Memories Of Murder (2003), The Host (2006) and Snowpiercer (2013) — as the head of a poor family that scams its way into an affluent household, with unexpected and dire consequences.
For Bong, the production was a smooth and enjoyable experience, partly because he was working with above- and below-the-line talent he had collaborated with in the past, including Song, cinematographer Hong Kyung Pyo (Mother, Snowpiercer) and art director Lee Ha Jun (Okja, Sea Fog); companies including Barunson E&A (Mother) and CJ Entertainment (Memories Of Murder, The Host, Snowpiercer); and overseas distributors such as Neon in the US and Bitters End in Japan.
Always meticulously prepared, the director early on in his career gained the nickname 'Bong-tail' (an amalgamation of his family name and the word 'detail') as he is so attentive to even the smallest of things on set.
"I've never started shooting without having my storyboards 100% ready," says Bong. "Everyone has their own way of doing things, but I have a lot of fear and anxiety, so it makes me nervous to go in without them. I take a lot of things into consideration before making the storyboards, so the results are very similar."
Originally conceived as a play where the stage rotated to show the two families' homes, the film also depicts the two contrasting domiciles.
"We built the rich family's house on a set in Jeonju, keeping in mind how we were going to move the cameras around," says Bong. "The story is about actual class realities and I didn't want the feeling of people acting on a manufactured set. Art director Lee Ha Jun did a great job. I was thrilled in Cannes when jury president Alejandro Gonzalez Inarritu asked where we found that house because it seemed so real."
"We also had to build the poor family's neighbourhood with alleys and all in a water tank for the flood scene," he continues. "The art department went to places in Seoul set for redevelopment and brought back abandoned doors and other materials. The decades of dirt — you could almost smell it. Actually, actress Park So Dam testifies she once opened the fridge in her character's home, and it smelled so bad no-one ever opened it again. We used real food waste bags too. The excessive realism attracted real flies to the stench."
Once Bong has meticulously prepared his storyboards, he likes things to be as free and comfortable as possible for his actors, to keep things "vivid" — as he did with Song, Lee Sun Kyun, Cho Yeo Jeong, Choi Woo Shik and Park (playing various members of the two families) in Parasite.
"When you have actors that good, moments can be shot like a documentary. We cast verified performers. We didn't need a lot of rehearsals, and went with the feeling on set."
Distinctive style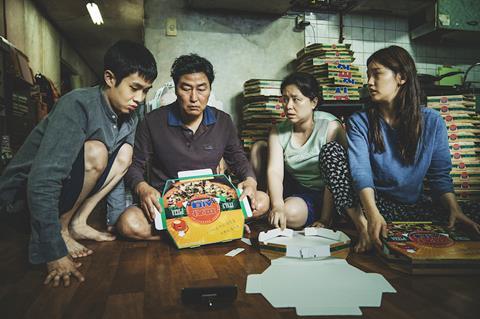 A film fanatic since childhood, Bong majored in sociology at Seoul's Yonsei University, helping develop the social commentary that he ties to his popcorn-chomping thrills and innovative, genre-bending style.
"I know it's hard to categorise my films and I'm happy when people just brand them 'Bong Joon Ho-style films'," he says. "I don't know why my films are like that except that I'm like that — whether it's a big film or small, I stay true to what a cinephile like myself, who grew up burning to see films, would want to see. How can I know what masses of other people want to see? I just try to make films that a cinephile with certain tastes like me would be satisfied with.
"Henri-Georges Clouzot's The Wages Of Fear, Alfred Hitchcock and Kim Ki-young's masterpiece crime films, popular 1970s US films that carried weight such as John Schlesinger's Marathon Man — they are all inside me," he explains.
When he first talked of making a film about the infamous unsolved Hwaseong serial murders that horrified the nation in the late 1980s and early 1990s during South Korea's military dictatorship era, people found it hard to fathom Memories Of Murder could become a mainstream commercial hit. But Bong did make it and the film did become a hit in 2003. And this year, it so happened that the serial killer was caught.
"The feeling you would get seeing the ending of the film for 17 years and the feeling you'd get now after the killer was revealed, that has got to have changed a lot," he says. "Back then, it ended painfully as it seemed like he would never get caught. At the end, the kid says, 'He's ordinary,' and we all had to imagine what this heinous murderer looked like. But now we have all seen his face, including me. So now that film's last scene will become a record of the time when we didn't know. It has a different meaning."
Was he foreseeing the future with the film, the way Snowpiercer with its post-apocalyptic climate change premise might be doing?
"My films reflect and satirise the reality of the times we live in, but I didn't expect this," he says. "Although, in the case of Okja, apparently they've started breeding giant pigs in China."
Bong says he has two or three new projects in mind, but right now is busy dealing with the rigours of promoting Parasite. The film is a contender for best picture and director nominations at the Academy Awards along with other sections beyond the best international feature category — as was the case last year with ROMA and Cold War, but he is circumspect.
"The Academy Awards are not like the film festivals of Cannes, Venice or Berlin, they have a different system and character," he says. "They are Hollywood-centred so it would be difficult to get nominated. And it's an intense year — Martin Scorsese, Quentin Tarantino, Noah Baumbach, Sam Mendes… I know many people are talking about Parasite getting nominated, but the voting is the voting so it's hard to foresee."